SaaS Management: The Best Guide for 2023
SaaS products are becoming increasingly popular due to the flexibility and scalability they offer businesses. However, with this increased popularity comes new challenges. Challenges that could cost your business significantly. That's why effective SaaS management is crucial.
And in this guide, we'll show you everything you need to know for your company to not spend a single dollar more than it should on SaaS, among other benefits of correct SaaS management.
What is SaaS management?
SaaS management is the process of tracking, monitoring, managing, and streamlining the use of software-as-a-service (SaaS) products within an organization. This includes optimizing SaaS spend, purchasing applications, identifying and resolving SaaS product issues, and managing user licenses, among other things.
In essence, In essence, the main goal of SaaS management is to help organizations get the most value out of their SaaS products and services. This is done by reducing SaaS costs, improving SaaS product utilization, and ensuring that SaaS products meet users' needs.
In the beginning stages of a company's SaaS management efforts, this often looks like a This often looks like a spreadsheet where applications and subscriptions get tracked in the beginning stages of a company's SaaS management efforts. However, as with many other processes in a company, spreadsheets serve as a starting point, but it's not a solution specifically made for this purpose. Which will eventually lead to the issues that we will talk about below.
Why you need SaaS management
On average, organizations use 110 SaaS products worldwide. Of course, you may use less or more, but if something is clear, managing all of those subscriptions at once leads to a complex workflow where many things can fall through the cracks.
There are several reasons why your business needs to implement an effective SaaS management strategy:
Get a clear overview of all SaaS products and services being used within the company.
Reduce SaaS costs by eliminating unused apps, shadow IT, etc.
Be protected against expired free trials and unwanted charges.
Improve SaaS product utilization by making sure that employees are using the products they need.
Have complete visibility over the company's business expenses.
Avoid security risks associated with SaaS products.
Why you need a SaaS management platform
As we mentioned above, using spreadsheets to manage your subscriptions is not optimal for the following reasons:
There is no automation
You can't track your usage correctly.
You can't see what features you're using (or not using).
It's difficult to understand where your money is going.
It's hard to keep track of multiple subscription renewals.
You can't manage or control access to your SaaS products.
A SaaS management platform will help you overcome these challenges by giving you visibility into your SaaS products, usage, and spend.
With a SaaS management platform, you can see which product features are being used, track subscription renewals, control access to SaaS products, and much more.
This is an important topic because you don't want to end up overpaying for SaaS products that you're not using or that don't fit your needs. And spreadsheets make it very easy for things to fall through the cracks without you even noticing.
Poor SaaS management is a silent killer that drains a large part of your budget.
And in reality, most of these issues go immediately away by choosing a good SaaS management platform.
Challenges of SaaS management
There are various challenges around SaaS management that organizations face all the time.
These challenges are why businesses of all sizes started to take SaaS management more seriously. It's also why the SaaS manager position is becoming more popular.
And there is a big chance you're already experiencing some of these issues below.
SaaS sprawl
Everyone knows that tools make many parts of everyone's work easier or better. And at this point, we can't live without them.
But as a company grows, so does the number of apps they use, complicating the workflow of the people involved.
This problem is commonly known as the SaaS sprawl. It refers to when an organization has too many applications to manage effectively.
This doesn't mean that you should stop using software. It just means that you need to have an effective strategy.
Shadow IT
Shadow IT is all the software and technology deployed by people in an organization without the knowledge of the IT department.
This is very common for big companies since it's difficult for the IT department to track every single SaaS product being purchased and used within the organization.
All of your teams constantly need new tools. Without a concrete workflow specially designed to avoid this, you'll not have visibility into your SaaS.
And lack of transparency is not good, for the reasons we've mentioned before. Primarily the waste of money.
Best practices of SaaS management
SaaS sprawl and shadow IT are the two main reasons companies face the problems related to SaaS. Issues like duplicate subscriptions, forgotten subscriptions, unwanted charges, no visibility, and more.
To avoid them, here are some of the best practices of SaaS management:
Keep track of licenses and renewals of SaaS products
You need to have a clear overview of which licenses you have and when they will renew. This way, you can avoid duplicate subscriptions and unwanted renewals.
This is the most essential best practice, and it may be evident to some. Still, it's very common that companies don't track anything related to SaaS at all.
That is clearly a problem because you need complete visibility in order to manage your SaaS effectively.
Without this, you're at most risk of wasting a large portion of your SaaS budget. How? For example, you can be paying for SaaS previously used by ex-employees without knowing. Or worse, they could still be using them.
Keep track of SaaS products ownership in your team
In every company, there are different people responsible for other areas. The same happens with SaaS products.
Usually, someone from the team researches tools to solve an issue, and they bring up the tool to their managers. If the tool purchase gets approved, then the primary user should be the owner. Meaning that person is responsible for it.
It would be best if you had a clear overview of who is responsible for each SaaS product because, this way, you can know who is using them and for what purpose.
This may sound familiar: you see invoices from a tool you're paying for, but you don't know what it does or who is using it. Then, you assume someone from your team is using it and don't do anything.
The ending to that story probably involves overpaying for SaaS your team is not using.
Furthermore, in case you need to contact support or cancel a subscription, you'll know who to reach out to.
Track usage and audit your SaaS stack
Over time, team members may stop using certain tools or not use them as much anymore. Maybe they found a better solution, or maybe their needs changed.
Whatever the reason may be, you need to be able to decide if you should keep paying for it or not.
So every once in a while, make sure you ask the responsible for each tool how are they using them.
If they are just using a couple of features, then you can downgrade the subscription.
This will have a big impact on your SaaS spend because you will only be paying for what your team uses.
SaaS spend management
Now that we've talked about some of the challenges and best practices of SaaS management, let's move on to the next big topic, SaaS spend optimization.
It's likely that the main reason why you're looking into SaaS management solutions is to reduce the amount of money you're spending on SaaS.
After all, who doesn't want to save money?
This is such a huge problem in this space that it is reported that businesses waste up to 30% of their annual SaaS spend due to poor management.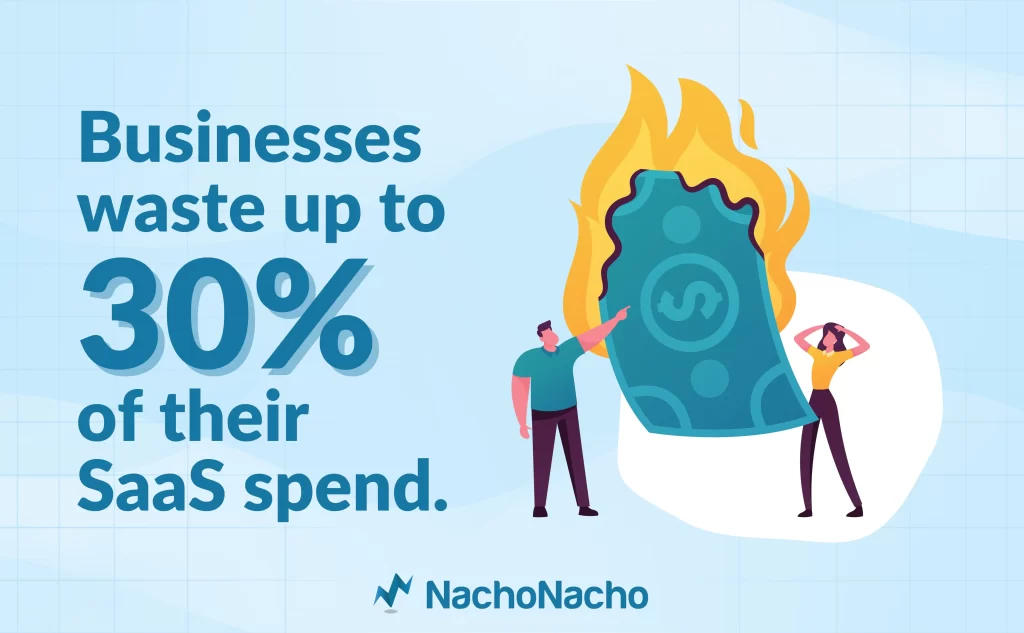 The scary part is that businesses without a correct management strategy probably don't even know they could be wasting a third of their budget.
Fortunately, there are several things you can start doing to avoid spending more than you have to for the tools that are supporting your company's growth.
So let's get to it. Here are the best ways to reduce your SaaS spend.
Delete duplicate SaaS subscriptions
We've mentioned in this article that duplicate subscriptions are not good. And everyone knows that. However, the real problem is what's behind a duplicate subscription.
There needs to be a significant lack of visibility and ownership of the software your team uses for this to happen.
Suppose you don't know what software your team is using and who is responsible for each one. In that case, there is a considerable risk of having duplicate subscriptions.
And wouldn't it be annoying to find out that you've been paying for the same product twice each months?
As you onboard new team members, this problem just keeps growing too if you don't have a strategy in place.
It's easy to imagine how this can drain a chunk of your budget every month.
The simple solution is to start by doing an audit of all the products used by your organization. This will quickly show you any duplicate subscriptions.
Then, make this information available to the rest of your team so that it doesn't keep happening in the future.
Unsubscribe from SaaS products that do the same thing
Similar to the previous point, there is no need for you to be paying for tools that do the same thing.
For example, let's say you use HubSpot for contact management and email marketing. And you're also subscribed to a social media scheduling tool.
Well, HubSpot also has a good social media scheduling tool as part of its platform. So you're essentially paying for two tools that do the same thing.
This is a widespread problem that can be avoided by having a good understanding of the tools your team uses.
For that purpose, you need to perform an in-depth audit of your tools to identify the features you need and the SaaS products that have them.
It's all worth it in the end because this might save you a lot of money in the long run.
This leads us to the next point.
Downgrade subscriptions
A simple, but great tip.
Sometimes, when a person in your team gets a tool, they choose a plan that feels right according to your needs. Most of the time it's that plan in the middle that conveniently always says "Popular".
But as they use those tools, they may find that they actually don't need all those features.
However, with so many other things on people's minds, we forget to do something about this. Or sometimes, the vendor makes it really hard to downgrade a subscription.
Now, picture this happening for multiple subscriptions at the same time. That's a big waste of money.
So to follow the correct practices of SaaS spend management, you need to keep an eye on those things.
As you perform the previously mentioned audits of your SaaS products, take some time to check if there are any subscriptions worth downgrading. Even if it means downgrading to a free plan.
Many A free plan is often good enough for your company's needs.
Frequently search for a more affordable SaaS products than the ones that you're currently using
It's very easy for companies to use a SaaS product and stick with it for the long term and not look for alternatives because they're used to them.
However, the SaaS industry is exploding and new products are launched every month. Some of those products may have features that are better suited for your needs and for a fraction of the cost of what you're currently paying.
This is the reason why it's key to always keep an eye out for the latest SaaS products. You can save a ton by switching to an alternative product.
The migration process is probably the biggest thing that stops companies from switching software. But if another tool works well and costs less, the effort is worth it.
So don't be afraid to switch products.
Try keeping up with trending apps and every once in a while tell your team to check if there are alternatives to the products they're using.
If you come across a promising SaaS, bring it up to the attention of the relevant person.
Make sure you always cancel free trials of SaaS products you don't need
Who hasn't gotten automatically charged for a tool they don't want after they forget to cancel a free trial?
Then, getting a refund is a hassle, and sometimes it's even impossible to get your money back.
What's even worse is that some people get stuck paying for multiple months just because they forgot to cancel the free trial and the subscription altogether.
We're all too familiar with this pain and it has made us doubtful about trying certain tools just for the fact that they require your credit card info for a free trial.
The solution to this is to track all of your free trials so you can remember to cancel once the tool has been tested.
However, there's a better method to avoid this problem: virtual credit cards.
Custom virtual credit cards allow you to set custom spending limits and expiration dates, so you're protected against expired free trials.
You can just create a card specifically for a free trial with an expiration date before the trial ends. This way you can be sure you won't be charged.
The only SaaS management platform that has this feature is NachoNacho.
How to choose the right SaaS management platform?
Choosing a SaaS management platform (SMP) that's right for your business comes down to your organization's specific needs.
So the first step is to understand what are your goals. Once you have a good understanding of your requirements, you can start evaluating different SMPs.
These are some factors that you should consider when evaluating SMPs:
Visibility: Complete visibility over all your SaaS information is crucial. So make sure that the platform provides you with the visibility you need into your SaaS products, usage, and spend.
Control: When it comes to SMPs, control means having the ability to cancel, upgrade, downgrade, and do whatever you want with your subscriptions easily. Vendors many times make it complicated to do things like these, so a great SMP can facilitate them.
Management capability: Another key factor to consider is whether the platform can help you delegate spending authority easily.
Ease of use: The platform you choose should be intuitive and easy to use for both the managers and employees.
Segmentation: Another important factor to consider is that an SMP should allow you to use it incrementally as needed, instead of needing a company-wide buying decision and rollout.
Employee utilization: Onboarding and offboarding employees to your platform should be easy and quick.
Privacy protection: Privacy is very important, so you should make sure that the platform you choose protects your data privacy.
Self-sufficient: While integrations are great, an SMP shouldn't depend on them
Analytics: The platform should provide you with insights and analytics to help you save money on your SaaS subscriptions.
How a SaaS management platform like NachoNacho can help you save money and time
NachoNacho is a one-stop shop to discover, manage, and purchase all of your SaaS products while getting huge discounts.
We can proudly say that we are the only SaaS management software streamlining the complete SaaS lifecycle, from discovery to offboarding, all under a single roof.
Our virtual credit cards allow you to be protected against all the unwanted charges related to SaaS, including expiring free trials and overcharges.
Plus, our intuitive dashboard gives you the transparency you need to avoid all of the problems we mentioned in this article. With the full picture of your SaaS stack, you can make the right decisions and never worry about spending more than you have to.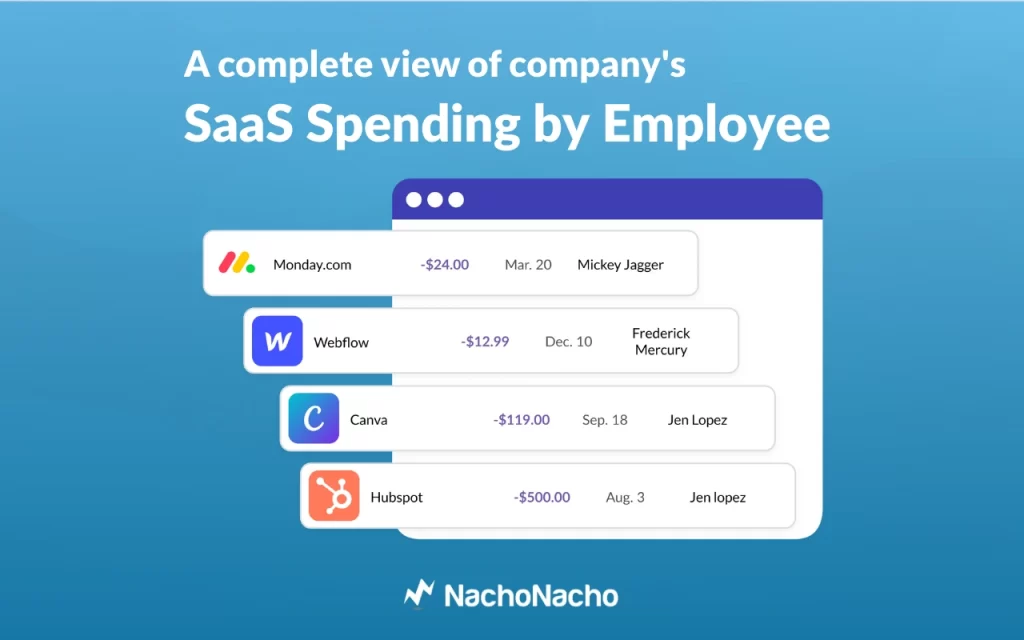 Among other features, NachoNacho also offers the largest and only SaaS marketplace with exclusive discounts of up to 30% on top tools such as Amazon Web Services, Quickbooks, Monday, Canva, and hundreds more.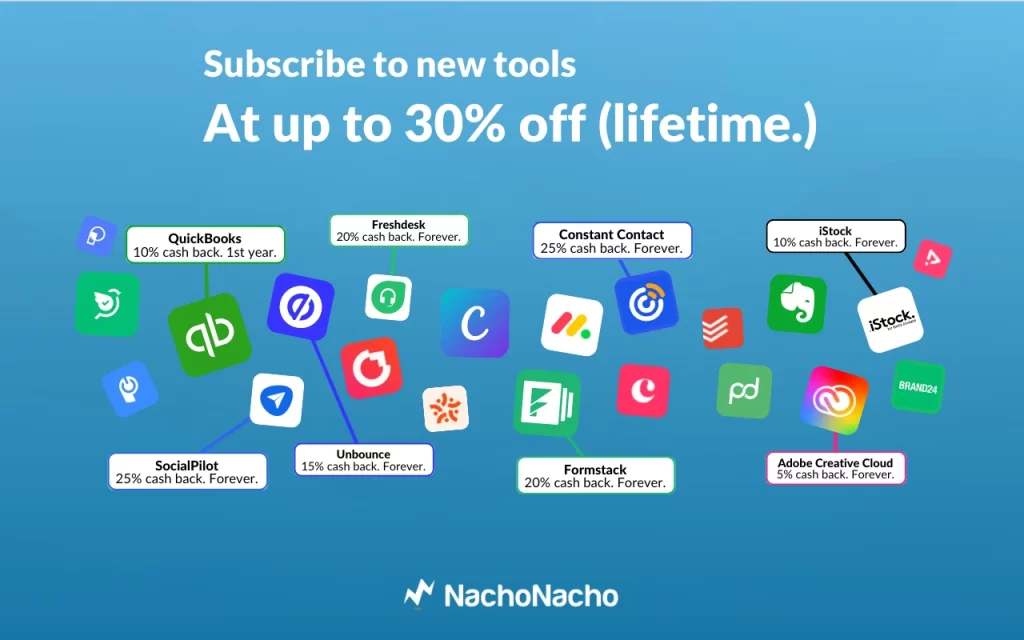 Check out some of our user feedback to discover what people actually think about our solution.
Over to you…
As your team grows, so will your SaaS stack. So it's better to understand the issues that come along and how you can be protected against them.
So start tracking your products and perform audits to find areas of improvement, no matter the size of your business. The earlier you start, the better.