The Best Firstbase Discounts, Promo Codes, and Coupons
Firstbase is a great tool for startups and entrepreneurs to set up and manage their business operations effortlessly. From incorporating a company to accessing essential tools and resources, Firstbase has you covered. 
And you can get it without spending as much as usual with the discount we talk about in this article. Just by subscribing to Firstbase Start through the NachoNacho Marketplace (the largest and best SaaS marketplace), you can get a 20% discount on Firstbase Start. Resulting in a saving of $958 per year. Redeeming is simple and you can start just by clicking the button below.
Why you need a Firstbase Coupon
Firstbase Start is the ultimate solution for anyone looking to start a US business with ease. From company incorporation to banking setup, payment processing, payroll management, and compliance, Firstbase offers a comprehensive suite of services accessible from a single online dashboard. Simply submit an application with your business details, choose the state and company type, and Firstbase takes care of the rest. With a focus on efficiency, they handle the necessary paperwork and closely monitor the progress to ensure a speedy registration process. You'll receive essential legal documents, including the Employer Identification Number (EIN) from the IRS, which enables federal filings and bank account opening.
Experience the convenience of Firstbase Start and access all the operational documents you need to kickstart your business journey today and save big time with NachoNacho.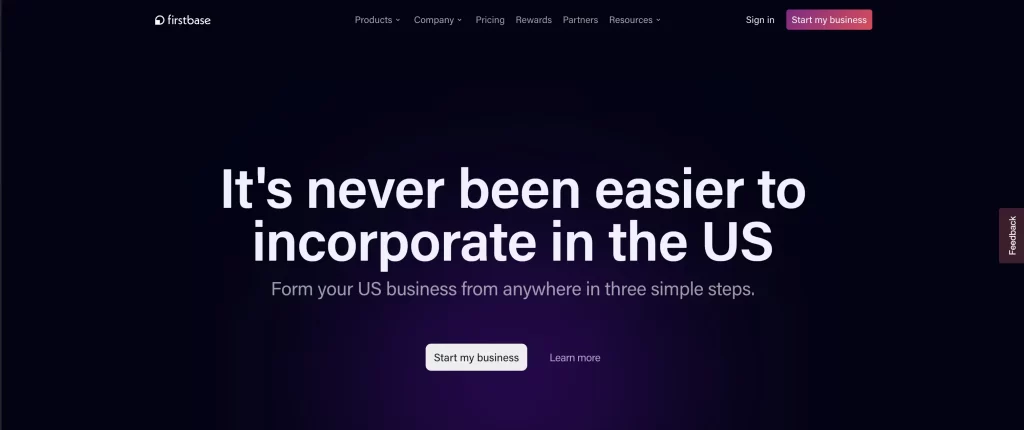 How to redeem this Firstbase discount code
The NachoNacho cashback redemption process is a simple and straightforward way for businesses to save money on their software purchases. To get started, businesses sign up for a NachoNacho account and browse the platform's extensive selection of software products and services.
Once a business finds a software product they want to purchase, they can pay for it using NachoNacho's virtual credit card. This virtual credit card provides an additional layer of security and also allows NachoNacho to track the purchase and calculate the cashback reward.
After the purchase is made, the cashback reward is credited to the business's NachoNacho account, where it can be easily redeemed. The redemption process involves simply clicking on the "redeem" button and choosing the payment method.
The cashback reward can be redeemed as a credit towards the next software purchase or as a direct payment to the business's bank account. This straightforward process makes it easy for businesses to save money on their software purchases and reinvest those savings into their growth and innovation efforts.
About NachoNacho
NachoNacho's marketplace offers businesses access to exclusive discounts and cashback rewards on a wide range of software products and services. The platform is on a mission to help businesses save money on their software purchases, empowering them to invest in growth and innovation. With NachoNacho, businesses can easily discover and compare software options, while also benefiting from cost-saving deals that are not available elsewhere. By simplifying the software buying process and offering unbeatable discounts, NachoNacho is helping businesses thrive in today's competitive landscape.
Start saving with this Firstbase promo code today
If you want to incorporate a business in the US, Firstbase Start is the way to go. And if you want to spend less on the software tools you need, NachoNacho has your back. The redemption process is simple and straightforward; just sign up to Firstbase Start through NachoNacho. It's the safest and least expensive way to incorporate your business with this tool.