The Top 9 Social Media Tools for Your Business
Social media marketing has emerged as one of the most important digital marketing techniques in recent years. After all, it provides a way for brands to connect with consumers at a place where they are most active and engaged.
But, not everyone is equally successful at social media marketing.
That is where the right social media tools come in.
No matter if you're part of a small business or a huge corporation, there are many platforms and tools out there that can help you streamline all the tasks related to social media.
Tasks such as:
Scheduling posts ahead of time
Tracking important metrics
Social listening and monitoring
Content creation and management
Ad management
Automation
And many other things that you probably didn't know there was a tool for. If you're trying to optimize one or more of these things, then this article is for you.
Wondering which social media tools to use for your business?
Here are nine of the best social media tools for business that you can use to grow your online presence.
1. Brand24 for social monitoring and social listening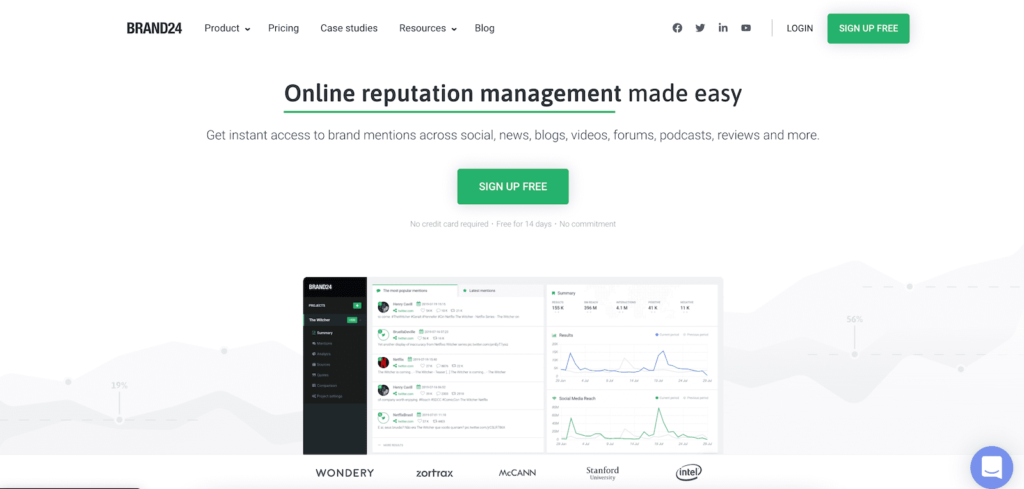 Image via Brand24
Social media is the place where people go to share their experiences and opinions with the world. And that includes experiences and opinions related to companies.
Sometimes they have good things to say, which drives an enormous amount of value to businesses, and sometimes it's the opposite. These opinions are very valuable to you because you can showcase positive opinions and deal with negative ones in a suitable way.
Brand24 is one of the most popular social media listening and monitoring tools available today.
You can use it to track your online brand mentions, listen to conversations about your brand, and respond adequately. Brand24 is also useful for keeping track of your competitors and the latest industry trends, as you can monitor conversations around any keyword or topic.
Brand24's paid plans start at $59 per month with a free 14-day free trial.
2. Crowdfire for an all-in-one management platform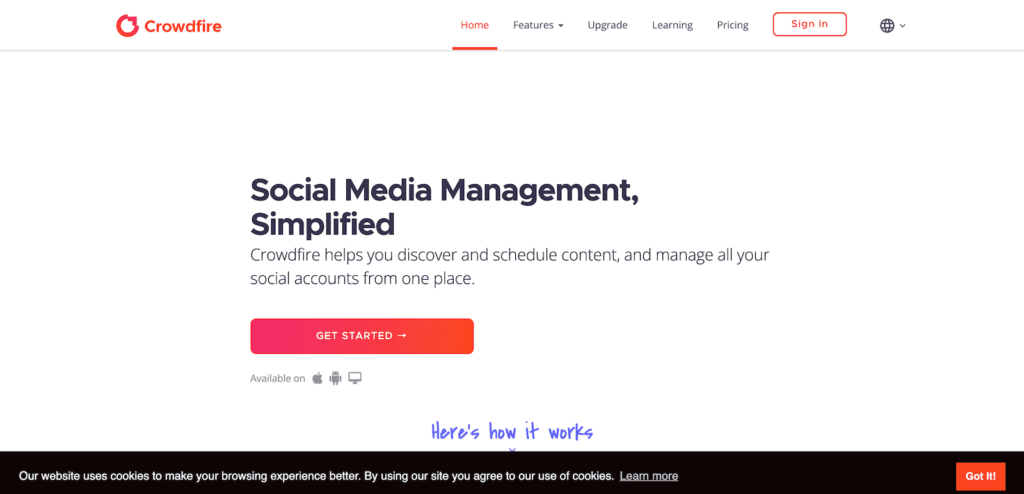 Image via Crowdfire
Crowdfire is an all-in-one social media management tool that can help you grow your social media presence multifold. You can use it to discover, curate, and schedule all your social media content from one dashboard.
This is a great social media marketing tool for small businesses as well as big brands because it allows you to reduce time-consuming manual tasks and focus on the strategy and being consistent.
Want to know the best part?
You can use it from your computer as well as mobile devices. This helps you manage your social media accounts on-the-go.
Crowdfire offers a free plan for 3 accounts and 10 scheduled posts per month. Paid plans start at $9.99 per month with larger capabilities and more features.
3. Revealbot for automatic ad management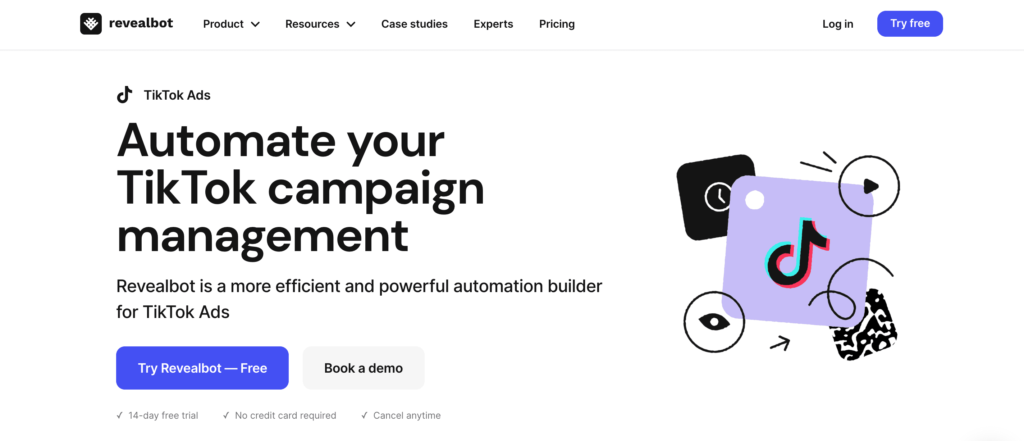 Image via Revealbot
If you run paid social ads, you know how time-consuming it can be to manage them, pause underperforming ads, come up with variants, make modifications, and create reports.
Revealbot is a solution for exactly those things.
This is an extremely useful marketing automation tool specially designed to scale and optimize your advertising campaigns. You can use it to automatically optimize running ads, create new ones, receive actionable insights, and get more value from your ads for the same budget.
That means that your ad management can be on autopilot while you focus on the strategy.
Revealbot offers various plans based on your monthly ad spend, starting at $99/month for a 10k monthly ad spend + a 14-day free trial.
4. Missinglettr for social media drip campaigns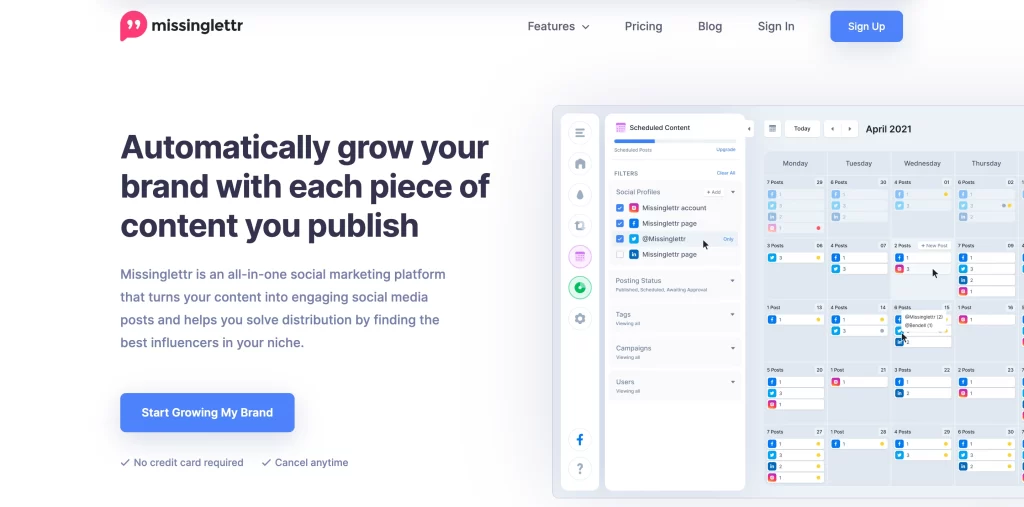 Image via Missinglettr
When you produce great blog posts, you want to promote them on social media as much as possible. Most people just share the articles once and forget about them. However, this is often very time-consuming and misses out on the value of posting the same article multiple times over a long period of time.
Missinglettr is an automation tool that specializes in automating your social media content creation. It uses AI technology to scan through your blog posts and find snippets that you can post on social media.
Then, you can schedule drip campaigns promoting the same articles with different images, captions, and hashtags so they attract as many people as possible.
This helps you generate tons of social media content while driving traffic to your blog at the same time.
You can have a free Missinglettr account forever to manage 1 social media profile and if you want more, their next plan costs $19/month.
5. ShopMessage for Facebook messaging automation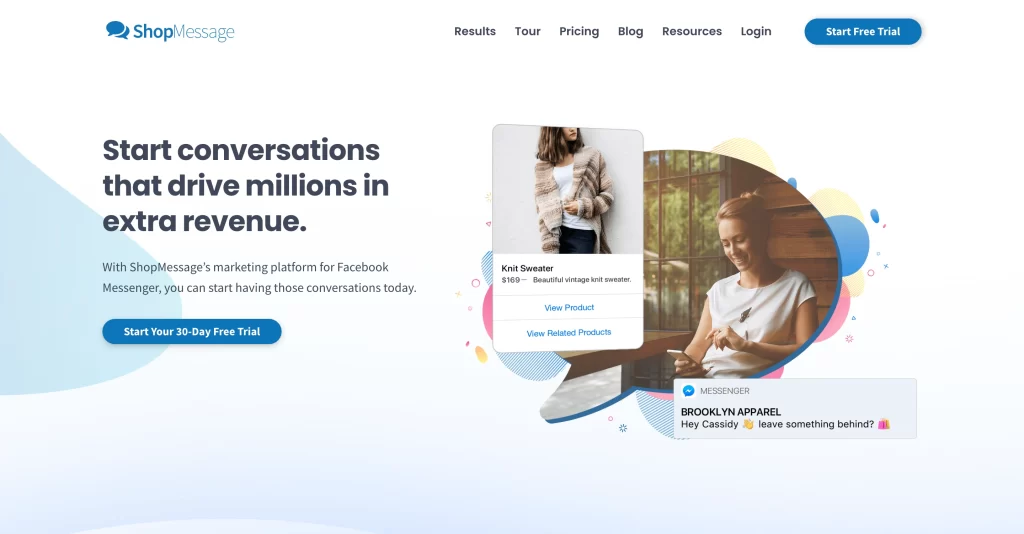 Image via ShopMessage
If your eCommerce store has an audience on Facebook, this tool is a must.
This is a brilliant conversational commerce marketing automation platform for Facebook Messenger. It is specially designed for eCommerce brands to directly engage with prospective customers by sending automated messages.
It performs a similar function as an automated drip email campaign but is more effective as messaging is a quicker way to reach people than emails.
According to their website, it's 10x more effective than email marketing.
If your eCommerce brand is looking to automate Facebook messaging, check out ShopMessage. Their paid plans start at $9 per month with a 30-day free trial.
6. SocialBee for post automation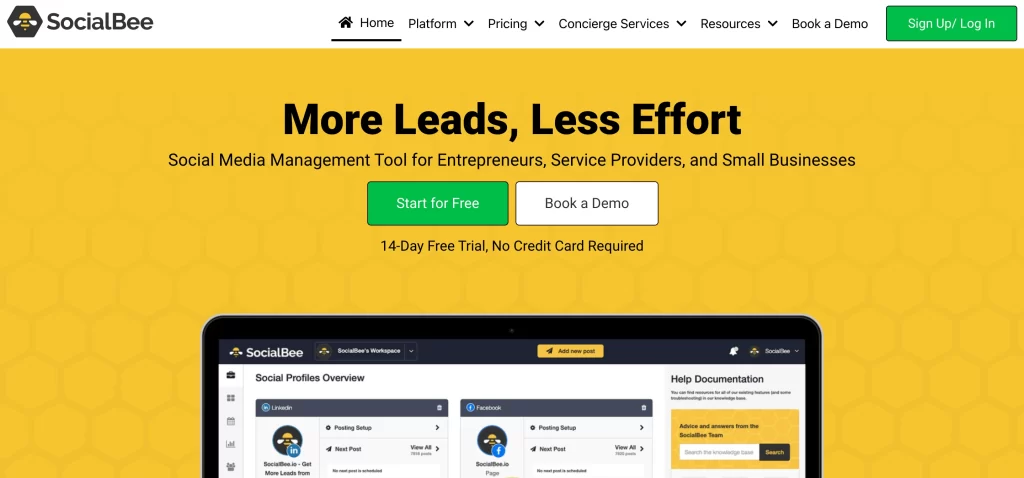 Image via SocialBee
Scheduling posts across different social media platforms is one of the first things that businesses decide to get a tool for. And that's because it's a manual and tedious task that just wastes time.
And while there are other SaaS platforms that allow you to automate posting, SocialBee stands out for its robust list of features that let you do much more than just schedule posts.
SocialBee is an all-in-one solution for creating and managing all of your social media content from one place. It helps you organize your social media content by categories and enable automated posting on multiple platforms.
It can also be used to create customized tracking URLs for your social media content, re-queue posts, bulk edit, use variations, and much more.
Overall, it's a useful tool for managing social media content across platforms with great prices, starting at $19/month with a 14-day free trial.
Entrepreneurs, service providers, and small businesses should definitely check out SocialBee.
7. Social Champ for content creation and engagement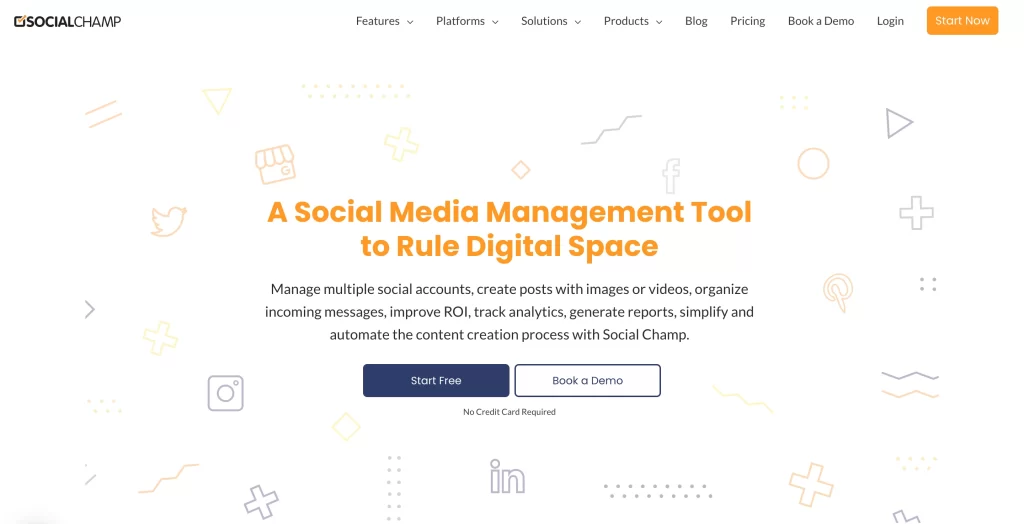 Image via Social Champ
This is another useful social media management tool that you can use to grow your online audience efficiently. You can use it to create, publish, and analyze social media content for all your social platforms.
Social Champ makes it very easy to create a high quality and consistent social media calendar no matter if you're a startup, small business, agency, or even an influencer.
But not only that, you can also engage with your audience through the same platform with the unified social media inbox.
This way you won't lose track of any message from any account.
Then, you can see the results of your campaigns with the platform's analytics that show metrics such as impressions, likes, and actions.
Social Champ is a great social media marketing tool for small businesses because the free plan allows you to manage 3 accounts and schedule unlimited posts. After that, pricing starts at $29/month for 12 social accounts.
8. SocialPilot for social media marketing agencies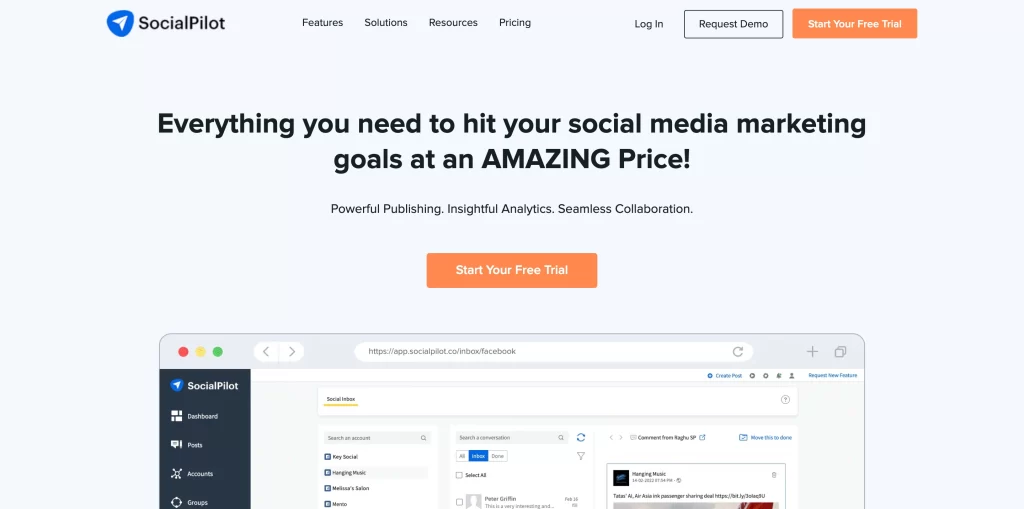 Image via SocialPilot
Social media management is very different for brands and agencies. Agencies manage many more social accounts at the same time than brands. This makes agencies require different capabilities from the tools they use.
SocialPilot is a social media marketing tool specially designed for agencies. It provides automated content scheduling and publishing made for managing many clients at the same time. You can bulk schedule up to 500 posts from a single upload.
It also has social media analytics capabilities that you can use to generate insightful whitelabel reports for your clients. This means that your custom reports will match your agency's identity for a branded customer experience.
In addition, you can onboard, manage, and collaborate with clients from the same platform, all at much cheaper prices than other similar tools for agencies.
SocialPilot's paid plans start at $50/month for 25 social media accounts, 3 users, and unlimited clients. They also offer a 14-day free trial.
9. Upfluence for influencer marketing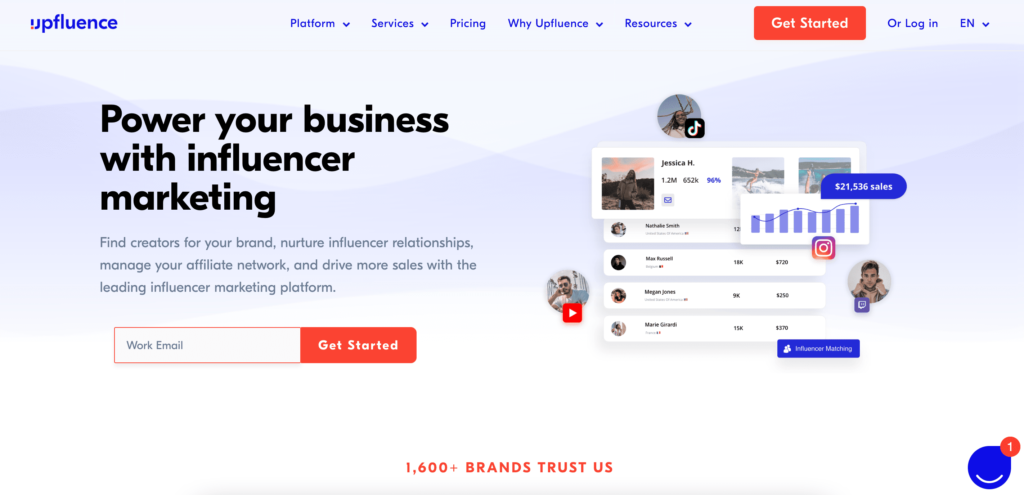 Image via Upfluence
The creator economy and influencer marketing keep growing at an impressive rate every year.
In fact, influencer marketing is set to grow to be worth $16.4 Billion in 2022. And that's because people trust opinions from other creators online, big and small.
So, there has never been a better time to do influencer partnerships to drive explosive awareness and sales, no matter your industry.
However, finding the right influencers and creators is a challenge that can determine the success of your campaigns. Plus, managing the collaborations, tracking results, and paying your creators manually is a mess.
Upfluence is an influencer marketing platform that you can use to find relevant influencers and run successful campaigns. It enables you to work with the best influencers–from micro-influencers to celebrity influencers– in your industry and track their performance in depth.
In addition, you can activate influential customers to get the most authentic partnerships possible.
Contact Upfluence to get a custom plan.
Which of These Social Media Tools Should You Choose for Your Business?
Well, only you can decide which of these social media tools are most relevant for your business. Assess your needs first and then decide on one or more of these social media tools to use for your business.
Also, remember that most of these tools offer a free trial so you can see if a tool is actually right for you.
Plus, you can get all of these tools at a discounted price from our marketplace.
So, what are you waiting for?
Choose the best social media tools for your business and start using them right now.