The Best Deel Discounts, Promo Codes, and Coupons
Deel, the comprehensive remote hiring and payroll solution is now available on the NachoNacho Marketplace with a huge promotion! You can enjoy an exclusive cashback discount when you purchase Deel through NachoNacho. 15% discount on all plans forever. This equals up to $21,564 per year, every year. Don't miss this opportunity to get to the payroll software that streamlines your remote hiring and payroll processes without spending as much as all the thousands of startups using it. Upgrade your global workforce management, simplify compliance, and enjoy extra savings with Deel on NachoNacho.
Why you need a Deel Coupon
Deel is the ultimate HR software designed to simplify global workforce expansion. With Deel, you can effortlessly hire employees and contractors from around the world, while leaving the liability and compliance matters in their capable hands. Say goodbye to the complexities of international regulations and focus on selecting the perfect talent for your team. Not only that, but Deel also enables seamless and compliant payment processes, ensuring that you stay in line with tax regulations. Experience the convenience of remote payroll management, hire contractors worldwide, onboard swiftly, and effortlessly manage payroll and spend less with this Deel coupon.

Over 15,000 companies all over the world use Deel, making it one of the most popular HR solutions. You can also join them but without spending as much as they did just by simply subscribing through our marketplace. It takes minutes and you'll save up to $21,564 every year, forever.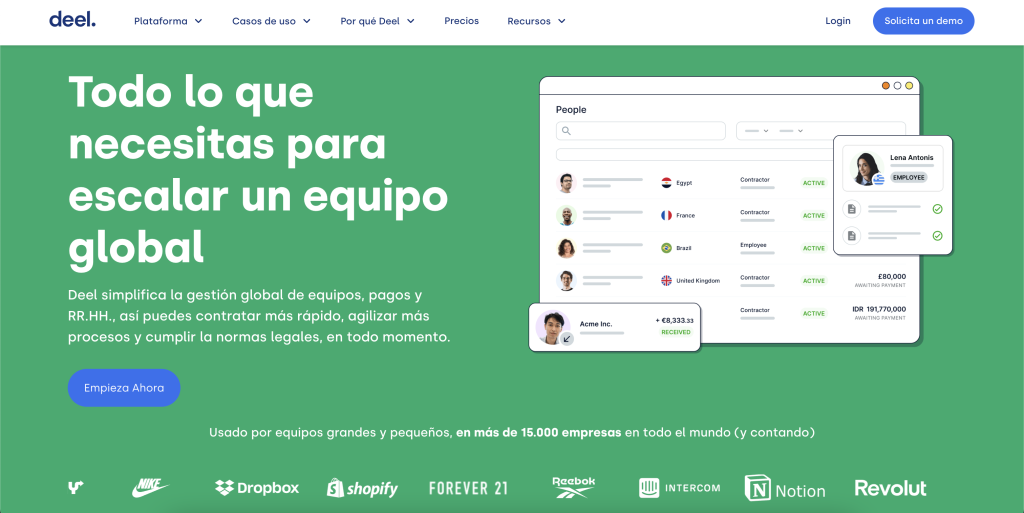 How to redeem this Deel discount code
The NachoNacho cashback redemption process is a simple and straightforward way for businesses to save money on their software purchases. To get started, businesses sign up for a NachoNacho account and browse the platform's extensive selection of software products and services.

Once a business finds a software product they want to purchase, they can pay for it using NachoNacho's virtual credit card. This virtual credit card provides an additional layer of security and also allows NachoNacho to track the purchase and calculate the cashback reward.

After the purchase is made, the cashback reward is credited to the business's NachoNacho account, where it can be easily redeemed. The redemption process involves simply clicking on the "redeem" button and choosing the payment method.

The cashback reward can be redeemed as a credit towards the next software purchase or as a direct payment to the business's bank account. This straightforward process makes it easy for businesses to save money on their software purchases and reinvest those savings into their growth and innovation efforts.
About NachoNacho
NachoNacho's marketplace offers businesses access to exclusive discounts and cashback rewards on a wide range of software products and services. The platform is on a mission to help businesses save money on their software purchases, empowering them to invest in growth and innovation. With NachoNacho, businesses can easily discover and compare software options, while also benefiting from cost-saving deals that are not available elsewhere. By simplifying the software buying process and offering unbeatable discounts, NachoNacho is helping businesses thrive in today's competitive landscape.
Start saving with this Deel promo code today
By purchasing Deel through NachoNacho, you can get a 15% discount on all plans forever, resulting in potential savings of up to $21,564 per year. So start streamlining your global workforce operations and unlock new possibilities for your business growth with Deel and NachoNacho.