Best Call Center Solutions for Small Business Needs
Having excellent customer support can be one of the toughest challenges for small businesses and startups. This happens because most small businesses can't afford to have a dedicated customer support team with advanced tools. In addition, many customers still choose to communicate by phone. So, staying on top of as many channels as possible is essential while offering a quick service. This is where call center solutions for small businesses come in.
There are plenty of customer support tools out there, some are purely call center tools, and others are complete suites with support over different channels.
So, if you're looking for a tool that helps you communicate with your customers over the phone, this article is for you.
GetCallers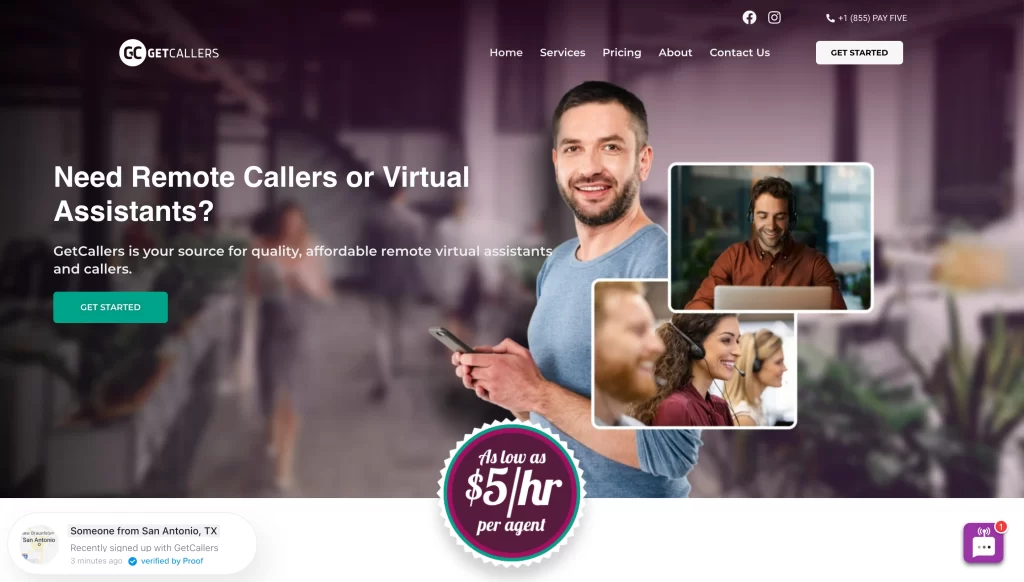 GetCallers is a cost-effective solution for small businesses that don't have the budget to recruit customer service staff. With this tool, you can have however many agents you want supporting your customers for as little as $5 per hour per agent.
It can also be helpful to aid your in-house agents so you can provide a faster service.
You can have excellent support without breaking the bank by outsourcing your service agents.
According to user reviews on their website, their agents are great at catching up to speed with the company they're working for.
This means you won't need to spend too much time training your agents and start making calls quickly.
But GetCallers' agents aren't only for support calls. You can also use the service to help you with your sales process or to have a virtual assistant.
Get a 10% discount on all GetCallers plans by subscribing through the NachoNacho marketplace.
Ozonetel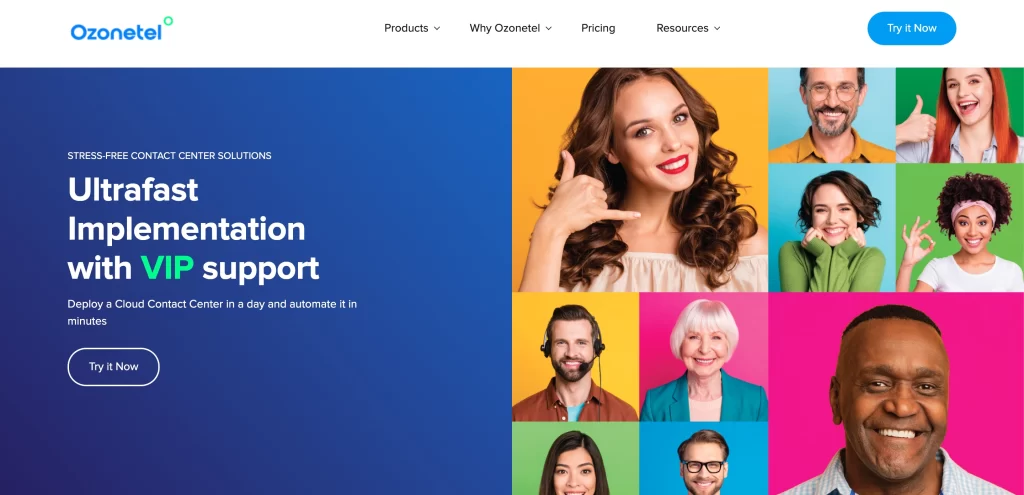 Ozonetel is a complete cloud-based call center solution for small businesses as well as growing companies.
No matter if you want a call center to take orders from your restaurant or want to provide technical assistants to your customers, Ozonetel can help you.
The platform offers features such as auto-dialers, call queues, live call monitoring, performance tracking, automated callbacks, and more.
Another great thing about this option is that they make implementation a simple process with support. According to them, you can go live within a day.
Ozonetel offers 3 plans, starting at $55 per user per month.
However, you can get 30% off from all Ozonetel plans by subscribing through the NachoNacho marketplace.
Freshdesk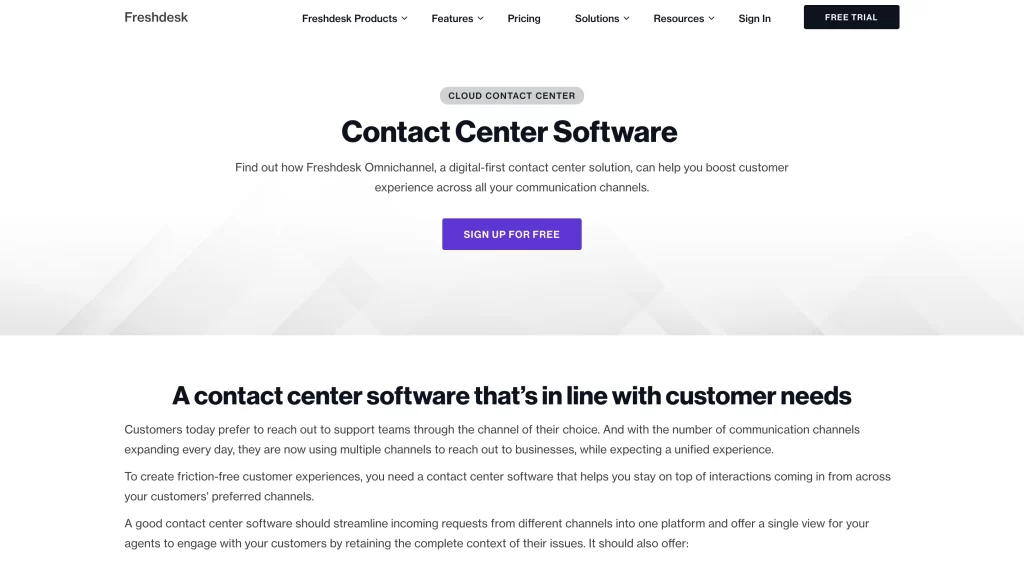 Freshdesk offers a complete suite of customer support solutions, among which is an all-in-one call center software.
This solution allows you to bring your own carrier or purchase a new phone number, monitor & record calls, track performance, collaborate with team members, and more.
But not only that, Freshdesk also has AI-powered bots that can help your agents reduce their workload by answering repetitive questions and giving solutions to callers.
Another great thing about Freshdesk is that you can upgrade your plan whenever you want and have complete customer support over other channels such as social media, email, and live chat.
You can start using Freshdesk for free with their free plan that includes plenty of features. Or you can try the other plans with their 21-day free trial. After that, Freshdesk pricing starts at $18 per agent per month.
Plus, you can save 20% on all plans by subscribing through the NachoNacho marketplace.
With this tool, you can create and scale a fast contact center without breaking the bank. That's why Freshdesk Contact Center is a great call center solution for small businesses.
EngageBay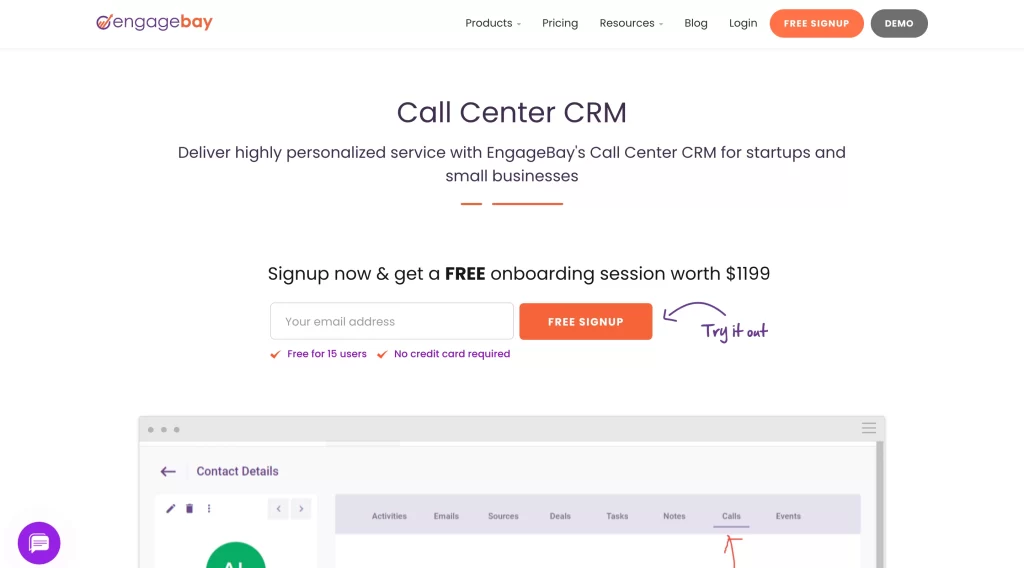 EngageBay is another CRM with a full suite of customer support solutions, including a call center for small businesses and startups.
With this tool, small businesses can make and receive calls, add notes, record calls, create call scripts, automate dialing to save time, and route calls to different agents based on several factors you decide.
Plus, since EngageBay is an all-in-one tool, it also offers ticketing. So every time there is a call, a new ticket is created, and the client's information is filled in automatically.
A ticketing system is a great way to get everything in order and streamline customer communications.
Another great thing about EngageBay is that it offers advanced reporting. You can track all the metrics that matter to you, like which agents are getting the most calls and more.
Then, you can use this data to ensure your team is providing the best support possible and improving your customer service.
EngageBay offers a free plan so you can try the tool and see if it's a good fit for you. Then, pricing starts at $12.99 per user per month.
But if you subscribe through the NachoNacho marketplace, you can get a 30% discount on all plans.
Before selecting a call center solution for your small business
Now that we've discussed all of the different options you have for your phone customer service consider the following things before making a decision.
Do you need a call center software for your small business?
Let's look at the facts. First of all, customer support is crucial for retaining your clients. In fact, businesses lose $75 billion every year due to poor customer service.
In addition, 93% of customer service teams believe that customer expectations are higher than before.
So there is a need to improve customer service continuously or you're at risk of losing your customers.
But what about the phone? Are people still calling businesses with so many other channels to reach out for support?
Well, according to a study by the CFI Group, 76% of consumers prefer calling by phone to reach customer support representatives. That statistic suggests people would rather get on the phone for support than reach out through email, social media, and chat.
When it comes to personal preference, there is no denying that people like to call to get support since it's a quick way to get a response.
With that in mind, the answer to this question revolves around if you have enough users that need support for your product.
If you do, then it's time to offer as many communication channels as possible so that people have the best customer support experience possible.
Features to look for in a call center software for small businesses
Now that you've decided that you need a call center for your small business, it's time to look at the available features.
We'll go over some of the essential features for a call center so that you can make an informed decision when choosing a solution.
Here are some features to look for:
Agent outsourcing
This is a great feature to have as a small business if you want to take customer support calls without breaking the bank. This way, you don't have to spend the time and money to hire and build a support team. Instead, someone else handles that.
Call recording
Call recording is an essential feature for quality control and training purposes. It allows you to monitor your agent's performance, giving you valuable insights on how to improve their customer service skills.
Omni-channel support
In order to provide a great customer experience, you need to be reachable through as many channels as possible. That's why it's important to have a call center offering omnichannel support. This way, your customers can reach out to you through phone, email, social media, and chat—all in one place.
Call monitoring
Call monitoring is a valuable tool that allows you to listen in on calls and provide feedback to your agents. With this feature, you can also have quality control over the customer service experience that your team is providing.
Call routing
Call routing is a crucial feature for any call center. With this feature, you can route calls to the right agent based on skillset or location. This way, your customers can get the support they need as quickly as possible.
Reporting
Reporting is important for any business, but it's especially important for call centers. Call center reporting allows you to see how your team is performing and identify areas for improvement.
Integrations
Call center integrations are key for a seamless customer experience. Call center integrations allow you to connect with your CRM so that you can have a complete view of your customer and provide the support they need.
Cloud-based calling
Cloud-based calling is a great option for small businesses because it's scalable and offers pay-as-you-go pricing. This feature also allows you to have a mobile workforce, since agents can work from anywhere.
Outbound calls
Many times, call center solutions for small businesses also offer support for outbound calling. With outbound calls, you can reach out to prospects for sales purposes. This way you can support your in-house agents, while also having the tools to provide customer service.