The Best Uizard Discounts, Promo Codes, and Coupons 
Uizard allows you to create amazing wireframes, mockups, and prototypes for apps, websites, and digital products in the easiest ways possible for non-designers and designers. And we're now offering an exclusive cashback discount on your subscription. Earn a 25% cashback on all plans for one years when you buy Uizard through the NachoNacho Marketplace.
Don't miss this opportunity to get an incredible software that will make your ideas come to life in less time. Click the button below now and enjoy the benefits of this tool for less.
Why You Need a Uizard Discount
Uizard is an extremely intuitive AI-powered UI design tool you can use to quickly and easily create wireframes, mockups, and prototypes for apps, websites, and digital products. Its AI-powered features provide users with unique capabilities, such as converting screenshots into interactive UI mockups, transforming hand-drawn sketches into wireframes, generating prototype copy, and importing UI themes from URLs or images.
The company's latest innovation, Autodesigner, which is dubbed as the ChatGPT for design, takes AI design to the next level. This tool allows users to generate multi-screen mockups simply by typing project ideas in plain English, akin to ChatGPT but specialized for UI/UX design. With Autodesigner, designers can bring their concepts to life effortlessly.
Uizard also offers a diverse selection of pre-made UI design templates and components to make things even easier. Once you select a template, simply drag and drop the elements you want in your design. Uizard is designed to empower its users, facilitating collaboration and iterative design processes, making it an indispensable tool for UI and UX designers.
And with NachoNacho, you can access all these features while getting cashback. Making the tool even more accessible than it already is.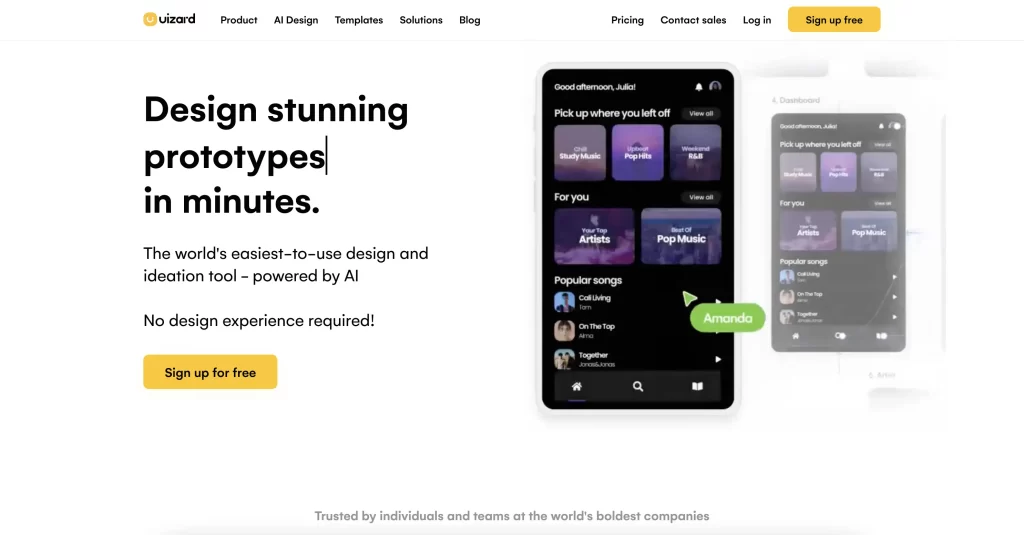 How to Redeem this Uizard Cashback Discount
The NachoNacho cashback redemption process is a straightforward way for businesses to save money on their software purchases. To redeem this promotion, all you need to do is go to the Uizard product page inside the NachoNacho Marketplace and click the "Redeem deal" button. Then, you'll be asked to create a NachoNacho account if you don't have one already. This takes minutes and will give you access to hundreds of software discounts available exclusively on our Marketplace, plus other powerful software management and recommendation features.
Once you're inside the NachoNacho app, just click the "Access your NachoCard now" button at the end of that page. Then all you need to do is use that virtual card you just created to pay for your subscription on Uizard's website, and that's it. Enjoy your 25% cashback. The cashback reward will be credited to your NachoNacho account, where it can be easily redeemed and used for any purpose.
Not only that, but we recently announced 1.5% cashback on your spend in addition to what you get back from your software purchases. So, you'll be getting 1.5% cashback on top of your 25% cashback.
Guide: Why do you need a NachoCard?
About NachoNacho
The NachoNacho Marketplace offers businesses access to exclusive discounts and cashback rewards on a wide range of software products and services. The platform is on a mission to help businesses save money on their software purchases, empowering them to invest in growth and innovation. With NachoNacho, businesses can easily discover and compare software options while also benefiting from cost-saving deals that are not available elsewhere. By simplifying the software buying process and offering unbeatable discounts, NachoNacho is helping businesses thrive in today's competitive landscape. Not to mention, when you use NachoCards, you also get an additional 1.5% cashback on your spend.
Start Saving with this Uizard Discount Today
The NachoNacho Marketplace is excited to offer an amazing 25% cashback discount on Uizard. With Uizard, if you have an idea, you can quickly and easily turn it into a functional wireframe, mockup, or prototype.
And why not save 25% + 1.5% by simply subscribing through the NachoNacho Marketplace? Don't waste any time you could be using to design something great! Subscribe now to Uizard.