15 Best HR & Recruiting SaaS Tools
Finding, managing, and retaining employees can be a tall task, especially for small businesses or startups without a dedicated HR manager. Luckily, there are plenty of SaaS HR tools that can help managers with all of their HR needs at a price that won't break the bank.
Why Use HR SaaS Applications?
Large companies have the budget to hire at least a human resources manager. Some even have a large enough staff to hire an HR team. However, small businesses don't need a dedicated HR manager.
Small business teams most likely aren't using highly-paid recruiters to find talent, and they are probably trying to find ways to improve company culture without breaking the bank.
Using a software as a service (SaaS) product can help lower your monthly HR costs. Many HR SaaS platforms cost very little, and some even employ a "freemium" model. While it might seem like you shouldn't leave the management of your employees to HR software, this process is becoming more standard among startups and small businesses.
What Services Can SaaS Platforms Provide for Human Resources
There are SaaS products that can help you all the way through the employee lifecycle, from recruiting to onboarding to retention.
If you want to craft the best job posts and manage the applications you receive for those posts, there's a SaaS for that. If you need help managing the onboarding process for a number of employees at once, or if you need help with employee reviews, there's also a SaaS for that. If you are trying to improve your company culture, there's a SaaS for that too.
The long story short is, in today's age, there are plenty of SaaS solutions to use if you need to accomplish tasks that fall under the HR umbrella. So let's take a look at 15 of the top HR SaaS platforms (in no particular order.)
Top HR SaaS Platforms
15Five helps you get the most out of your employees. 15Five lets managers track their team's progress and performance, but the suite of products doesn't stop there. If you want to upskill your teams for new tasks, 15Five can help you do that. If you want to set up weekly check-ins with team members to go over performance and progress, you can also do that with 15Five.
15Five has a scaled pricing model depending on how many features you need. Their basic plan starts at $4/user/month, and their plans range up to $14/user/month.
Save 15% off a 15Five plan lifetime with NachoNacho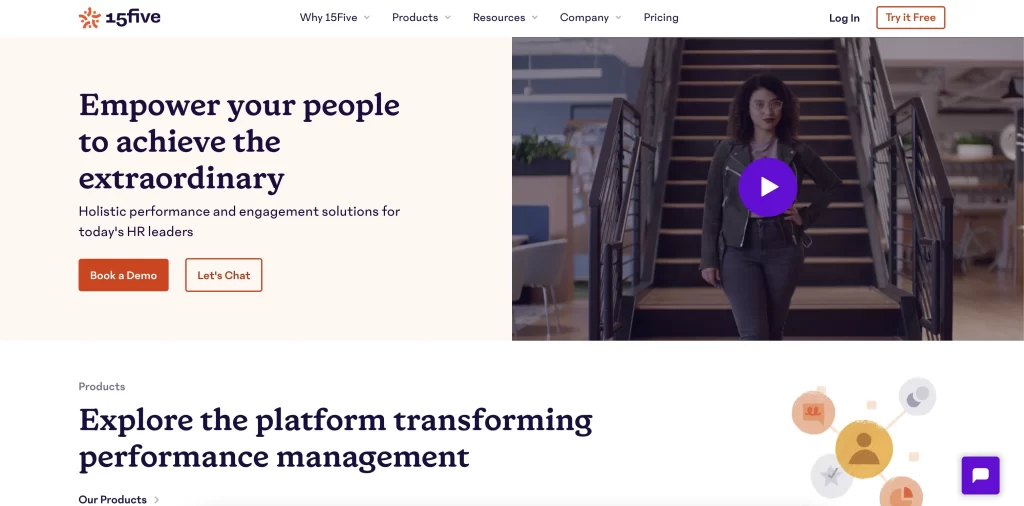 The Ally.IO platform allows you to track your objectives and key results (OKRs) easily in one central location. Ally puts your team's OKRs at the center of everything you do to make sure your team stays on track. Like many HR SaaS platforms, Ally integrates easily with whatever other SaaS products you use from Slack to Microsoft Teams to Asana.
Ally's basic plan costs $7/month for a minimum of 12 users, and they also offer enterprise pricing.
Save 15% for your first year of using Ally.IO with NachoNacho
Attuned's goal is to make work meaningful for all employees. Managers can make surveys to track what motivates their employees and then use that data to make work more enjoyable for the team. Attuned helps show managers what they should be looking out for on their team to avoid struggles and decreased productivity.
Attuned charges $50/person annually for its base plan and plans range up to $450/person.
Save 20% forever by signing up for Attuned through NachoNacho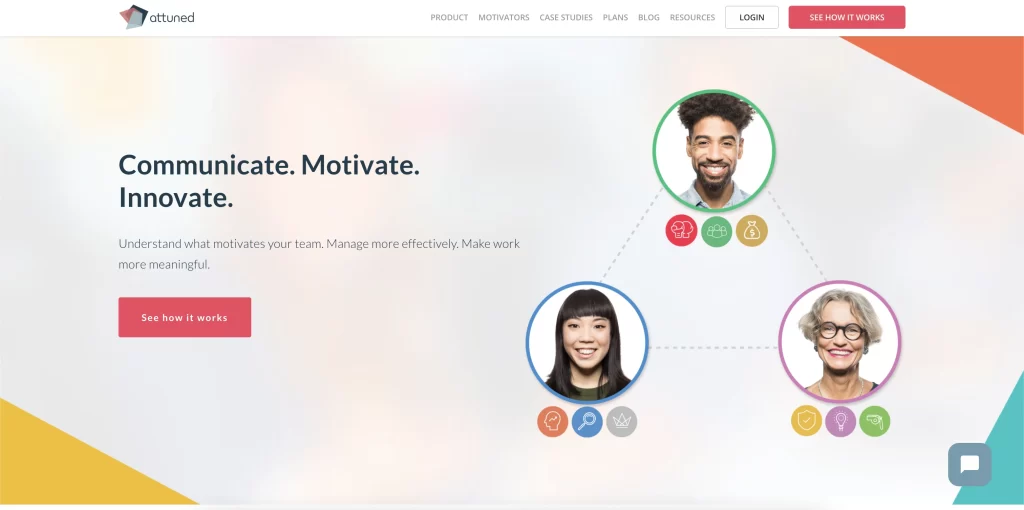 Bamboo HR
Bamboo HR helps businesses focus more on employees and less on day-to-day operations by automating HR tasks related to hiring, onboarding, payroll, and more. Bamboo champions small and medium-sized businesses, and its software is designed with their needs in mind. It stores employee records and generates advanced analytics that are accessible on the mobile app at any time.
Businesses can get a free trial for Bamboo, and they can build custom packages to get the features they need.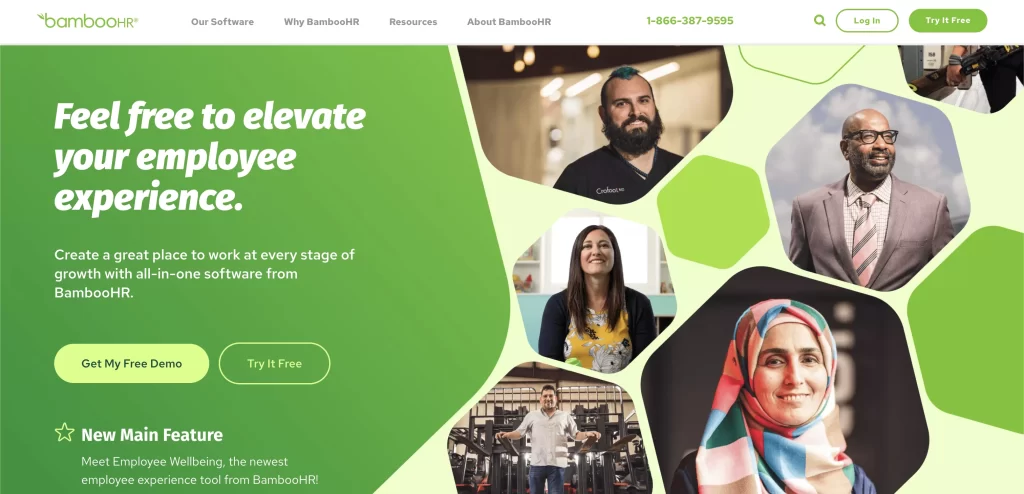 When it comes to recruiting and hiring the best talent, Breezy is a leading SaaS vendor. Breezy allows managers to post and advertise their jobs on one central platform. It also will help manage all applicants, schedule interviews, and provide analytics on the application and hiring process. Breezy integrates with a number of other HR SaaS applications including those that will help with background checks and payroll.
Breezy offers a basic free plan, but its paid plans start at $171/month.
Save 15% forever by signing up for Breezy with NachoNacho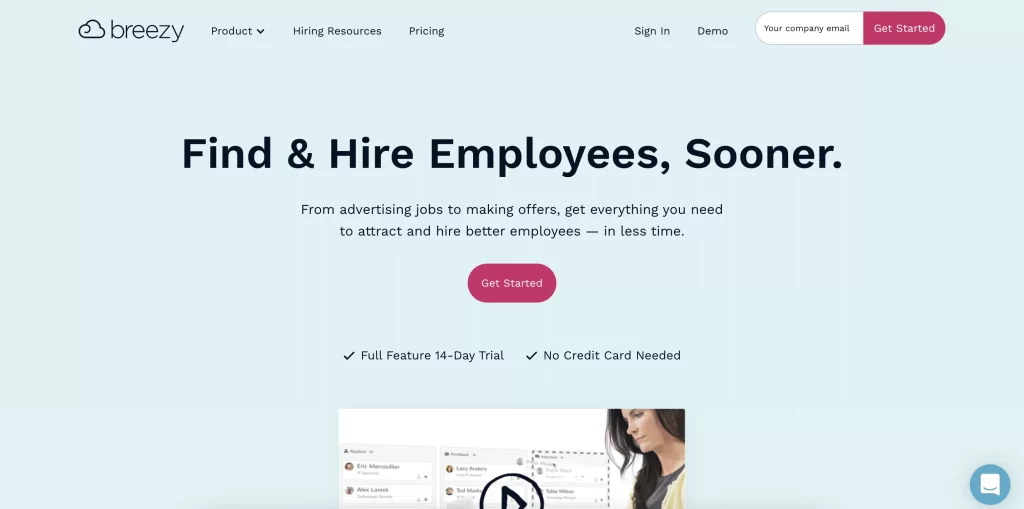 Managing your hourly employees' or contractors' time can be a pain, but Buddy Punch makes it simple. The only time tracking software helps stay on top of hourly tracking, time-off, and overtime. With Buddy Punch, you can easily run reports to see how many hours your team works in a pay period.
Buddy Punch costs $29.99/month for small businesses for its basic plan, and it ranges up to hundreds/month for large companies.
Save 15% forever by signing up for Buddy Punch with NachoNacho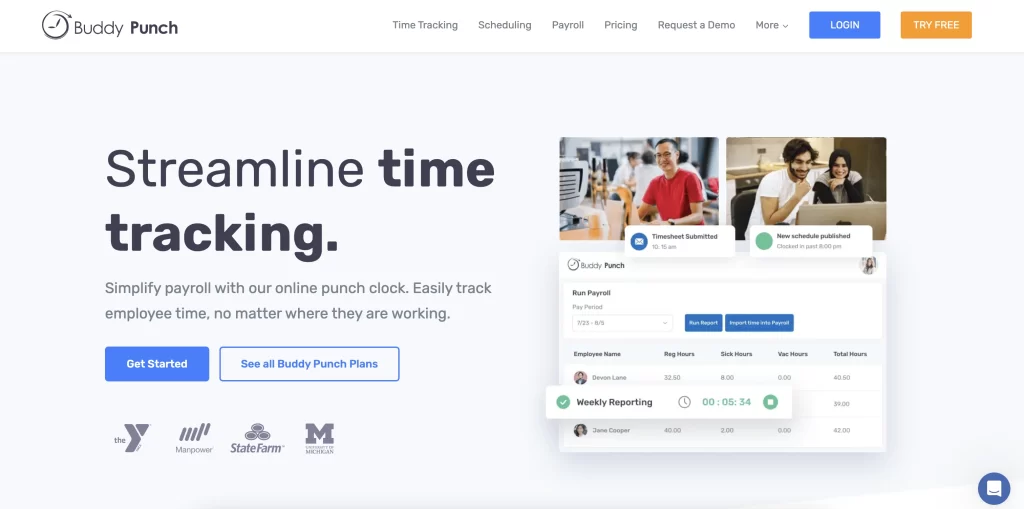 Eddy is an all-in-one HR platform for small businesses. From hiring and onboarding, to running payroll, to training and evaluations, to managing staff, Eddy has you covered. Eddy is built specifically to help small businesses and startups with all their HR needs.
Eddy starts at $8/employee/month with an additional $49/month base fee.
Save 15% forever by signing up for EddyHR with NachoNacho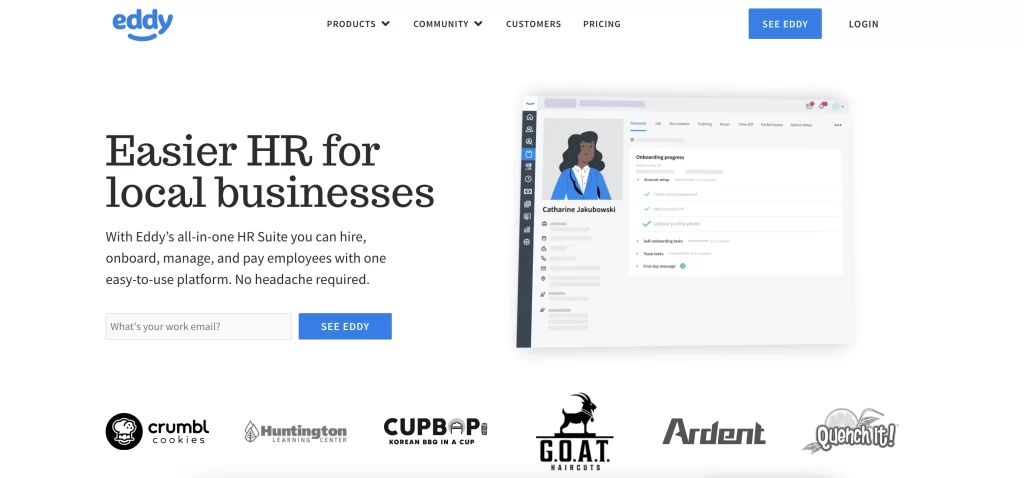 A happy employee is a productive company, and Empuls looks to keep your team happy. Empuls allows you to connect with your team to see what they want at work, gives team members opportunities to give managers feedback, and recognizes and rewards good work from employees. Empuls especially helps teams in a hybrid or remote work environment keep everyone engaged.
Empuls starts at $2.50/employee/month and the more advanced plan is $4.50/employee/month.
Save 25% forever by signing up for Empuls with NachoNacho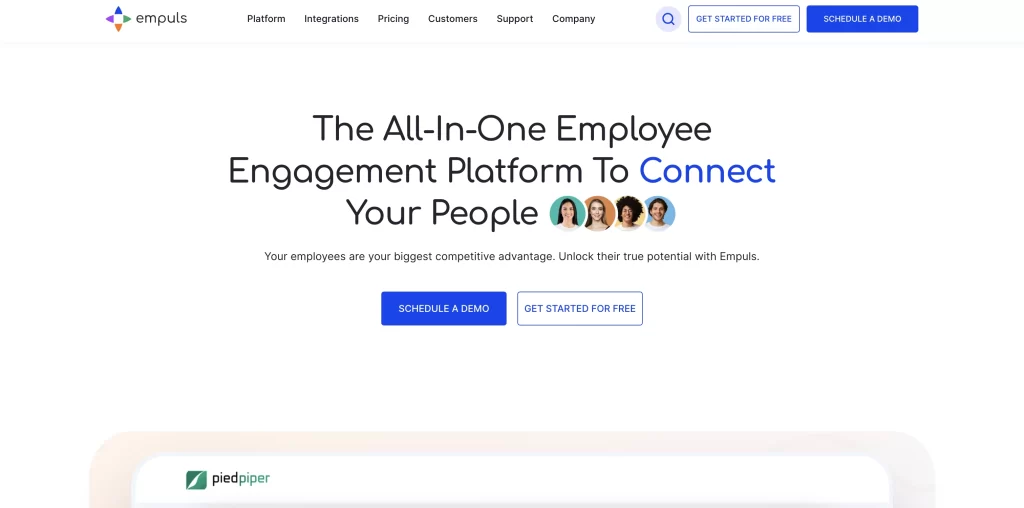 Gusto
Gusto is a one-stop shop for businesses that need to simplify their HR responsibilities. Gusto manages payroll and benefits, and pulls directly from its time and attendance features to streamline the process of paying employees. Gusto also works for you on the front end of the hiring process with talent management and onboarding features that save you time and money without sacrificing accuracy.
Gusto plans start at $6/employee/month with an additional fee of $39/month, and the most advanced plans start at $12/employee/month with a $149/month base fee.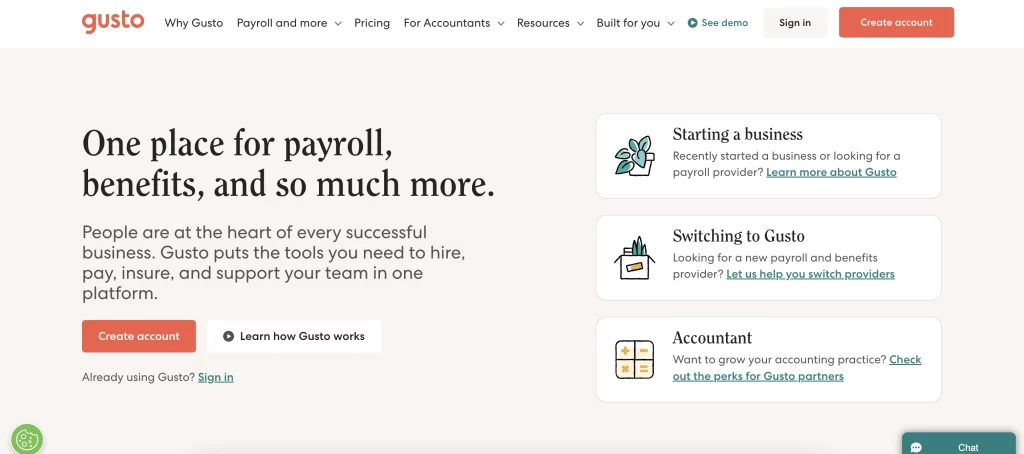 Homebase is another all-in-one HR software for busy businesses. Homebase makes it easy to create your employee's schedules and have them track their time, run payroll, hire and onboard employees, track employee performance, and even make sure your employees are happy in their day-to-day. Homebase integrates with popular HR SaaS platforms like Quickbooks, Gusto, and Square.
Homebase has a free plan where you can track time and manage schedules for your employees, and its paid plans start at $20/month.
Save 15% forever by signing up for Homebase with NachoNacho
Using the power of AI, Recruitee makes attracting and hiring top talent easy. Recruitee is unique because it makes it easy to hire as a team rather than have a hiring manager make a decision in a silo. Hiring managers can make templates for evaluating candidates and allow others on the team to see and use these templates. Recruitee also gives easy-to-share links for all postings to let your team turn into your recruiters.
Recruitee's base plan costs $222/month, and the more advanced plan costs $399/month.
Save 15% off forever by signing up for Recruitee with NachoNacho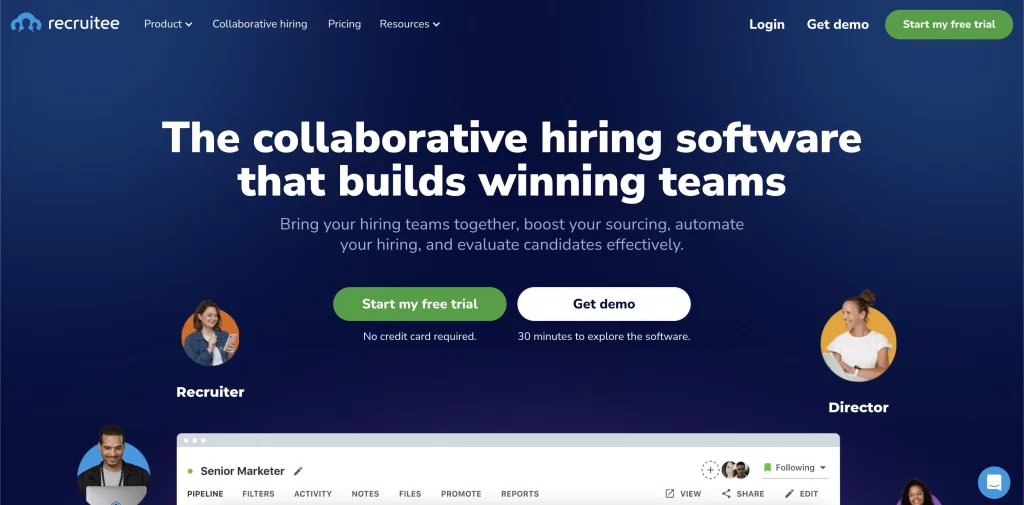 Remote makes managing payroll for global and remote teams easier. Remote lets you hire international employees and contractors without hassle. Remote will even give localized guidance for hiring contractors in more than 170 countries.
Remote has a free plan to manage international contractors. Its paid plan to manage employees is $349/month.
Save 20% for two years by signing up for Remote with NachoNacho
VIVAHR streamlines the hiring process by helping businesses build a "hiring brand," and making it easier to attract talented candidates without spending valuable time searching across multiple hiring sites. VIVAHR lets you immediately post openings on several job boards, and has a centralized database of candidates so that you never lose track of communications with applicants.
VIVAHR has a starter plan of $65/month if billed annually, and its advanced plans start at $115/month.
Save 15% on all plans forever by signing up for VivaHR with NachoNacho.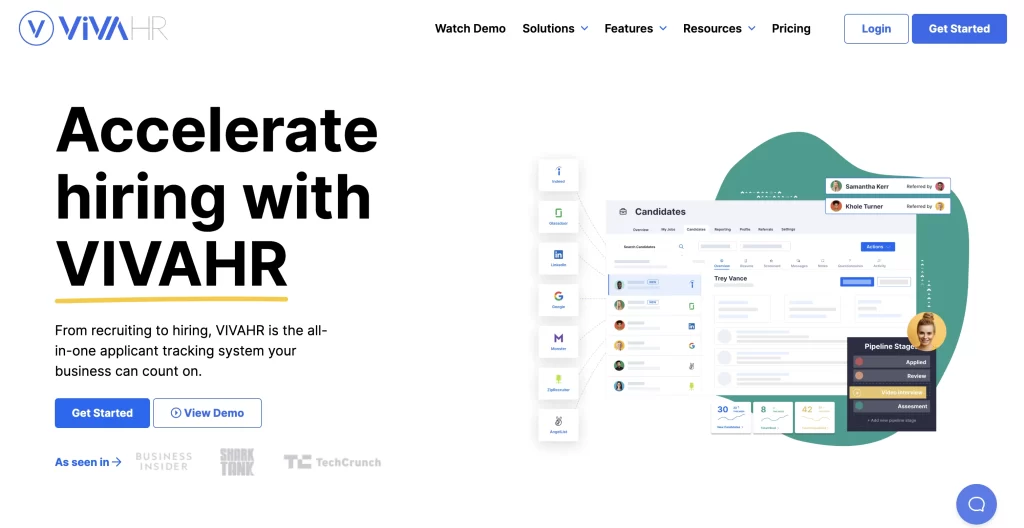 WorkBright is an HR onboarding platform that specializes in form collection so that businesses can easily manage the paperwork for new and existing employees using a secure encrypted software. WorkBright lets you send mass reminders about deadlines and outstanding forms, and gives you the power to change data for multiple employees wherever you are.
WorkBright has several plans that are tailored to the size of your company. For example, for a business that hires 1-100 people/year, a WorkBright plan starts at $158/month.
Save 15% on all plans forever when you sign up for WorkBright with NachoNacho.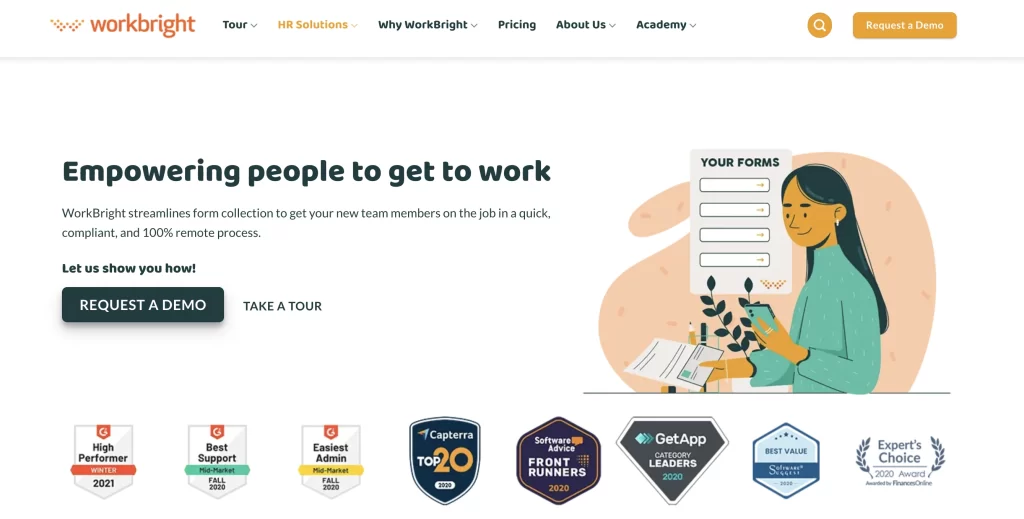 Workday
Workday brings all aspects of business operations together into a cloud suite that integrates the HR department with the finance and accounting workflows so that medium and enterprise businesses can get more done in less time. The platform has over 450 million users, and it offers solutions and products for every industry.
Businesses can take advantage of the full cloud suite of Workday products or work with the sales team to build custom plans with the features they need.