Choosing the right SaaS Management Platform
SaaS products seem to be popping up everywhere, with thousands of options to streamline and supercharge every type of business. But for businesses with multiple SaaS products, it's easy to get lost in the variety of software options and overpay for the products you need. Fortunately, that's where SaaS Management Platforms come in, so let's dive into the details on what these platforms do, why you need one, and how to choose the right platform for your business.
What is a SaaS Management Platform?
A SaaS Management Platform (SMP) is a tool that helps businesses manage the purchasing, licensing, onboarding, and renewal management of cloud-based software. At their core, SMPs are built to reduce the risk that comes from unmanaged tools, improve the value of the products businesses are using and increase user effectiveness.
Why do small businesses need a SaaS Management Platform?
The average company is using 80 SaaS apps now, making the management of those programs more critical than ever before. Technology has become the driving force behind every industry, and without the right tools, you're bound to be left behind. But what good are these tools if you're spending too much, paying for duplicate products, or don't have a clear sense of the ROI for each software?
Small businesses operate on small budgets, meaning that every dollar counts. Many of the solutions to SaaS management currently available are catered to enterprises and are too expensive for small businesses. But there are SaaS Management Platforms that can help small businesses make the most of their hard-earned money by tracking the SaaS products they utilize and avoiding unnecessary waste.
What factors should you consider when using a SaaS Management Platform?
There are many factors that go into choosing a SaaS Management Platform, but here are the top criteria to be on the lookout for:
Visibility: One of the main problems that SMPs solve is unnecessary waste, so having visibility into the potential for waste is a necessary capability
Control: Going hand in hand with visibility, you need to be able to preemptively avoid waste before it happens, so an SMP needs to provide that control to be useful
Management capability: A good SMP will allow you to delegate spending authority, all while maintaining centralized visibility and management of your SaaS products
Ease of use: Like most products, simplicity is key, and SMPs are no different. A platform that is difficult to start using or requires deep integration is more hassle than help
Segmentation: An SMP should not require a company-wide buying decision and rollout, period, and you should be able to use it incrementally, and/or for a specific team in a company
Employee utilization: Similar to the need for a good management capability, SMPs should make it simple to onboard – and offboard – employees as needed
Privacy protection: An SMP shouldn't require that you compromise on privacy, such as giving access to company's gmail accounts, in order to provide useful data
Self-sufficient: The data in your SMP should be self-generated, instead of having to be culled from another source, such as Quickbooks
Analytics: The data is only actionable with good analytics, and an SMP should provide breakdowns that cover spend by category, spend projections and renewal alerts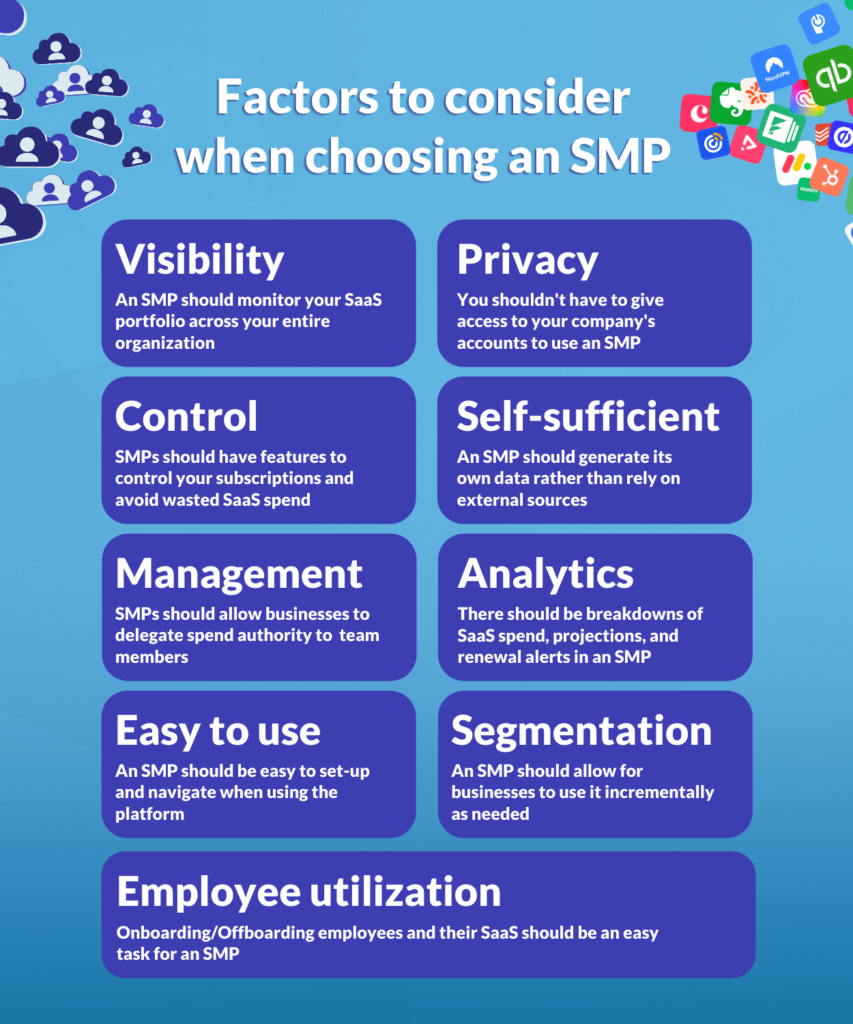 What are the top SaaS Management Platforms?
For Small-to-Medium Sized Companies
While smaller businesses may have fewer SaaS licenses to worry about, that doesn't mean that they don't have the same need to manage them as larger businesses. Companies waste up to 30% of their software spend, so optimizing that SaaS and making it easy to manage is beneficial to companies of all sizes.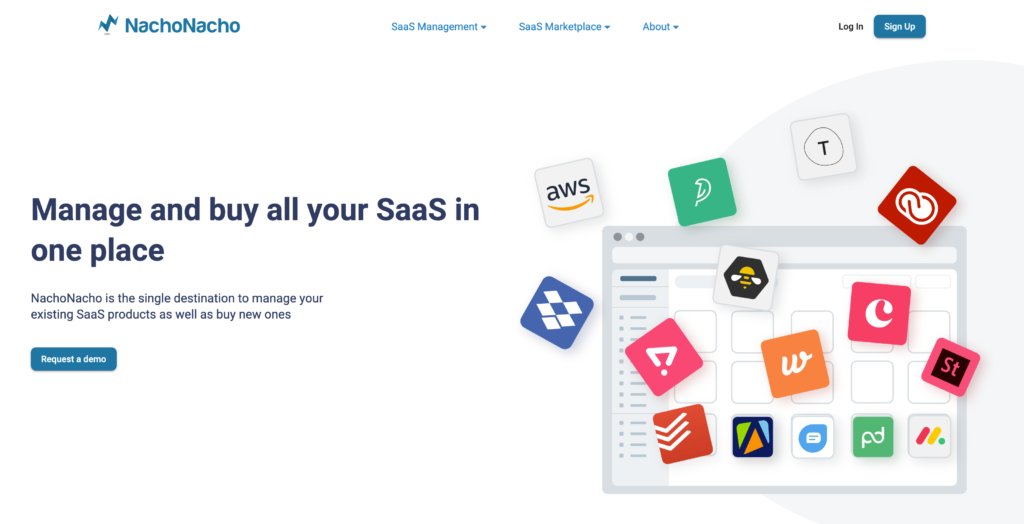 NachoNacho
NachoNacho isn't just a top SaaS management platform because we say so. It is the only company in this list that leverages virtual credit cards to allow users to manage their company's subscription spend. Each subscription for every employee is tied to a unique virtual credit card, which increases the efficiency and effectiveness of managing your SaaS and improves security.
Virtual credit cards make tasks like canceling software subscriptions easier because all you have to do is cancel the card. You don't even need to visit a vendor's site. This means when it comes to offboarding employees, users can cancel their virtual credit cards with one click (or tap).
The customizability of virtual credit cards also keeps SaaS costs in check. Users can set strict spending limits and specific expiration dates on each card so you are never charged more than expected. Team members can be delegated specific spending authority when it is appropriate, eliminating the chance of an employee going overboard subscribing to software on a company card.
Leveraging virtual credit cards minimizes security risks because your payment source is always protected. There's never the chance that someone gets your bank information because the virtual credit card shields it.
Also, if one vendor's security is compromised your other subscriptions are not affected. This keeps your business up and running if that situation should ever occur.
Where other SaaS management tools fall short in this list is that they need to be integrated with their tool. NachoNacho SaaS platform is agnostic to operating systems, tech stacks, and software architectures. You can use virtual credit cards for any expense – no complex integrations are required.
Another unique feature to NachoNacho is that it allows you to both manage your company's software subscriptions and purchase new ones at a discount in its marketplace. Think of it as a one-stop shop to both manage and purchase SaaS.
Learn more about managing your business's SaaS and saving money on software subscriptions with NachoNacho.

Zluri
Zluri is one of the newer SMPs in the market. It alleges it has the best-in-class discovery module which helps you to monitor, manage and optimize your business's SaaS stack from a single dashboard.
Like many others, Zluri offers automation features to cut back on the time it takes to procure SaaS, onboard and offboard employees, and review upcoming renewals.
While Zluri appears to primarily serve larger companies' IT and finance teams, it does have a more transparent pricing model versus the previous SMPs in this list. It seemingly opens the doors to medium-sized businesses with plans that offer fewer features at what we can assume is a lower price, but it's not completely clear what that price is.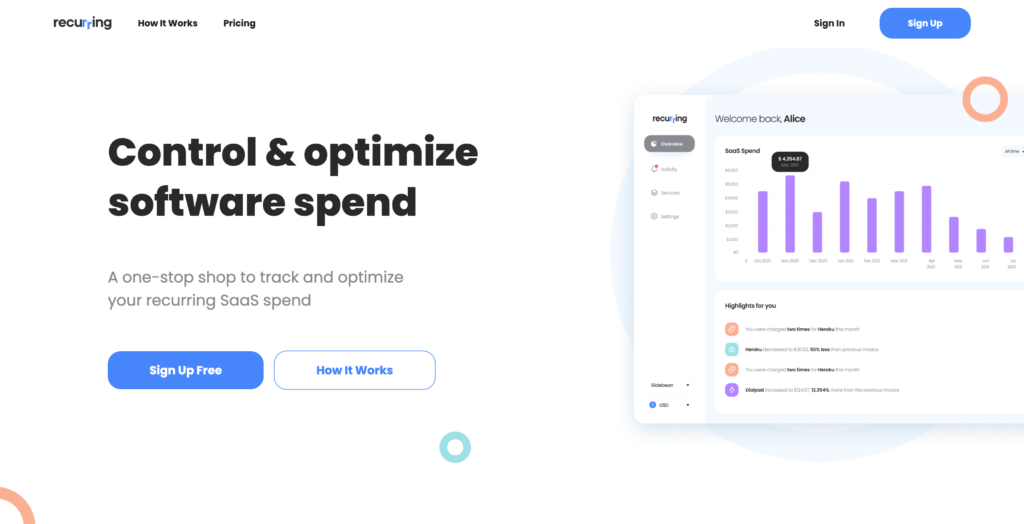 Recurring
Recurring allows you to monitor your company's monthly SaaS spend and has automated alerts for certain events such as duplicate charges or significant increases or decreases. It does this by requiring users to forward software invoices to them through emails.
One interesting feature to Recurring is their Smart Recommendations which help businesses discover relevant SaaS tools based on their industry. This assists in identifying alternate platforms that might be cheaper or a better fit for the company.
While Recurring is great at monitoring and automating your expense tracking, there's not much more to it. It doesn't offer many controls to manage your software subscriptions beyond requesting cancellations from the vendors.
This lightweight tool might be great for businesses who just need that simple functionality, but not so much for others that need features like delegating spending authority and offboarding employees.
For IT Teams of Large Enterprises
There aren't a lot of options for small-to-medium-sized businesses to manage their SaaS but we can't ignore the ones that cater to larger organizations either. They typically have more features than smaller companies simply wouldn't utilize, but are still valid options for businesses that do need comprehensive SaaS management.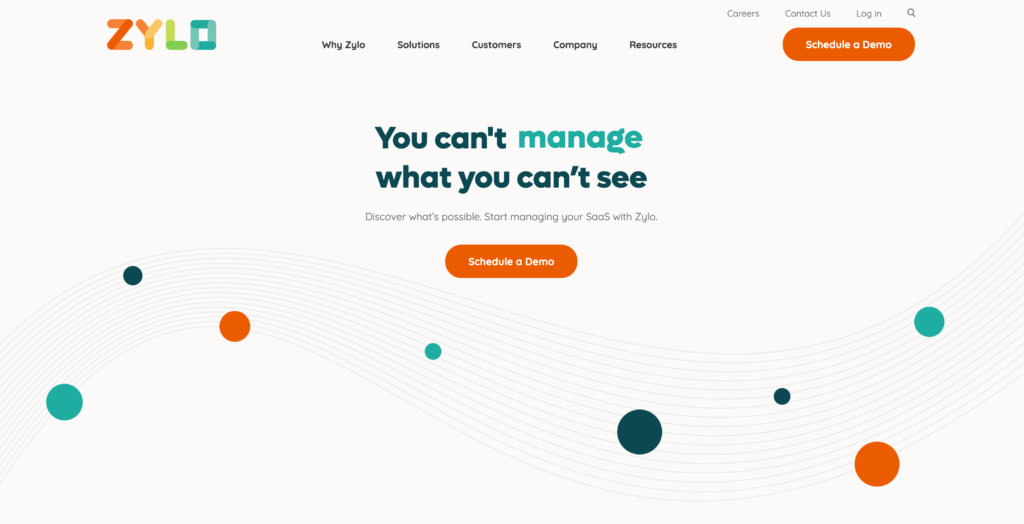 Zylo
Zylo is one of the bigger players in SaaS management with comprehensive features for large IT departments to utilize. It includes analytics to monitor SaaS usage, the ability to create approved catalogs of applications, and even strategic SaaS management consulting.
Businesses that use Zylo are often larger enterprises that require its complete toolset to manage an extensive amount of employees. Complex features like maintaining compliance and avoiding Shadow IT to improve their organization's security put Zylo at a higher price tag than many others in this list. But many bigger organizations do have a need for these features and can justify the spend.
One gripe of Zylo is that it is centered around SSO data. This makes sense given it caters to larger organizations, but that means it misses insights on actual feature-level engagements. Also, while it has usage data that you can leverage for better negotiations, other similar tools have personalized recommendations to assist in those contract renewals. It can also be a long, manual process to rollout.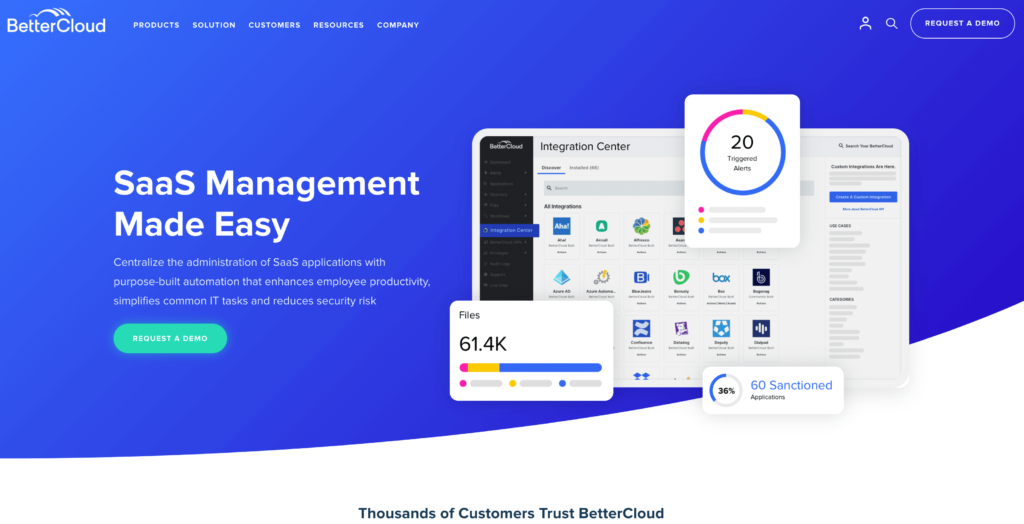 BetterCloud
Similar to Zylo, BetterCloud is an enterprise-focused SMP that has been around for a while and offers many of the same features required by large organizations. Where it differs is its ability to automate many of the tasks involved in IT workflows, which is supposed to improve accuracy and reduce errors.
BetterCloud has native integrations for more than 70 SaaS apps, which is good, but only scratches the surface of the thousands of SaaS out there. Also, while their automations are helpful, many of them have to be built in the first place. This means there can be a steep learning curve that may also introduce user errors.
BetterCloud is also an expensive option so unless your business uses enterprise-level SaaS applications, it probably shouldn't be your first option for an SMP.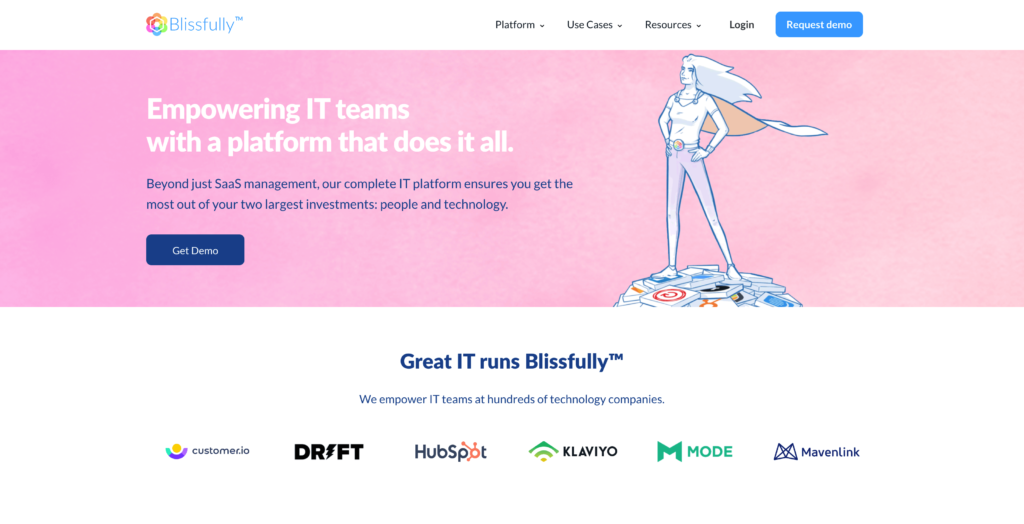 Blissfully
Blissfully as an SMP claims it gives maximum visibility into a company's SaaS usage with automated SaaS discovery, spend reporting, and employee-level usage data. Through detailed vendor management features, it helps businesses stay on top of their contracts and can assist in identifying underutilized SaaS to negotiate down.
Blissfully says it is on average half the cost of competitors like BetterCloud or Zylo, which makes it an appealing alternative for those enterprise-sized SaaS management platforms. However, it still might be too expensive for small to medium-sized businesses.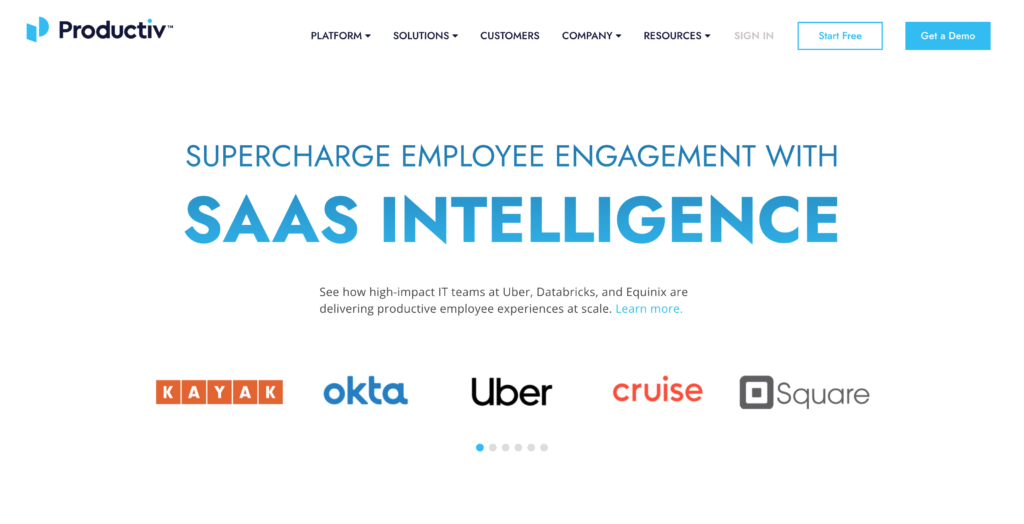 Productiv
Like many of the other SMPs in this list, Productiv offers businesses insight into their SaaS landscape with metrics detailing app usage and spend. It claims to analyze over 50 dimensions of app engagement to give you a comprehensive picture of what software is being used by employees.
Productiv is also mainly for enterprise IT leaders with many employees to consider and track. Businesses that don't need enterprise-grade analytics engines can probably look at other options in this list.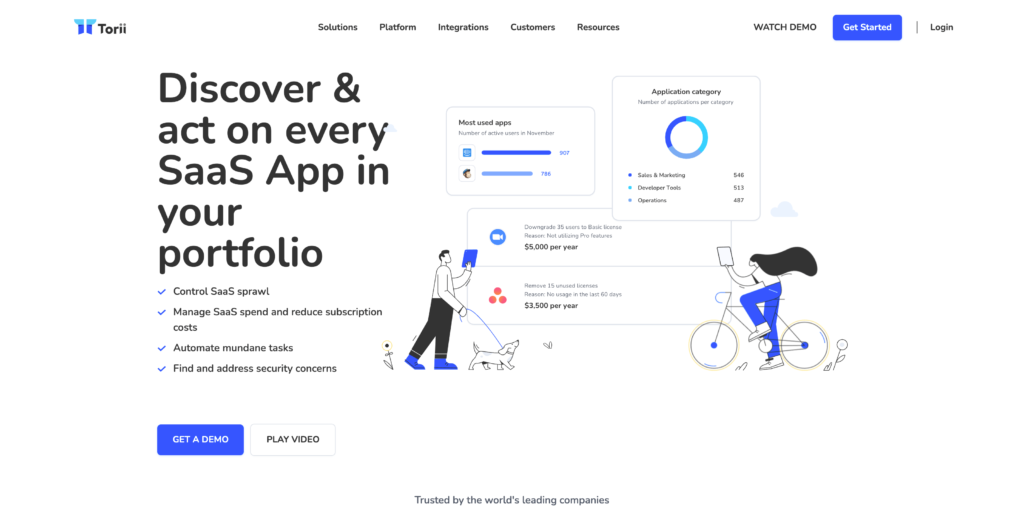 Torii
Torii claims it is the number one in providing actionable insight into a businesses' SaaS portfolio with industry-leading direct integrations that reach over 10,000 apps. While it appears to offer much of the same functionality as its competitors, Torii says it closes the loop on the entire lifecycle of SaaS management.
Being another enterprise-oriented company means Torii can have technical workflows and automation that could be difficult to set up and manage. It also means it comes at a hefty price tag that more than likely leaves small to medium-sized companies out of the picture.
Summary
So what's the best SaaS Management platform for your business? The answer is, like many things, it depends on the scale of your business and its needs.
If you need an SMP with heavy automation for onboarding/offboarding employees and maintaining compliance in a large organization, you are probably better off utilizing some of the solutions out there designed for enterprises. Those platforms will come at a steeper cost though.
If you have a small-to-medium-sized business and need to monitor and manage what software employees are subscribing to, we think the best fit would be a tool like NachoNacho or even Recurring (if you just need the monitoring feature). Our bias is obvious, but we truly believe leveraging virtual credit cards to manage your business's SaaS expenses covers all the bases of an SMP at an accessible cost to companies of all sizes. The marketplace with discounted SaaS is a nice bonus too!
The bottom line is that as businesses continue to add more SaaS apps to their business's tech stack there is a growing need to manage all of them in order to reduce security risks and avoid wasted SaaS spend. That is why SMPs exist and can provide so much value to your business operations. If you've read this far you probably understand their increasing importance. Good luck finding the one that is the best fit for you!
Get started with NachoNacho to manage all your business's SaaS in one place and cut down wasted SaaS spend.
---
We'd love to hear what you think. Connect with us on Twitter: @getnachonacho