How to optimize your SaaS spend
A few years ago, the average business spent upwards of $300,000 on SaaS products – a jump of 78% from years prior. Today, it's likely that number has increased significantly, especially as more and more products emerge to help businesses do what they do better and more efficiently. The challenge, however, is to ensure that the money your company is investing in SaaS products isn't being wasted by paying for duplicate programs or products that don't get used often enough to justify the expense. And with nearly one-third of SaaS spend going to waste (SaaS waste), it's never been more important to optimize your company's SaaS spend.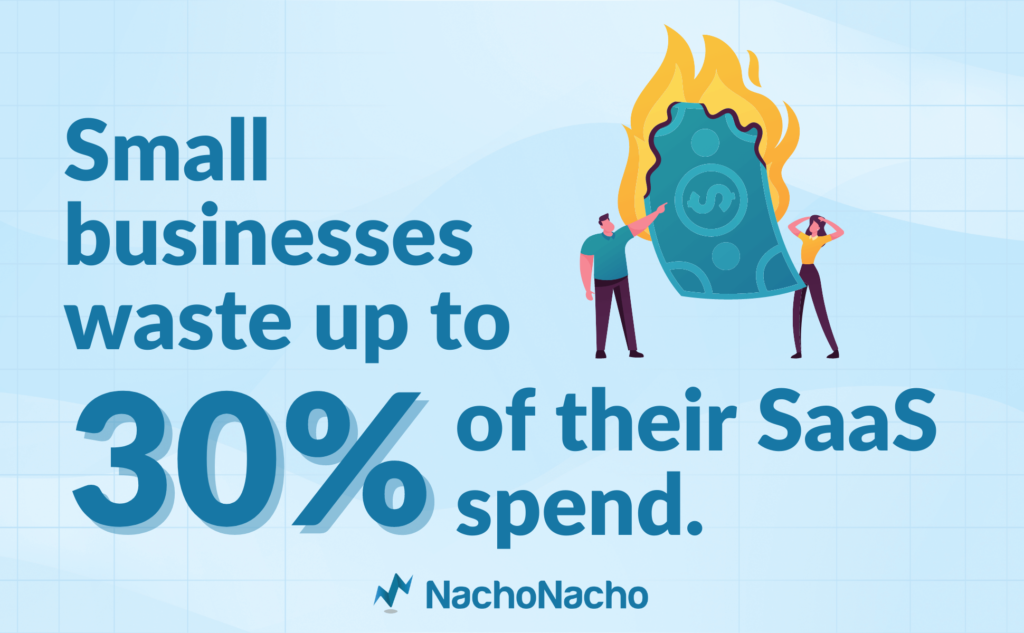 What is SaaS spend optimization?
SaaS spend optimization (or SaaS cost optimization) is the process in SaaS management of reducing the number of apps or licenses your company is paying for. Optimizing SaaS spend helps to reduce SaaS waste and close any security gaps by tracking existing SaaS subscriptions to find any that are over-licensed or under-utilized.
Why is optimizing your SaaS spend important?
Cloud-based SaaS solutions have simplified most tasks over the past few years, but the more SaaS subscriptions that are purchased, the easier it becomes for companies to waste budget on unnecessary costs.
Some of the main issues that lead to SaaS waste are limited visibility or awareness of overlapping subscriptions, automatic renewals of SaaS tools, and unclear ownership. As a result, companies end up paying for multiple tools that serve the same or similar function or continue to pay for SaaS products that are unnecessary or are under-utilized.
How can I optimize my SaaS spend?
There are several ways you can optimize your business's SaaS spend and minimize SaaS waste:
Delete duplicate SaaS subscriptions that you are paying for twice
Delete subscriptions that do the same thing
Downgrade any advanced subscriptions that you can use the free or lower-paid plan
Always search for a more affordable option than the one that you tried
Negotiate better prices with your SaaS vendors
Make sure you always cancel free trials if you don't want to use it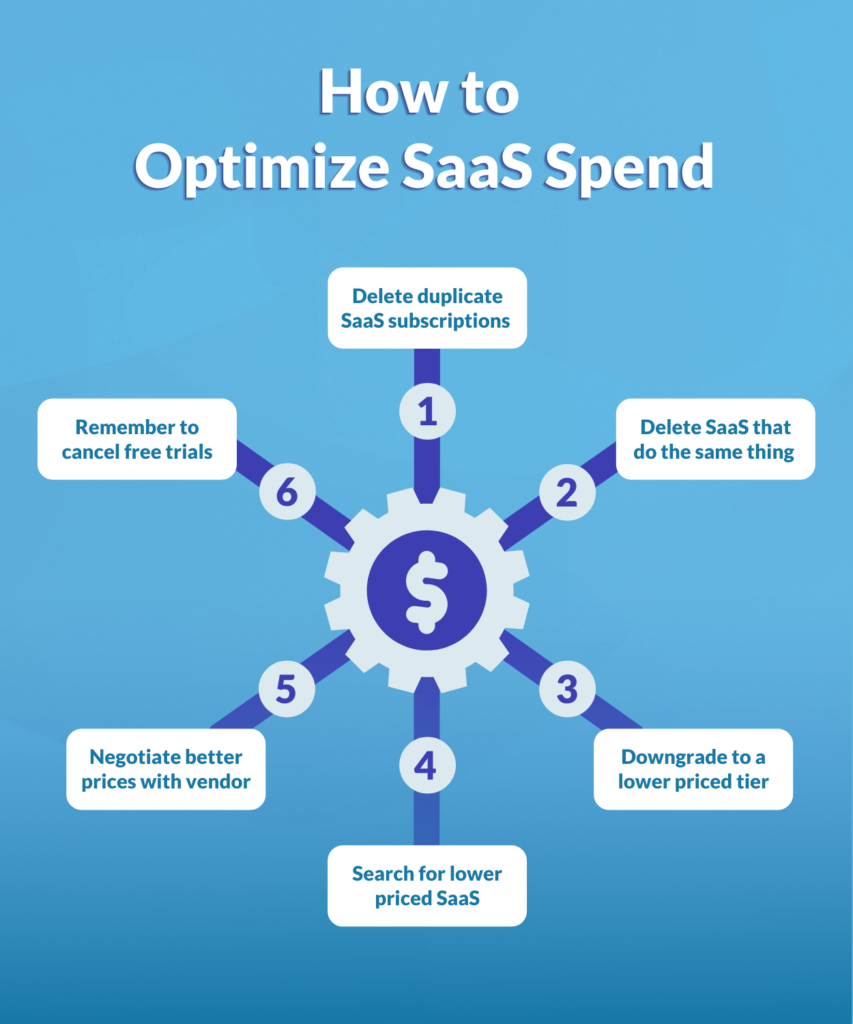 1. Delete duplicate SaaS subscriptions that you are paying for twice
Limited visibility into existing subscriptions often results in multiple subscriptions for the same SaaS tool, when one would be entirely sufficient. Search through your subscription costs and verify that you are only paying for one subscription per SaaS product – unless the limit on users or another condition makes it necessary to hold more than one subscription – and delete any duplicates to start saving money immediately.
2. Delete subscriptions that do the same thing
With so many new products releasing regularly, it can be tempting to keep upgrading to the newest version of a product or to one with more advanced or expanded features. To avoid paying multiple times for the same function, it's a good practice to review all of your existing SaaS products before starting a new subscription.
Not only does this give you visibility into what you are already paying for, it allows you to delete any obsolete products that a new subscription will replace.
3. Downgrade any advanced subscriptions that you can use the free or lower-paid plan
With almost every product, multiple tiers are available based on the number of features a company needs. However, the free version or first-tier option often provides all of the most important or popular features, and it's a sales strategy to convince companies that they should opt in to the premium level. So, unless the features you need are only available as part of the advanced version, downgrade all SaaS subscriptions to the free version or first-tier to immediately start saving money.
4. Always search for a more affordable option than the one that you tried
If the only version of a platform with all of the features you need is the advanced or premium subscription, start looking for a different product. Even if you're using lower-tier versions of most platforms, the SaaS space is constantly evolving, and there will likely be a more affordable version of the option you're paying for in short order (if there isn't one already.)
Compare prices on a variety of subscriptions before committing, and make it a habit to review your subscriptions regularly to see if there are any that you can replace with a more affordable product.
5. Negotiate better prices with your SaaS vendors
It's not always convenient to switch up the software your business uses. Likewise, SaaS vendors want to keep you as a customer, and so they might incentivize you to stay on their platform by providing you with a better price. These negotiations are generally easier to make when your business has many SaaS licenses with a vendor. Still, it's always worth reaching out to see if there are any opportunities for discounts.
Alternatively, you can look for SaaS marketplaces that provide you discounts for subscribing through their platform instead of directly negotiating with the vendor.
6. Make sure you always cancel free trials if you don't want to use it
It feels like a steal to sign up for a free trial of an expensive product, but if you don't cancel it before the paid version kicks in, it's your budget that will be stolen. Also, when a free trial expires, the paid plans often default to paying at the annual rate, which can really put a dent in your SaaS spend.
Depending on the number of SaaS solutions you subscribe to, assuming you'll remember to cancel them all in time is risky. A better option is to set a calendar alert to remind you to cancel any unnecessary subscriptions before they start eating into your budget.
Are there SaaS Optimization Platforms?
All the above may seem easy enough, but the reality is that these steps can be challenging to perform since all of your SaaS applications are unique entities. Typically, every SaaS app you subscribe to requires you to log in to their platform to make adjustments. As a result, tracking your software subscriptions and all those individual SaaS licenses is a manual process that makes SaaS cost optimization naturally imperfect.
Luckily there are platforms that give you the ability to optimize your business's SaaS. Most of these come in the form of SaaS Management Platforms (SMPs), which are often designed for large enterprises at high price tags, but they aren't the only options. Newer, more accessible solutions like NachoNacho provide the exact tools needed to manage your software subscriptions and ultimately optimize your SaaS.
Using NachoNacho to Optimize SaaS Spend
NachoNacho has many of the same capabilities of conventional SaaS Management platforms: a centralized dashboard that gives visibility into your business's entire SaaS landscape to identify duplicate subscriptions, map out when renewals occur, and determine which employees subscribe to what SaaS tools.
But, unlike ordinary SaaS management platforms, NachoNacho employs fintech in the form of virtual credit cards to power its subscription management. This unique characteristic provides critical advantages to optimizing SaaS spend over other SaaS management tools.
Subscriptions are Easily Stopped
Ultimately, you will have to visit individual SaaS vendors to downgrade or completely delete your account. But with NachoNacho, you can simply stop paying for subscriptions by canceling your virtual credit cards, which fundamentally removes a tool from a cost optimization point of view.
The ease of stopping subscription payments is especially beneficial for offboarding employees leaving the company. You can stop an employee's subscription payment in a couple of clicks in the NachoNacho dashboard.
Increased Control
Using virtual credit cards gives you more control over your SaaS subscriptions, such as customized spending limits, expiration dates, and delegated spending authority. This flexibility essentially ensures that you never forget to cancel a free trial, you never pay more than you expect to, and employees cannot freely subscribe to software at will, which often leads to SaaS waste.
Enhanced Security
Using virtual credit cards to subscribe to SaaS products furthers the security you already get through optimizing your SaaS spend. Virtual credit cards are more secure than traditional means because your payment information hides behind the virtual credit card. Additionally, each of your subscriptions has a separate virtual credit card associated with it, so if one of your accounts is compromised, the others are unaffected.
Better Prices for SaaS Subscriptions
The other primary benefit of using NachoNacho is the built-in SaaS marketplace that allows you to save on the SaaS you purchase. By subscribing to SaaS included in the NachoNacho marketplace, you get exclusive deals at up to 30% lifetime discounts which virtually (pun intended) removes the need to negotiate lower deals with vendors personally.
Learn more about NachoNacho's SaaS Management and how it can help you optimize your SaaS spend and or sign up to get started now.