Evaluating Your Small Business's SaaS Spend
Small businesses are overwhelmed with options when it comes to SaaS applications, and oftentimes businesses' SaaS spend gets out of control.
It's really easy to get lost in a sea of SaaS. As business owners scroll through Linkedin, Instagram, and Facebook, they keep seeing advertisements for new SaaS vendors and think that their business could use those tools. While small businesses can benefit from some of these SaaS vendors, up to 30% of SaaS spend is wasted every year.
As a small business, that amount of waste is unacceptable. Let's take a look at how to avoid that waste and properly evaluate your SaaS spend.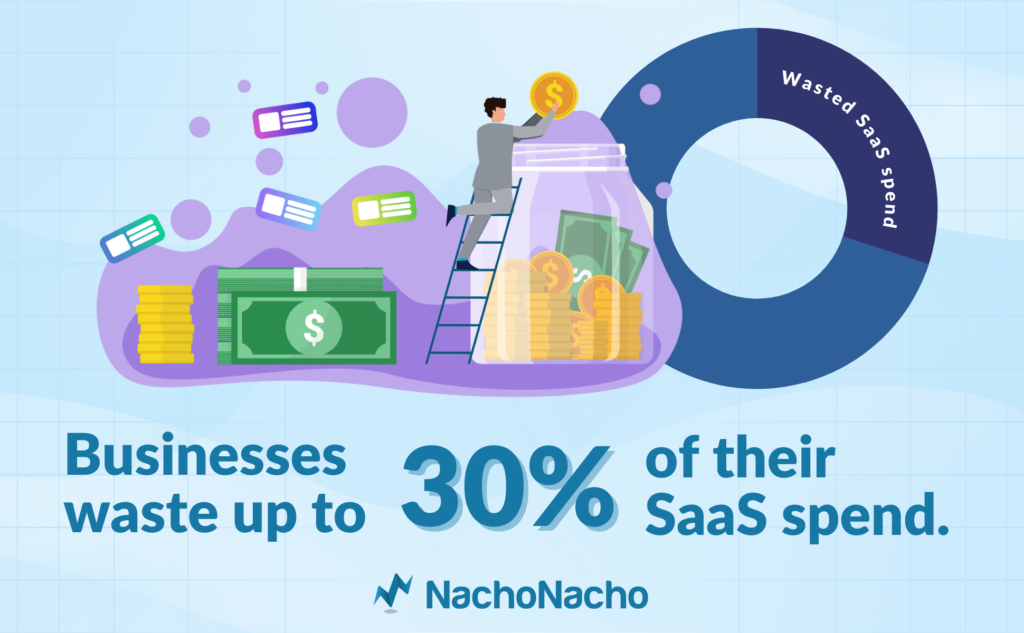 Determine your business's needs
Whether your business has already built a library of SaaS products or you are in the process of purchasing them now, the first step to take in evaluating your SaaS spend as a small business is to determine your company's needs.
Saas spending is growing for all businesses and for small businesses it can be one of the larger expenses they have. That's why it's crucial to decide the needs of your company before signing up for every vendor with a shiny, new SaaS solution. What your company needs ultimately depends on what your company does.
Clearly define what your company absolutely needs to do business before doing anything else. This will be helpful to establish before you begin to evaluate SaaS vendors and can ultimately serve as the line in the sand for your software spend later.
How to evaluate a SaaS vendor
When you're deciding if you need another subscription for your business, there are four factors you should consider.
1. Customizability of plans
Every business is different. Your small business or startup won't need the same vendors as your friend's fashion business. That's why the best SaaS vendors offer a good amount of customization to meet you where you're at.
Many SaaS vendors like Canva offer freemium subscriptions. You can get basic features for free, and then if you want more in-depth features, you can start paying for a subscription. This is a great way to avoid waste in your SaaS spend. If you can try out the company for free, you can decide if the added customization will be worth the added money.
Even for SaaS vendors that don't offer a freemium model, you should dip your toe in the water before diving fully into it. Look at the customization options available from any vendor you are considering.
If you are having trouble deciding between two packages, start with the more affordable option and then evaluate if you need the added customization. The best SaaS vendors scale their customization packages to fit your needs.
Get 20% cashback on your Canva subscription in NachoNacho's marketplace
2. Integrations with other SaaS tools
With any SaaS vendor you add to your company's stack of services, you want to make sure they play well with the other services you are using. That's where integrations come in.
Integration is when your subscription can fit in with any of your other products. For example, Monday.com is a project management software that can keep your team on track. What good is project management software if it can't communicate with your team's preferred communication software, file sharing service, and calendar?
Luckily, Monday can easily integrate with other SaaS vendors like Slack, Dropbox, and Google Calendar, but that's not the case for every vendor
When you are evaluating if a SaaS company is right for you, take a look at what you are already using in your small business and figure out if the SaaS company will integrate well. This can avoid the waste that so many small businesses see.
Get 20% cashback on your Monday.com subscription in NachoNacho's marketplace
3. Customer service
You are not going to immediately know everything there is to know about the SaaS you sign up for, even if you think you do. If you aren't sure if you are going to get the customer service you need, maybe that vendor isn't for you.
The first level of customer service would be tutorials and walkthroughs. The best SaaS vendors have some sort of tutorial that will help you with setting up your account while also walking you through some of the more advanced features. SaaS vendors like ClickUp and Evernote have great YouTube channels that can walk you through whatever you need to know.
Videos are great, but sometimes you want to be able to talk to a real person. Before you spend a dollar on a SaaS vendor, see if they allow basic plan users to use email support, phone support, or chat support. Some vendors charge more if you want to use anything other than a forum. Evaluating the customer service before you pay for SaaS will help you avoid waste in your SaaS spend.
4. Security of vendor
Every day you turn on the news and you see another cyberattack against a small business. Ransomware and malware attacks are all too common, so you want to make sure any SaaS vendor you pick has good security protocols in place.
If they aren't clearly listed on the vendor's website, ask a customer service representative. If you don't get the answers you are looking for, maybe reconsider signing up for that service.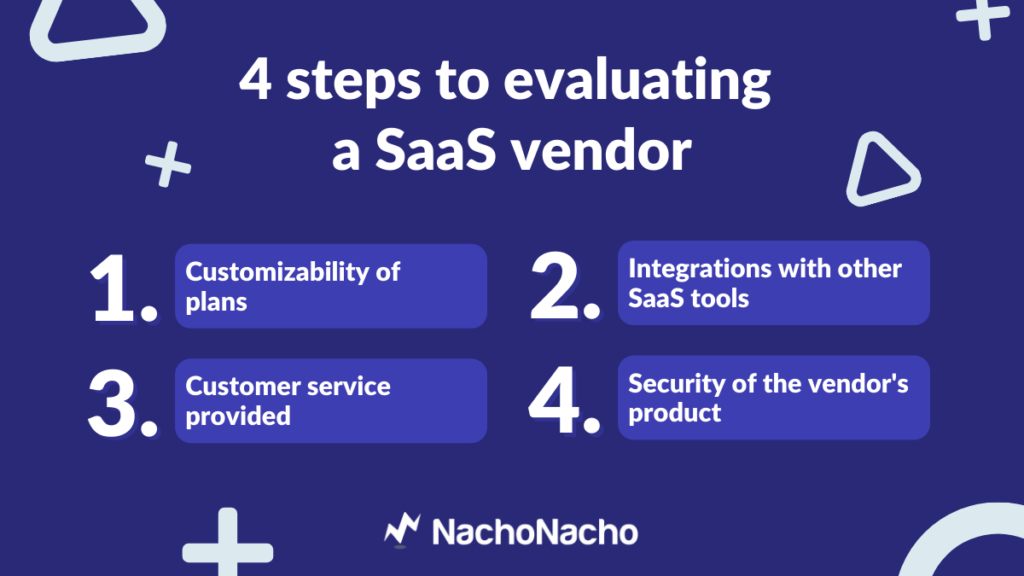 Evaluating your small businesses' SaaS spend
These steps are crucial when evaluating new SaaS vendors, but you might be wasting a ton of money on SaaS if you don't do regular checks on what your employees are actually using.
Cancel unused SaaS apps
The first step you can take to evaluate your SaaS spend is to look at your company's SaaS usage. Make sure you communicate regularly with your staff about what SaaS apps they are actually using and what SaaS vendors are just getting paid for but not getting any use.
Canceling the subscriptions your staff isn't using is one of the most impactful ways you can decrease your business's wasted SaaS spend.
Review the value of your SaaS
It's also necessary to evaluate the value of the SaaS regularly. See if you can figure out how much money a vendor is saving you or helping you bring in via customer acquisition. Time is money, so if a company is saving you time, add that into your evaluation. If the level of SaaS spend is higher than the value, it might be time to ditch that vendor.
Use SaaS management software
Evaluating your SaaS spend can be time-consuming but it is ultimately worth it in the end. However, even after you have spent the time to cut out the subscriptions you don't need, SaaS spend can be wasted because of the difficulties of managing all those individual vendors.
Things like duplicate subscriptions within a team and forgetting to cancel subscriptions for employees who leave often contribute to wasted SaaS spend. Trying to track these things on a spreadsheet is one solution, but is tedious and prone to inaccuracies.
Using a dedicated SaaS management tool can solve the issues that cause your SaaS spend to sneak away unnoticed. Not only does it give you insight into all the tools your team uses and your total spending on those tools, but it also allows you to directly manage them without going to every vendor's website.
At the end of the day, evaluating your SaaS spend will require you to take a look at your business's needs, your current subscriptions usage, and the value of those subscriptions to your business. Make sure you are regularly evaluating your business's SaaS spend periodically so you aren't wasting your hard-earned dollars.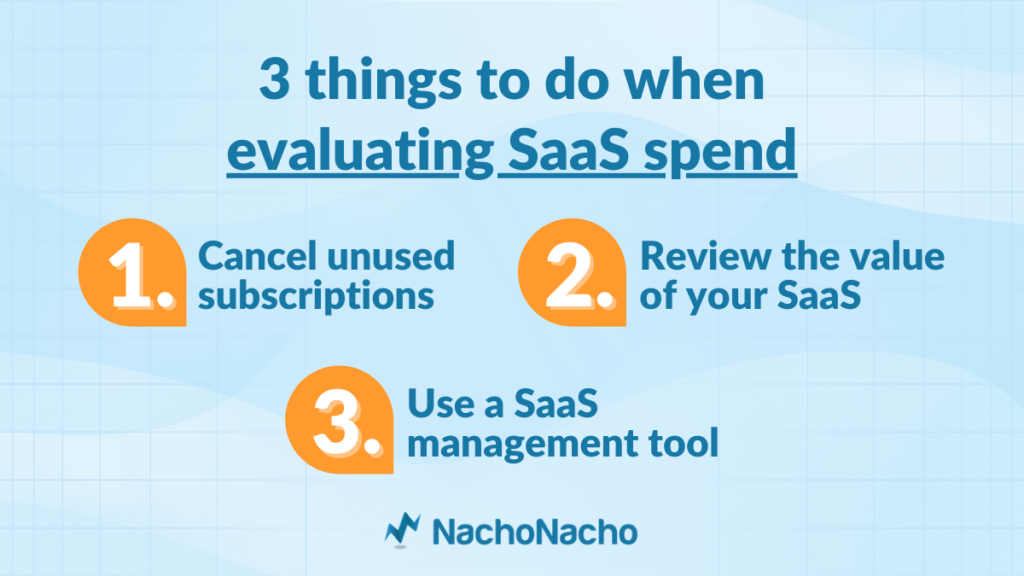 NachoNacho allows small businesses to see all their SaaS vendors in one place and helps lower SaaS spend with exclusive discounts. You can get started with NachoNacho today.
---
We'd love to hear what you think. Connect with us on Twitter: @getnachonacho