Why do you need a SaaS management platform like NachoNacho?
The SaaS world is growing faster every year. New tools for all kinds of purposes are being launched every day. These tools help your business run smoothly and ultimately improve a process within your organization. All through a convenient subscription plan, you can upgrade or downgrade at any time.
The self-service nature of SaaS proved to be an effective model thanks to its flexibility. However, with all the benefits of SaaS also came an issue for businesses commonly referred to as SaaS sprawl.
What is SaaS sprawl and why you should care
SaaS sprawl is when an organization has too many SaaS tools to manage efficiently without issues. They effectively lose control of their SaaS stack. When an organization reaches this breaking point, many problems can manifest, leading to a large amount of budget being wasted. Valuable budget that could be spent elsewhere to grow your organization instead.
This problem is so common that you've probably already experienced it without knowing what "SaaS sprawl" is. Issues associated with SaaS sprawl come in several forms:
Free trials expire, and you get automatically charged even if you don't want the tool
Tools that aren't easy to cancel keep getting charged
You're still paying for tools that ex-employees used
Duplicate subscriptions
Paying for tools no one on your team is using
Getting a large unexpected bill from usage-based pricing
Most of these problems are caused because of the lack of visibility and control. Sign up is so easy, then everything goes downhill after that.
This is where NachoNacho comes in.
What you can do with an all-in-one SaaS management platform like NachoNacho
NachoNacho is the ultimate solution for small to medium-sized businesses to discover, manage, and save on SaaS. While other SaaS management platforms only give you features to manage your stack, NachoNacho allows you to do much more than just SaaS management.
NachoNacho is the only tool you will ever need to discover the right tools for your team, get huge discounts on them, manage all your organization's software subscriptions, and gain control and visibility over your team's expenses under a single roof.
This way, you're not only saving from avoiding the SaaS sprawl issues mentioned above, but you can also pay up to 30% less for the tools you would already be subscribing to.
But how can we give you these benefits that no other SaaS management platform or company has?
Manage SaaS
Not tracking your tens or hundreds of subscriptions is a big mistake that is easy to overlook. At some point, you need to keep track of these account payables because you could be wasting a significant portion of your budget needlessly. In addition, tracking those apps through a spreadsheet might seem like a quick fix, but it isn't. With no automation or features specifically for SaaS management, you would need a full-time employee just to keep the spreadsheet up to date. And even then, you can't do anything from the spreadsheet. You need to go into every tool to see information, make changes, cancel, or any other action. All of this is expensive, time-consuming, and inefficient.
NachoNacho provides your business with the best-in-class solution for SaaS management. We allow our users to issue virtual credit cards in seconds with custom spending limits and expiration dates so you can pay every vendor with a different card. Plus, you can cancel/suspend any card with just one click. This gives complete spend control over your subscriptions, so you will never get an unwanted charge again. Say goodbye to free trials, apps that make it difficult to cancel, misuse of your information, price increases, usage-based pricing tools that get out of control, and more.
In addition, in the NachoNacho dashboard, you can have complete visibility over all your team's active tools, so you never pay for duplicate subscriptions, unused tools, and more.
Discover SaaS
NachoNacho offers the biggest SaaS marketplace in the world, where your team can browse through hundreds of tools that fit right for any department's needs. Since new tools are being developed and launched all the time, you can count on NachoNacho to find the top tools and hidden gems alike. 
In addition, we're always adding new tools to the marketplace and showcasing the features of different tools through our blog, newsletter, and community.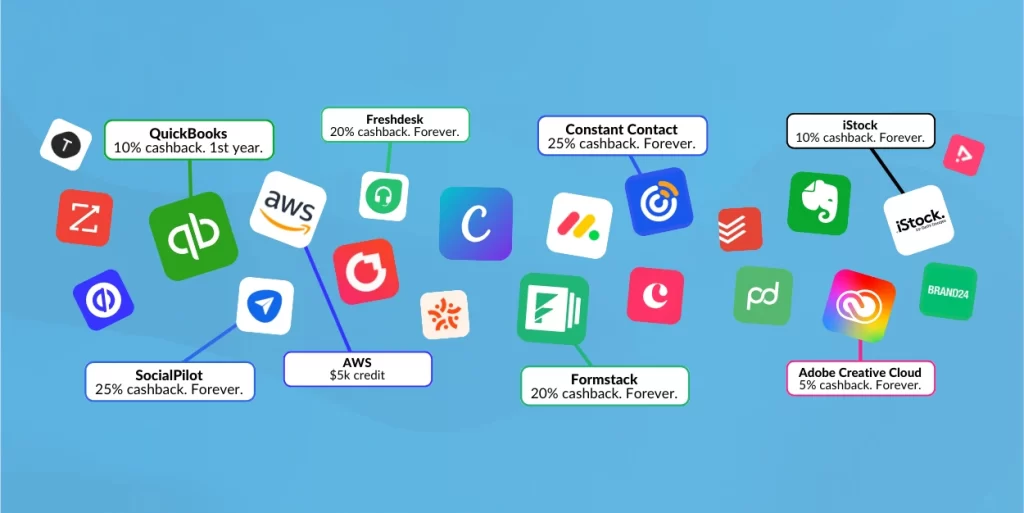 Save on SaaS
In our software marketplace, you will find a collection of discounts of up to 30% that you won't find anywhere else. Our vast deals are exclusive to users of NachoNacho, and you can start getting them right away by signing up for an account and following the instructions of each tool.
Why pay more for a tool when you could easily save money every month through us? Think of all the money you could be saving from paying less for all the tools in your organization every month.
Start being in control of your SaaS for free