The Best SaaS Management Software in 2023
Spreadsheets to manage SaaS can only get you so far.
SaaS is vital for your business, but too many can become a problem. Without SaaS management software that serves as a central location to have full visibility and control over your subscriptions, you'll very likely run into a variety of recurring financial waste. Sadow IT, duplicate subscriptions, unused tools, and unwanted charges are just some of the things businesses experience.
Save yourself from all this trouble by using the best SaaS management software in this article.
What is SaaS management software
SaaS management software is a category of software designed to help organizations manage their ever-expanding portfolio of SaaS applications effectively. These platforms offer a centralized hub from which administrators can monitor, optimize, and control their SaaS usage. In essence, SaaS management software provides a comprehensive solution to the challenges associated with SaaS application management.
Businesses use 110 SaaS products on average, and for some, it's even hundreds. Managing this many tools at the same time effectively and without waste on a static spreadsheet is nearly impossible.
Do you need SaaS management software?
The growth of SaaS applications has been a blessing for businesses, but it also comes with its problems. On one hand, SaaS applications have revolutionized workflows and tasks for all departments, making teams more productive and flexible than ever before. On the other hand, the rapid adoption of these applications has led to several challenges that can be solved with SaaS management tools:
Shadow IT: Employees often sign up for SaaS applications without involving the IT department, leading to financial, security, and compliance concerns.
Unused subscriptions: Unused or underutilized subscriptions lead to wasted resources.
Unwanted charges from usage-based pricing tools: Organizations may inadvertently exceed their subscription limits, resulting in unexpected costs.
Expired free trials: SaaS free trials often require a credit card, but with the busy schedule that most professionals have, it's common to forget about canceling it, resulting in an unwanted charge. 
Siloed Data: Data gets fragmented across various SaaS applications, making it difficult to gain a holistic view of an organization's operations.
License Management: Keeping track of licenses, renewals, and costs can be an administrative nightmare.
Security and compliance risks: Maintaining security standards and regulatory compliance becomes challenging with decentralized SaaS management.
Benefits of SaaS management software
Now that we have explored what SaaS management software is, its main features, and why organizations need it, let's dive into the numerous benefits it offers:
1. Cost savings
The primary benefit of SaaS management software is that it saves you money. By identifying and eliminating unused or redundant software subscriptions, you can reduce your software expenses significantly. You could be losing thousands of dollars every month without realizing it. This software also helps you save money by giving you access to discounts on tools. But this is an exclusive feature of NachoNacho.
2. Enhanced security
SaaS management software enhances security by providing tools for access control, user authentication, and monitoring of user activity. This reduces the risk of data breaches and unauthorized access to sensitive information. It also helps organizations enforce security policies and maintain compliance with industry regulations.
3. Improved productivity
The centralized dashboard and streamlined user access provided by SaaS management software contribute to improved productivity. Employees can quickly find and access the tools they need, reducing downtime and frustration. IT teams benefit from automation and reduced administrative overhead, allowing them to focus on strategic initiatives.
4. Compliance assurance
Ensuring compliance with software licenses and industry regulations is essential to avoid legal and financial repercussions. SaaS management software helps organizations maintain compliance by tracking licenses, monitoring usage, and generating compliance reports. This ensures that organizations are always prepared for software audits.
5. Scalability
As organizations grow, their SaaS needs evolve. SaaS management software is scalable and can adapt to an organization's changing requirements. Whether an organization adds more SaaS applications or expands its user base, the software can accommodate these changes without sacrificing efficiency.
6. Data visibility
A key benefit of SaaS management software is improved data visibility. Organizations can gain insights into their SaaS usage, costs, and user behavior through detailed reports and analytics. This data-driven approach enables informed decision-making and allows organizations to optimize their software portfolio.
7. Streamlined processes
SaaS management software automates many manual tasks related to SaaS application management. By streamlining these processes, organizations can operate more efficiently and reduce the administrative burden on IT teams.
The Verdict: What is the best SaaS management software in 2023
With all things considered, the best SaaS management software is NachoNacho for its unique feature set that can't be matched by any other platform. NachoNacho gives you much more than a platform to simply manage your current tools. It also provides a full ecosystem to discover new products you didn't know you needed, save on popular SaaS and hidden gems, control company-wide expenses, and manage all subscriptions from a single place.
But even though it's more powerful, it's much more affordable than other SaaS management platforms like Zylo or Vendr, which charge a starting price of around $35,000, while NachoNacho only costs $5 per user per month.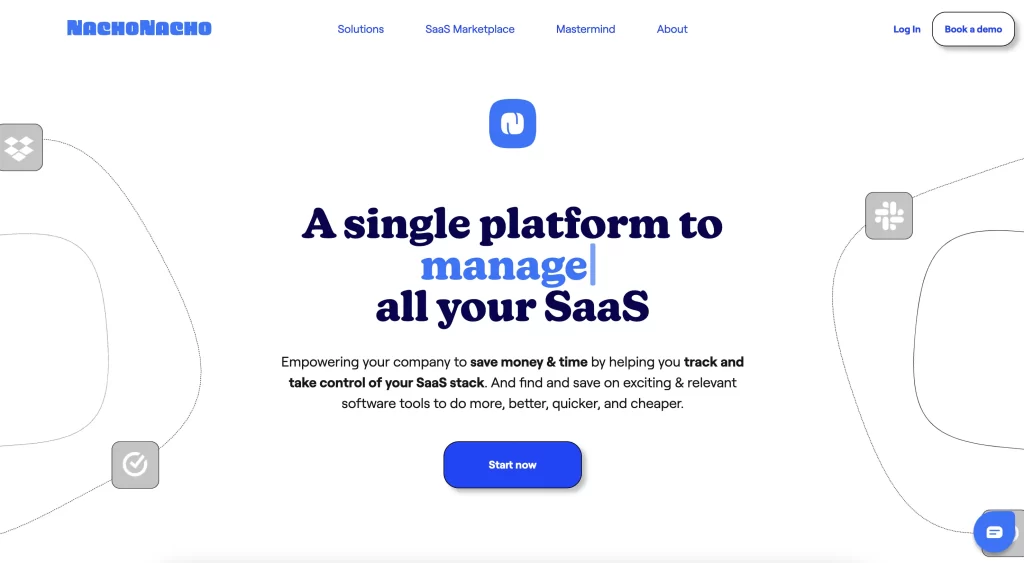 Why NachoNacho is the best SaaS management software
NachoNacho gives you all the features you need to effectively save you from shadow IT, duplicate subscriptions, unused tools, and more. But NachoNacho also gives you access to hundreds of discounts and deals through the world's largest SaaS marketplace, which includes offers for tools such as HubSpot, Apollo, ClickUp, QuickBooks, and many more. 
NachoNacho also has more features that make it the best in this category. Below, we go into depth of the most important capabilities of this platform.
SaaS management features of NachoNacho
Subscription dashboard
Having full visibility of all the SaaS products in your stack is the most essential feature of a SaaS management platform. NachoNacho has an intuitive dashboard that lets you see all the tools your team is subscribed to. In an instant, you can identify any duplicate subscriptions, shadow IT, tools from ex-employees, and other unwanted expenses.
Virtual credit cards for vendors (NachoCards)
NachoNacho gives you the best control over your subscriptions and all business expenses through virtual credit cards you can create in seconds. You can create these cards with custom spend limits and expiration dates so you never spend more than you want. Create one card per SaaS vendor with a spend limit, and if you ever want to cancel, you don't need to go through the unnecessarily long and complicated cancellation process. Just cancel the card with one click. Another great benefit of these cards is that you'll never get charged after a forgotten expired free trial. Just use a NachoCard that expires before that happens. 
NachoCards also make it easy for team members to get the tools they need to do a great job. Instead of giving your corporate card to each employee through unsafe channels, they can request a card in seconds, and the manager can approve or decline them.
But NachoNacho's virtual cards aren't only for SaaS. You can use them for all business and personal expenses and keep all transaction information clearly organized in your dashboard.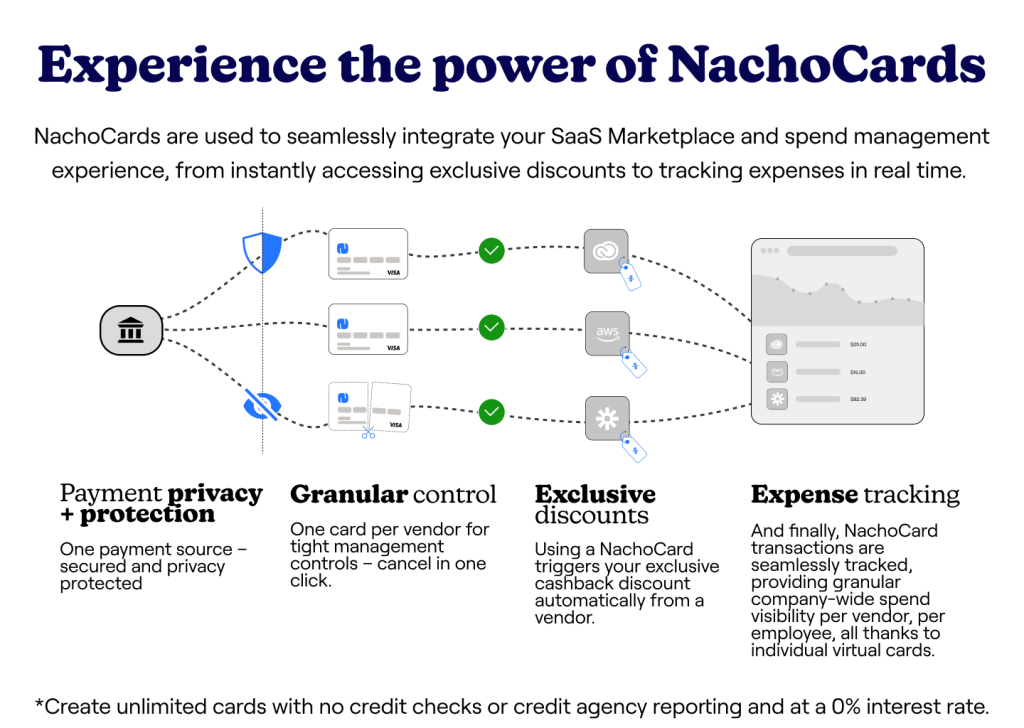 1.5% cashback for every transaction
When you use NachoNacho's virtual credit cards, you get 1.5% cashback on all your transactions. It's like having a discount on every purchase you make. Other SaaS management platforms don't have the fintech capabilities to offer a benefit like this. And this 1.5% is on top of all deals offered in the NachoNacho marketplace. If you want to save on SaaS, then NachoNacho is the best platform for it.
SaaS marketplace with exclusive discounts
The NachoNacho SaaS Marketplace is the largest software marketplace and the only one where you can get $5k credits on AWS, 15% cashback on Gusto, 45% on Oracle Netsuite, 50% on Xero, 10% on Zoom, and many more offers in a single place. With this feature, NachoNacho is the only complete SaaS ecosystem where you can discover, buy, and manage SaaS from one platform.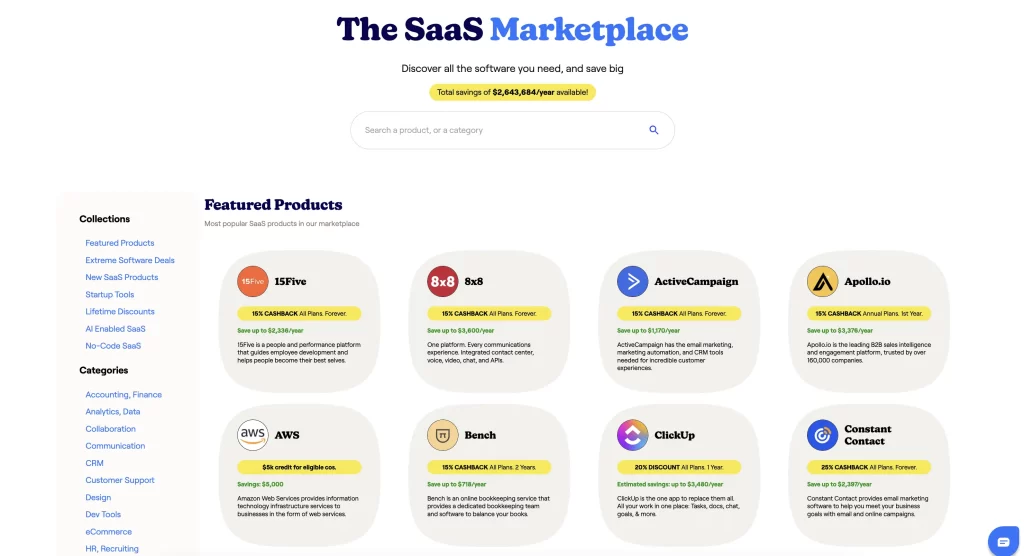 AI software suggestions (Shaman)
One of the most challenging processes for businesses is finding the right software for their needs. With so many tools available, a decision can take months, keeping your team from performing at the best level. Shaman is a unique feature that gives you personalized software recommendations based on your current stack, your company, usage patterns of other companies like yours, data from vendors, and other publicly available information. Instantly, you can get recommended hidden SaaS gems that could have a huge impact on your organization.
Simple employee offboarding
Employees leaving a company without canceling their SaaS or not transferring ownership to another team member is a tale as old as time. Even worse, sometimes, the person keeps using the tool without letting you know. Offboarding is not complicated with NachoNacho. Simply cancel that person's NachoCards with one click. 
Chrome extension
The NachoNacho Chrome Extension is another unique feature that gives you access to the platform without changing tabs. Create new NachoCards to pay for your SaaS or access the information of live ones. In addition to this, whenever you're doing research on a software product's site, the plugin will notify you that there is an available discount for that product in the NachoNacho Marketplace. By clicking this notification, you can expand the plugin into a small popup where you can see the most important information about the SaaS, discount details, user reviews, and more. All of this makes this Chrome Extension the perfect procurement tool.
SaaS advice forum (Mastermind)
People's opinions do matter when it comes to software. And sometimes, looking at reviews is not enough to form a decision. NachoNacho's Mastermind is an online forum for SaaS where you can simply ask what you want to know, and other real users will answer your questions. Ask about the features of a SaaS product, how it compares to other software, pricing, or anything else. Together with the other main features, you can make the best decision about the software you buy for your business. Then, you can save a ton from the Marketplace and manage it through the same platform.
Pricing comparison
NachoNacho: $5/user/month
While other platforms don't make their pricing available online or use spend-based pricing, NachoNacho has simple pricing that gives you all the features you need. You can get access to all SaaS and expense management features, as well as all Marketplace deals, 1.5% cashback on all transactions, Shaman, Mastermind, the Chrome extension, and more for $5/user/month.
Plus, you can try the platform completely for free for one month.
Vendor: Starts at $36,000/year
In comparison, Vendr's starter plan costs $36,000 per year for businesses that have $400,000 to $1,000,000 annual SaaS spend. Most of the other main platforms in this space don't disclose their pricing online, so it's difficult for people to get an idea of how much they will be charged.
Zylo: Starts at $35,000-$45,000/year
Zylo doesn't say how much it costs on its website, but based on other online publications, access to the platform alone could cost between $35,000 and $45,000 per year. Additional fees might apply. To get concrete pricing for your business, you need to contact their team.
Regain control over your SaaS with the best subscription management software
The number of SaaS occupied by your entire team will continue to grow. It's inevitable since these tools support your business growth. Fortunately, there are also tools like NachoNacho that make it very easy to start visualizing all your SaaS stack in one place and manage it.
But NachoNacho is not just a SaaS management tool. It is a robust expense management software powered by fintech and AI as well as the largest B2B software marketplace with exclusive deals. Start your free trial now.