The Best CoderPad Discounts, Promo Codes, and Coupons
CoderPad is a comprehensive software tool designed to streamline the technical assessment and interviewing process for hiring top-notch developers. And by subscribing through The NachoNacho Marketplace, you can save 15% on the Annual Team Plan for the first year. This amounts to $1,800 saved per year.
Click the button below to learn more about this offer.
Why you need a CoderPad Deal
With CoderPad, companies can efficiently evaluate candidates, ensuring they select the best fit for their engineering teams. The platform allows for easy creation of technical tests, even for non-technical users, with the ability to generate well-balanced tests across various roles and technologies in just 60 seconds. CoderPad Screen simplifies the candidate selection process by providing automated scoring and easy-to-read reports, helping recruiters spot the strongest candidates quickly. Plus, it offers gamified screening tests that engage candidates and reduce drop-off rates, ensuring that 96% of candidates who start an assessment complete it.
CoderPad Screen also incorporates anti-cheating features, such as randomized questions, code playback, and plagiarism detection, ensuring that candidate results reflect their true skills.
CoderPad Interview, the other main product of this platform, takes the assessment process a step further by offering live pair programming interviews, a multi-file code editor, standardized questions, and technical diagramming capabilities. It supports over 40 languages and frameworks, making it versatile for a wide range of technical positions and ensuring a comfortable and familiar coding environment for candidates.
And now, this tool is available in our marketplace, which means you can access an exclusive 15% discount.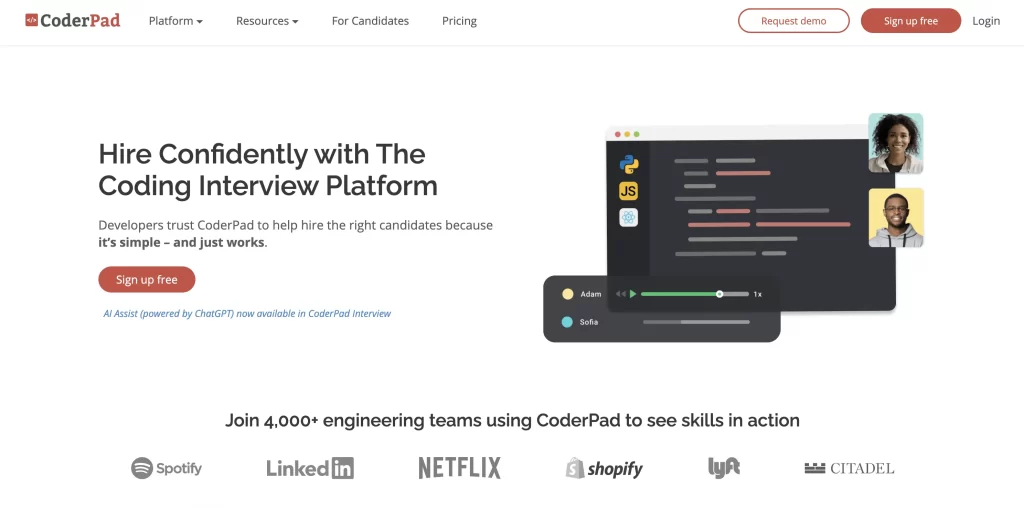 How to redeem this CoderPad discount
To redeem this CoderPad promotion, all you need to do is go to the CoderPad product page inside the NachoNacho Marketplace and click the "Redeem" button. Then, you'll be asked to create a NachoNacho account if you don't have one already. This takes minutes and will give you access to hundreds of software discounts available exclusively on our Marketplace, plus other powerful software management and recommendation features.
Once you're inside the NachoNacho app, just click the "Access your NachoCard now" button at the end of that page. Then all you need to do is use that virtual card you just created to pay for your subscription on CoderPad's website, and that's it. Enjoy your 15% cashback. 
Not only that, but we recently announced 1.5% cashback on your spend in addition to what you get back from your software purchases. So, you'll be getting 1.5% cashback on top of your 15% cashback from our CoderPad deal.
Guide: Why do you need a NachoCard?
About NachoNacho
The NachoNacho Marketplace offers businesses access to exclusive discounts and cashback rewards on a wide range of software products and services. The platform is on a mission to help businesses save money on their software purchases, empowering them to invest in growth and innovation. With NachoNacho, businesses can easily discover and compare software options while also benefiting from cost-saving deals that are not available elsewhere. By simplifying the software buying process and offering unbeatable discounts, NachoNacho is helping businesses thrive in today's competitive landscape. Not to mention, when you use NachoCards, you also get an additional 1.5% cashback on your spend.
Start saving with this CoderPad promo code today
CoderPad can be just the tool you need to screen, interview, and hire the right talent for your team. And you don't have to pay as much as you normally would. With NachoNacho, in a few minutes, you can unlock a 15% discount on the Annual Team Plan for the first year. Start hiring the best developers and save with CoderPad and NachoNacho.