The Best Landingi Discounts, Promo Codes, and Coupons
Landingi is a great nocode tool to easily create effective landing pages, pop-ups, and more. This tool can help you boost your lead generation through optimized landing pages but without the hassle and cost of hiring a team of engineers. And now, Landingi is on The NachoNacho Marketplace, which means you can get an exclusive deal that saves you 20% on all plans. Just by subscribing to the tool through NachoNacho you can save up to $550 per year of your subscription.
Why you need a Landingi Deal
Landingi offers a feature-rich platform for creating and optimizing landing pages with ease. Its intuitive drag-and-drop interface ensures that users can design pixel-perfect and mobile-friendly pages, catering to a wide range of devices and user preferences. Whether you're looking to establish a simple online presence or communicate your brand message effectively, Landingi's Microsites and OnePagers features simplify the process, allowing you to quickly build the pages you need.
Landingi also offers valuable tools for user engagement and data collection. Its mobile page optimization ensures responsive design, enhancing user engagement and positively impacting search engine rankings. The platform also provides a comprehensive suite of forms to generate leads and gather data, seamlessly integrating with your marketing technology ecosystem to optimize customer journeys. Features like smart sections, customizable templates, A/B testing, AI text assistance, and more are great reasons to subscribe to Landingi. 
This is why Landingi and NachoNacho offer new users an opportunity to get all these benefits for less. Subscribe now to Landingi from NachoNacho and start making landing pages that convert.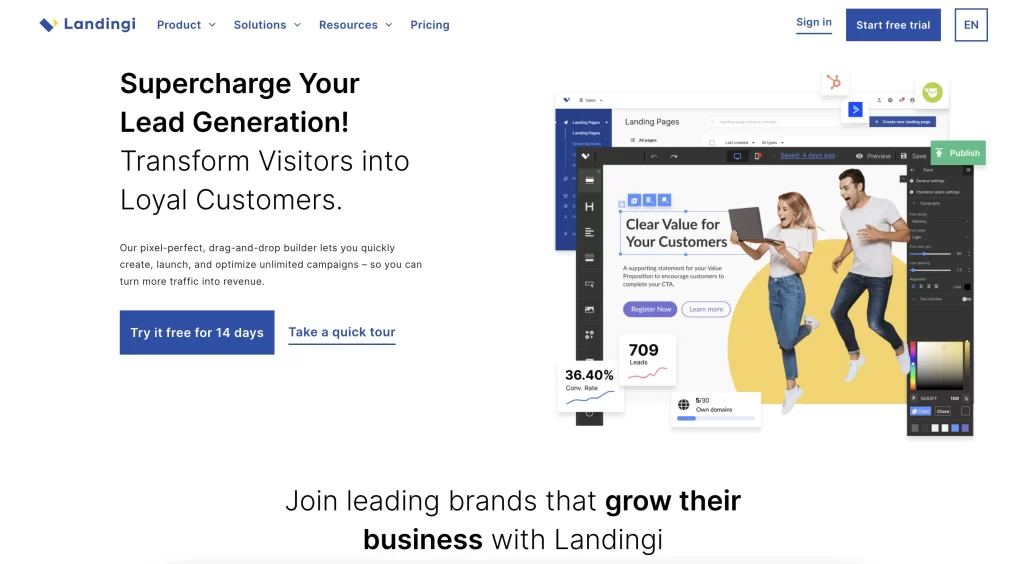 How to redeem this Landingi discount
To redeem this Landingi promotion, all you need to do is go to the Landingi product page inside the NachoNacho Marketplace and click the "Redeem" button. Then, you'll be asked to create a NachoNacho account if you don't have one already. This takes minutes and will give you access to hundreds of software discounts available exclusively on our Marketplace, plus other powerful software management and recommendation features.
Once you're inside the NachoNacho app, just click the "Access your NachoCard now" button at the end of that page. Then all you need to do is use that virtual card you just created to pay for your subscription on Landingi's website, and that's it. Enjoy your 20% cashback.
Not only that, but we recently announced 1.5% cashback on your spend in addition to what you get back from your software purchases. So, you'll be getting 1.5% cashback on top of your 20% cashback from our Landingi lifetime deal.
Guide: Why do you need a NachoCard?
About NachoNacho
The NachoNacho Marketplace offers businesses access to exclusive discounts and cashback rewards on a wide range of software products and services. The platform is on a mission to help businesses save money on their software purchases, empowering them to invest in growth and innovation. With NachoNacho, businesses can easily discover and compare software options while also benefiting from cost-saving deals that are not available elsewhere. By simplifying the software buying process and offering unbeatable discounts, NachoNacho is helping businesses thrive in today's competitive landscape. Not to mention, when you use NachoCards, you also get an additional 1.5% cashback on your spend. 
Start saving with this Landingi promo code today
Don't wait any longer to create great landing pages and more. Take advantage of this special lifetime deal today. Landingi is a powerful tool that can help you get more leads without the need to know any code. This is great for small businesses that don't have a large team of developers. Plus, redeeming the 20% discount is very simple!