Best CRM SaaS software of 2023
Looking for a CRM SaaS that has all the features you need and is within your budget? Look no further. In this article, you'll find some of the best CRM platforms to help you make an informed decision.
You've probably heard about some of these before, but each one deserves a good look. They all have different solutions for different types of businesses.
Also, consider that these CRMs are listed in no particular order.
Feel free to jump to the tools by clicking below.
Why you need a CRM SaaS
It's pretty simple, you need to deeply understand your customers, build relationships with them, and ultimately keep them. But you also need to know how to attract new customers. And if you understand what brought in your current customers, it'll be a lot easier to get new ones.
A good customer relationship management software helps you do all those things and more.
It doesn't just track conversations and contact information, but it gives your whole team complete visibility over your customer journey. A CRM is meant to empower your team with the tools to improve this journey significantly.
By allowing your team to track and analyze every step of the pipeline, you can optimize it to maximize conversions.
What are the benefits of using a CRM SaaS?
Here are some of the main benefits of using a CRM platform:
CRM platforms help businesses manage leads and customers. They provide you with a centralized database for all your contacts so that you can find them quickly. You can also organize data efficiently to make it easier for employees to find relevant information.
A CRM SaaS can help businesses keep track of all customer interactions. You can record phone conversations, emails, meetings, and other interactions within the software so that nothing slips through the cracks. If a customer brings up something from months prior, your team will have access to all the details they need in order to resolve it.
Your sales reps won't ever lose anyone in the pipeline because they'll be able to see their exact stage in the sales process at any given time. Is this lead still thinking it over? Did they schedule a product demo? Did they have any objections during that demo? This helps reps move leads along smoothly and effectively so that no one gets left behind (or forgotten).
CRM software help businesses understand their customers better by providing insight into their behavior and needs. For example, if you use your CRM's analytics, you can learn how your customers interact with your website or emails; which channels bring them in most frequently; what actions result in more sales; and more. This information can then be used to improve future marketing campaigns by customizing them based on what works best for each segment of your audience. Instead of sending out generic messages that may not resonate with certain groups as well as others.
Many CRMs offer advanced automation features. This way, your team can spend less time doing manual tasks and instead just focuses on closing deals.
What to look for in a CRM SaaS
When it comes to selecting the right CRM platform for your company, you'll want to consider several factors. First, does it integrate with the other tools in your tech stack? If not, you risk significant friction across different departments.
Another factor to consider is customization and flexibility. Is the platform flexible enough for your company's unique needs? Does it allow users to customize layouts and fields? Does it have options for automating tasks? The more flexible a platform is, the better fit it will be for your business—and all of the top providers on this list have high levels of flexibility built into their software.
But most importantly, the platform you choose needs to be able to adapt to your specific needs. CRM SaaS tools generally have too many features, so it's easy to get lost. But if you focus on your goals and the features that will help you achieve them, then you'll find the perfect option for you.
Top CRM SaaS platforms in 2023
Copper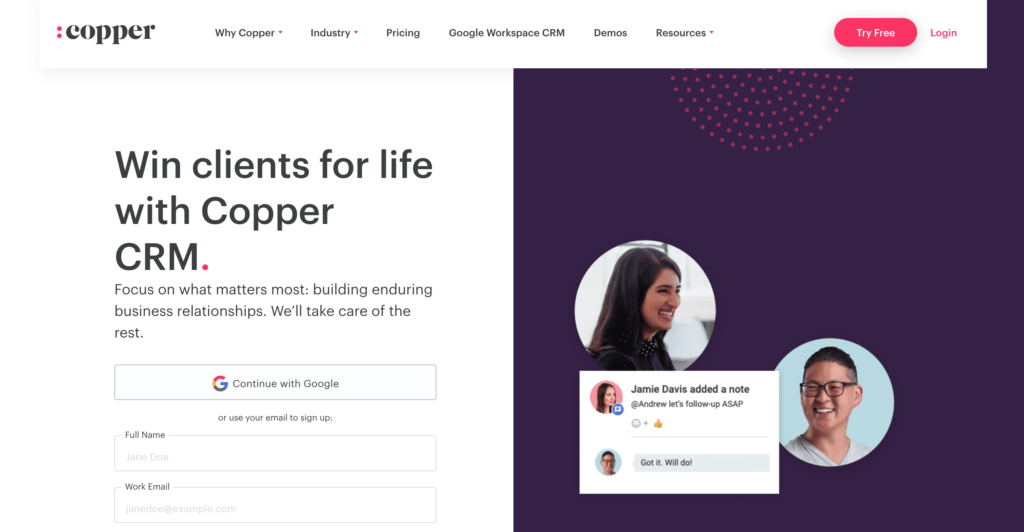 Copper offers all the bells and whistles you need to manage your sales pipeline, but it's best known for its Google Workspace integration. You can add leads, update deals, look up past interactions with a contact, create Google Calendar events, and follow up on tasks from your Gmail inbox.
Many businesses use Google Workspace products for their day-to-day workflows. If that's the case for you, then it makes sense to use a CRM solution that integrates into those workflows seamlessly, and Copper is the best one for that.
There's only so much switching between tabs a person has time for while they're working on client communications or project management.
If you already have a familiarity with Google Suite products like Gmail or Sheets (and chances are you do), then Copper is an easy ramp into the world of CRMs without having to learn how to use yet another software tool from scratch—and you'll be getting all the benefits of a dedicated customer relationship management platform in the process.
Pricing starts at $30/user per month, but you can save 10% on all plans by subscribing to Copper through the NachoNacho marketplace.
Freshsales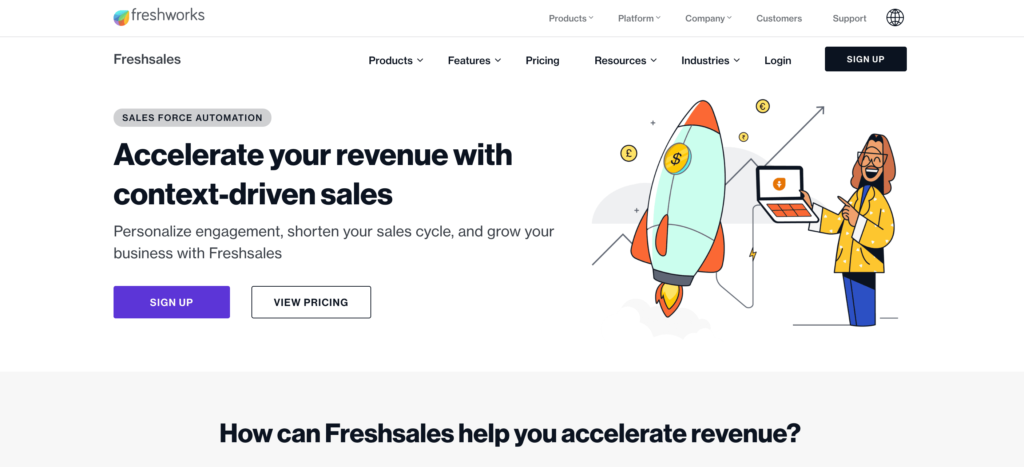 Freshsales is a robust CRM with advanced automation features. With this platform, you can automate tasks such as lead assignment, personalized outbound campaigns, contact categorization, and chat conversations assignment, among other things.
Aside from automation, one of the biggest differentiators of Freshsales is their smart AI assistant called Freddy. These are some of the things that Freddy is capable of doing:
Learn from your data and make suggestions to close deals
Make predictions
Detect duplicate contacts
Assign scores to contacts
Freshsales also has built-in phone and email, allowing sales teams to communicate with customers directly within the software.
Plus, it has an open API that enables users to integrate it with third-party applications, such as QuickBooks or Zapier.
Additionally, the platform's mobile app helps sales personnel access their CRM data while they're on the go.
You can have access to some of Freshale's features for free with their free plan. Once you're ready to upgrade, it costs $18/user per month (save 20% on all plans by subscribing to Freshsales through the NachoNacho marketplace).
Salesforce
For many years, Salesforce has been a leader in the CRM space. The desktop and mobile software, as well as the cloud computing services it provides businesses, are considered among the best tools available for managing customer data.
Salesforce is also a popular choice because of its easy-to-use interface and excellent security features.
Another benefit is that it can be effectively implemented at any stage of building a business or growing an already successful company's operations. That includes startups with staffs of less than 10 people; mid-size enterprises that employ hundreds; and Fortune 500 giants that have thousands of employees.
The list of features offered by Salesforce is lengthy, but some of the most commonly used include:
Marketing automation to help you create personalized campaigns for your target audience
Contact management capabilities so you can keep track of your existing customers' needs as well as prospects
Advanced analytics so your team can make smart data-driven decisions
Among many others.
Salesforce offers different paid plans depending on which modules you choose, starting from $25/user per month.
FreeAgent
FreeAgent is a top-rated CRM that is trusted by thousands of companies. It provides a user-friendly way to manage sales and marketing processes.
If you're looking to increase productivity and streamline your workflow, FreeAgent may be just the thing for you. It's packed with features designed to help you easily create and manage an effective sales process.
With its intuitive interface, it's easy for new users to get up and running in no time.
FreeAgent is a great platform to manage leads and customers from start-to-finish through powerful features such as real-time reports, custom workflows, email tools, and automated task management.
Plus, FreeAgent offers seamless integrations, it's easy to use, and can be up and running for your company in less than 30 days.
Pricing starts at $42 per user billed monthly but you can save 20% on all FreeAgent plans through the NachoNacho marketplace.
EngageBay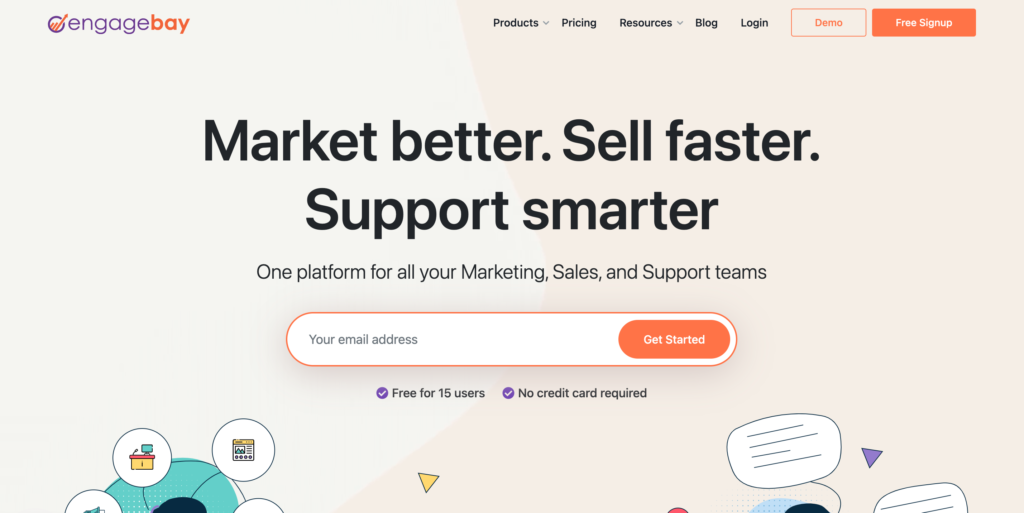 EngageBay is a full-featured CRM with marketing, sales and service functionalities perfect for businesses of all sizes.
It has comprehensive contact, deal, sales automation and appointment scheduling features so you can manage all your existing contacts at each stage of the sales funnel.
Plus, its marketing automation capabilities include email marketing, SMS marketing, landing page creation, live chat tools and many more.
This way you can create landing pages for lead generation, capture visitor data through forms, and follow up with visitors to convert them into customers. You can also send personalized text messages through the SMS marketing tool to inform clients about discounts or new products.
Start using EngageBay for free with features like email marketing, sequences, landing pages, helpdesk, and live chat. Then, pricing starts at $10.39/user per month. Plus, you can save 30% when subscribing to EngageBay if you use the NachoNacho marketplace.
HubSpot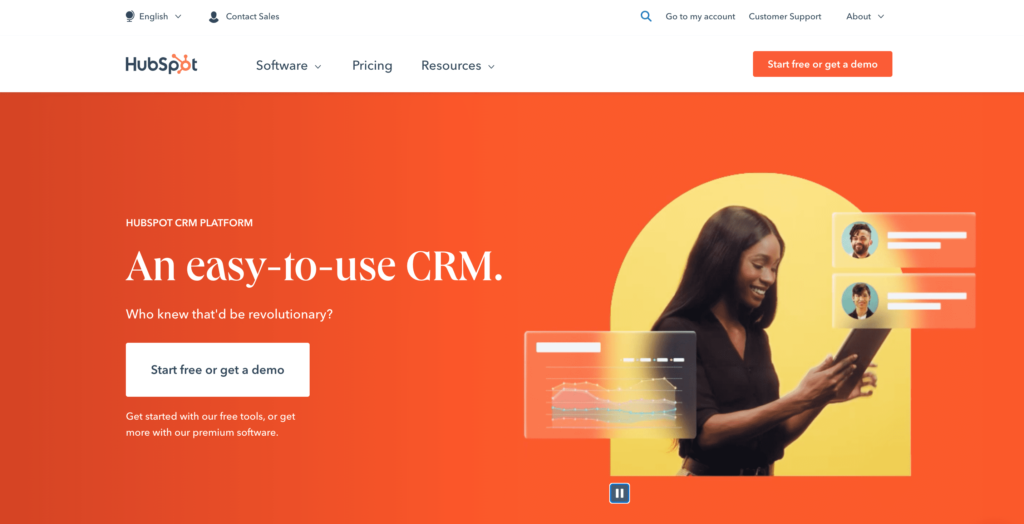 HubSpot is one of the most popular platforms at the moment and it's for good reason. It's a solid CRM with a great free plan. This plan includes powerful features such as contact management, task management, forms, meeting scheduling, email marketing, landing pages, and more.
This makes it a great option for small to medium businesses.
But the free plan is not the only good part. Their paid plans are even more powerful and made for scaling companies.
You can choose to upgrade to get one or multiple of their modules to make your different departments stronger with advanced automation and tools. For example, the Marketing Hub, Sales Hub, or Service Hub, among others.
Plus, it's designed to be user-friendly and easy to use, so it won't take a lot of time for you or your sales team to onboard.
HubSpot's pricing starts at $50/user per month.
Zoho CRM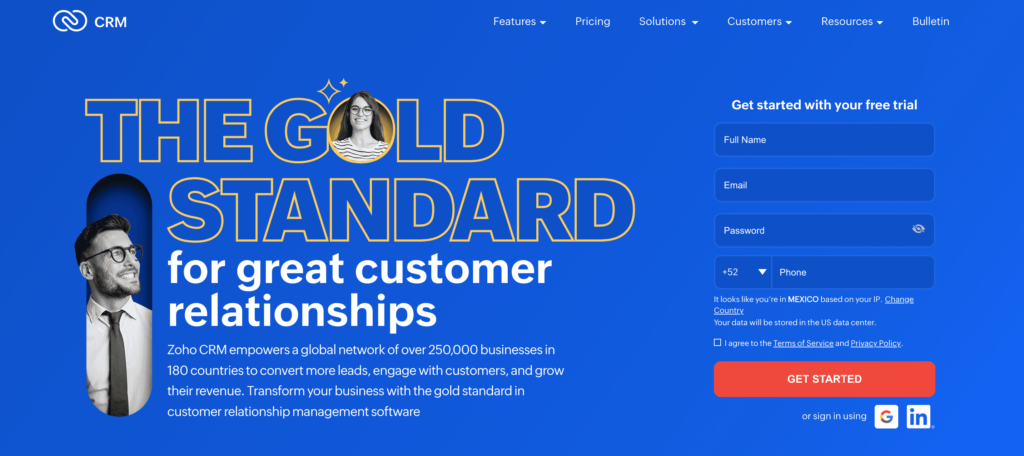 Zoho is one of the top CRM SaaS with a feature-rich user interface, scalable pricing options and robust integrations that enable businesses to focus on customer relationships and grow their business.
It has an easy-to-use interface that makes it simple to organize, track, and nurture customer interactions from initial contact to long-term retention.
The platform puts your sales and marketing information in one place, making it easy to track sales activities, manage accounts and leads, and create and send email campaigns. The software is customizable, so you can set up the platform to meet your unique business needs.
You can also use it to identify customer trends by tracking customer interactions with your business across multiple channels—telephone, email, live chat, social media and more.
Some key benefits include:
Real-time notifications when customers interact with your business
Measure the effectiveness of your customer communication
Streamline your lead nurturing process and make the most of every incoming lead
Pricing starts at $20 per user billed monthly and you can try it for free.
Pipedrive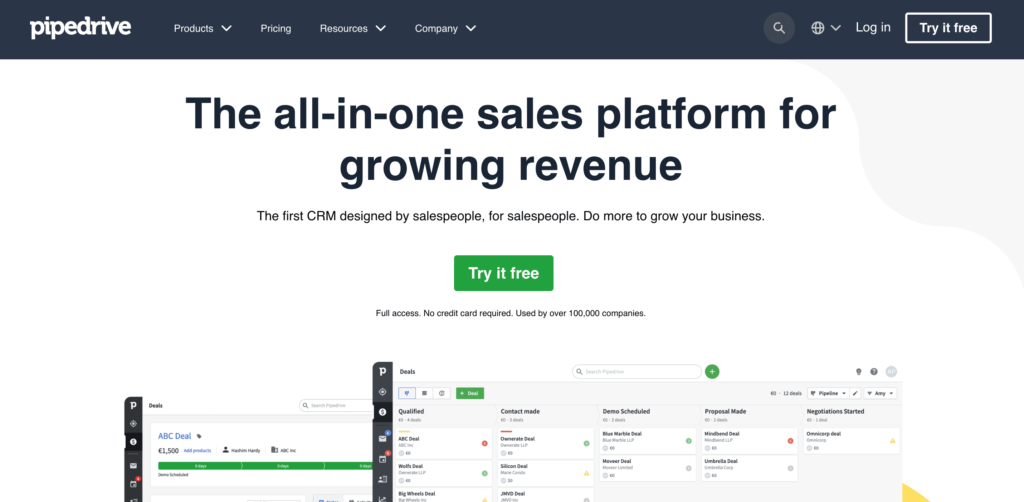 Pipedrive is another strong CRM for scaling sales teams. Its features include everything a sales team needs, like lead management, automation, and communication tools. These things can help your team make sure no deal falls through the cracks.
Pipedrive also provides handy features such as e-mail templates and an AI assistant that can give your team tips and recommendations to improve their performance.
This software also integrates with apps like Slack and Zapier, so you can stay up to date no matter where you are (or what device you're using).
If you're looking for a CRM SaaS for growing companies and you want great features for sales, then check out Pipedrive.
Pipedrive offers a free 14-day trial so you can see if it's a good fit for your business. Paid plans start at $15/user per month.