The Best Quantumrun Discounts, Promo Codes, and Coupons
Trend insights are extremely valuable to grow your business. If you don't catch the trends on time, your business could be left behind by the competition. Quantumrun is an automated platform that gives you trend intelligence so you can always make the best decisions for the future of your business.
And you can get a 25% discount on all Quantumrun plans forever, just by subscribing through the NachoNacho Marketplace. This amounts to up to $5,397 every year. It takes minutes to redeem your promotion, it's safe, and you won't find a better deal online. Click the button below to learn more about this promotion.
Why you need a Quantumrun Coupon
Quantumrun is a trend intelligence software that empowers you to thrive in the face of future trends. By offering a comprehensive set of tools to discover, organize, and visualize trend intelligence, the platform accelerates strategy development, scenario planning, and product development initiatives. The three-step process starts with accessing daily trend reports and AI-curated industry news customized to your priorities. You can then bookmark relevant trend reports and research links into curated lists, which can be instantly transformed into visualizations. These visualizations, such as the Strategy Planner, Ideation Engine, Scenario Composer, SWOT, and VUCA, automate strategic planning, simplify market segmentation, and scale product ideation.
For these reasons, Quantumrun is a valuable addition to any software stack. With a Quantumrun lifetime deal, you can access this tool while saving up to $5,397 every year. This is a huge promotion only available through Quantumrun's partnership with NachoNacho.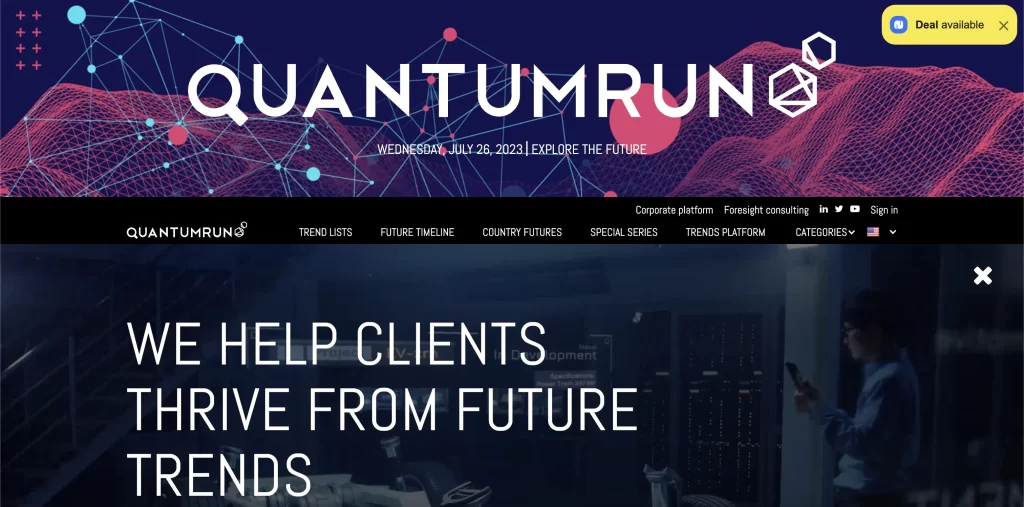 How to redeem this Quantumrun discount code
To redeem this Quantumrun promotion, all you need to do is go to the Quantumrun product page inside the NachoNacho Marketplace and click the "Redeem" button. Then, you'll be asked to create a NachoNacho account if you don't have one already. This takes minutes and will give you access to hundreds of software discounts available exclusively on our Marketplace, plus other powerful software management and recommendation features.
Once you're inside the NachoNacho app, just click the "Access your NachoCard now" button at the end of that page. Then all you need to do is use that virtual card you just created to pay for your subscription on Quantumrun's website, and that's it. Enjoy your 25% cashback.
Not only that, but we recently announced 1.5% cashback on your spend in addition to what you get back from your software purchases. So, you'll be getting 1.5% cashback on top of your 25% cashback from our Quantumrun lifetime deal.
Guide: Why do you need a NachoCard?
About NachoNacho
The NachoNacho Marketplace offers businesses access to exclusive discounts and cashback rewards on a wide range of software products and services. The platform is on a mission to help businesses save money on their software purchases, empowering them to invest in growth and innovation. With NachoNacho, businesses can easily discover and compare software options while also benefiting from cost-saving deals that are not available elsewhere. By simplifying the software buying process and offering unbeatable discounts, NachoNacho is helping businesses thrive in today's competitive landscape. Not to mention, when you use NachoCards, you also get an additional 1.5% cashback on your spend.
Start saving with this Quantumrun promo code today
Analyze business trends the smart way with Quantumrun and save 25% with NachoNacho. With Quantumrun's trend intelligence automation, it will be easy for your business to leverage current and future trends for your growth.
NachoNacho partnered with Quantumrun to offer this huge deal. So take advantage of this opportunity and subscribe now.