Best Onboarding Software in 2023 [Review]
And in this article, we're going to take a look at the top onboarding software that can help your human resources department streamline the process of onboarding new employees.
Whether you're onboarding remote workers or in-office employees, these tools will allow your new team members to provide value in no time.
Top employee onboarding software in 2023
Feel free to jump to the tool you're most interested in:
Features to look for in an employee onboarding software
When looking for HR onboarding software, you should first consider the features that are important to you. Here are some of the most important to keep in mind:
Training features: Onboarding training can be daunting for many organizations. After all, you don't want to wait weeks before someone can do their job effectively. So it is crucial to ensure that all new employees receive all the resources they need in an easy-to-digest way. Great HR onboarding software provides interactive features like checklists, training materials, videos, quizzes, and live support to make large amounts of information easy to comprehend.
Document management: The software you choose should be able to manage contracts, forms, data, and agreements so that you can easily keep track of them. This is important because it will help you ensure that nothing falls through the cracks during the process. Additionally, there are onboarding software platforms that support e-signatures. This way, contracts can be signed and stored in the same place.
Progress monitoring: To make sure that new employees are going through the onboarding correctly, some platforms provide an admin dashboard where you can see the status of each person. If someone seems stuck, you will quickly notice it and work on a solution.
Communication tools: Communication is critical when onboarding because it helps ensure everyone is on the same page. Plus, it allows new employees to ask questions and be introduced to the rest of the team. Therefore, the software you choose should have built-in communication tools so that you can easily connect with employees and provide them with the information they need.
Automation: Automating workflows and processes can help you save time and improve efficiency. Some of the processes you can automate include task assignments and notifications.
Skuad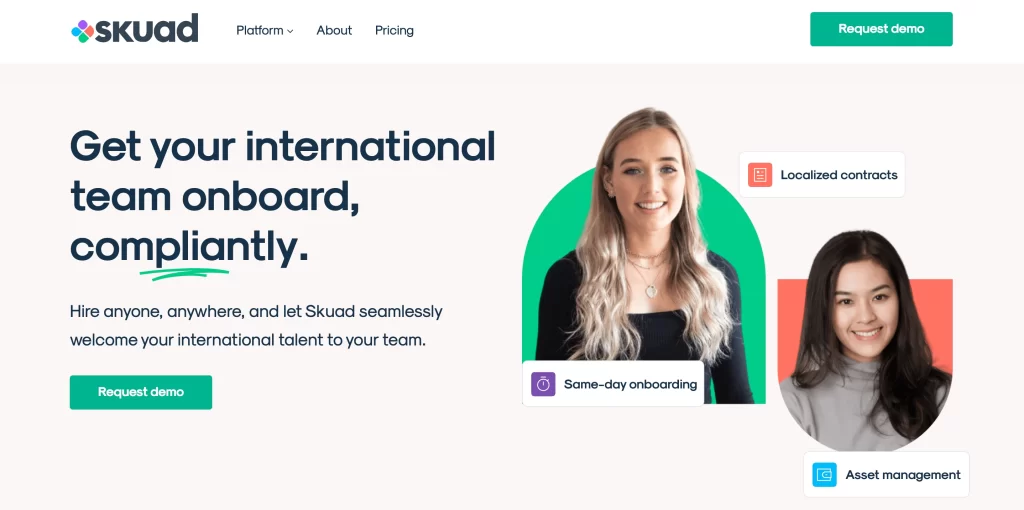 Skuad is a tool that focuses on building global teams. It allows you to manage everything from discovering international talent to payroll.
And their onboarding features are especially useful. Onboarding remote workers can be a challenge to some organizations mainly because of compliance. But with Skuad, you can ensure that all of your remote hires comply with the regulations in any country.
Then, you can manage all of the documentation for each person under a single roof for easy access.
Plus, you can manage the assets your employees will need to fulfill their role, for example, equipment and software.
And once they are fully onboarded, you can also provide employee benefits and more from Skuad
With these features, the whole onboarding process can be smooth and painless.
Skuad pricing
Skuad offers a free plan that includes most of the onboarding features we mentioned. With this free plan, you can start onboarding contractors, signing & managing contracts, managing compliance, and even make payments.
To use the full power of Skuad, you can subscribe to one of the paid plans, which start at $199 per month. These plans are useful in case you want to manage employee benefits, need localized contracts vetted by legal experts, and more.
However, you can save 10% on all Skuad plans for the first year by subscribing through the NachoNacho marketplace.
Connecteam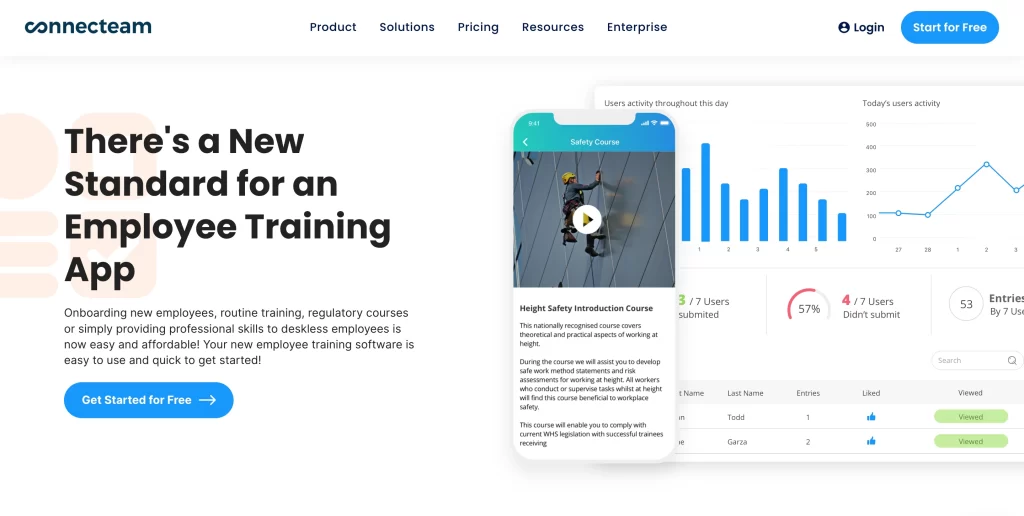 Connecteam is an all-in-one HR software that allows brands to keep employees engaged, track work hours, schedule shifts, manage tasks, and more.
But the features that should interest you for the purpose of onboarding are the document management and training features.
With Connecteam you can have contracts, tax documents, licenses, forms, and all employee documentation in one place while staying compliant with local regulations.
In addition to managing onboarding documentation, you can train new non-desk hires to use your product and be familiar with your processes. This is possible through the customizable training courses you can create with Connecteam. Use quizzes, surveys, videos, workflows, documents, and more to train new hires efficiently.
In addition, you can make training even more effective through Connecteam's group chats, mobile support, admin dashboard, and a knowledge center. This last feature is a library where you can add all the documents and information employees need to do their job, and they can access it whenever they need it.
Connecteam pricing
Connecteam offers a free-forever plan for up to 50 users. This plan includes onboarding features such as unlimited sections for your courses, quizzes, templates, and more.
This makes it a great onboarding software for small businesses.
For more advanced features and users, paid plans start at $47 per month. You can try for free any of the paid plans for 14 days to see if the platform is a good fit.
Additionally, you can get a 20% discount on all plans for your first year if you subscribe to Connecteam from the NachoNacho marketplace.
Monday.com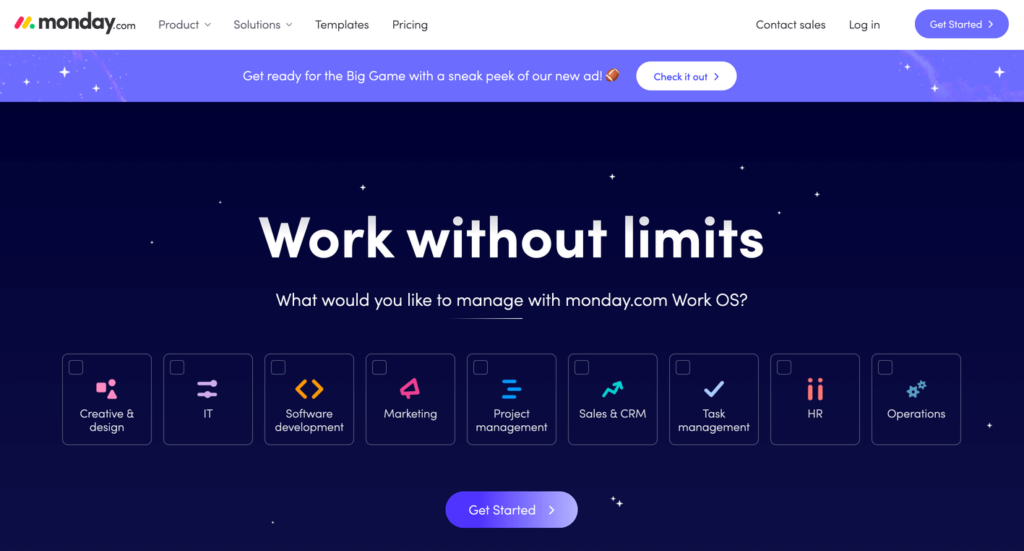 Monday.com is a very well-known project management solution. And while it may not come to mind when you think about onboarding, it has great HR and people management features.
Their powerful workflow capabilities and templates make it an effective option for onboarding.
You can use Monday.com to build a custom onboarding workflow, automate certain processes, and easily track each new hire's status. And with the onboarding template, all you need to do is edit the workflow, so it fits your organization's requirements.
In addition, you can manage all the documentation from the same platform and share relevant content with your new employees. And finally, since this is an all-in-one project management tool, it will be easy to assign tasks, collaborate, and start working once your new hire has been onboarded.
Monday.com pricing
Monday.com offers different plans for all types of businesses and budgets, starting at $8 per month per user.
Plus, by subscribing through our SaaS marketplace, you can get a 20% discount on all Monday.com plans for the first year.
BambooHR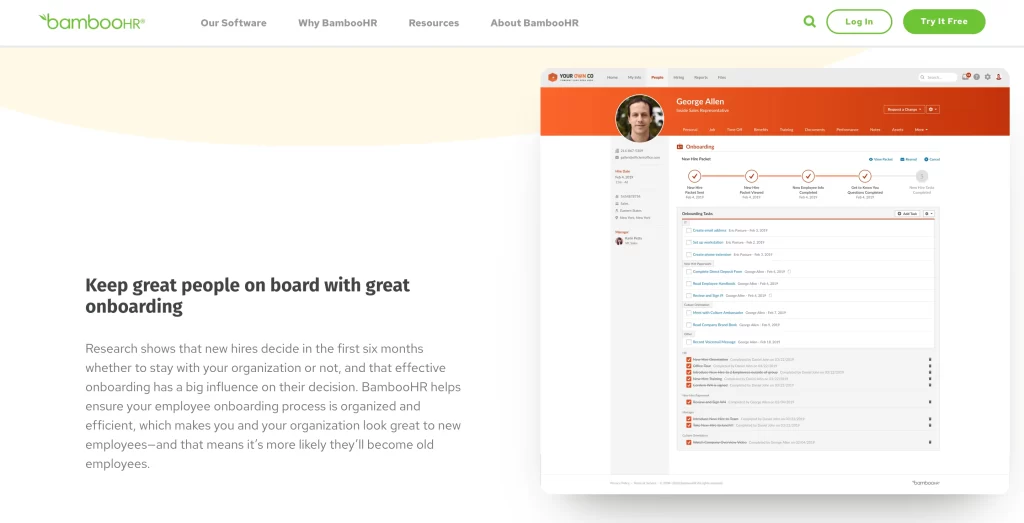 BambooHR is one of the most popular HR software, and it's for a good reason. With this tool, you can manage and streamline your hiring, onboarding, payments, and company culture.
But focusing on the onboarding capabilities, BambooHR allows brands to create customizable onboarding experiences for new employees to get up to speed with everything related to their role.
You can set up onboarding tasks that people can do on their own timeline, introduce new hires to the rest of the team, and track the status of the process.
Plus, with BambooHR's built-in electronic signatures, you can sign and manage agreements without leaving the platform.
BambooHR pricing
You need to contact their sales team to get a custom price for using BambooHR.
BambooHR also offers a 7-day free trial.
Freshteam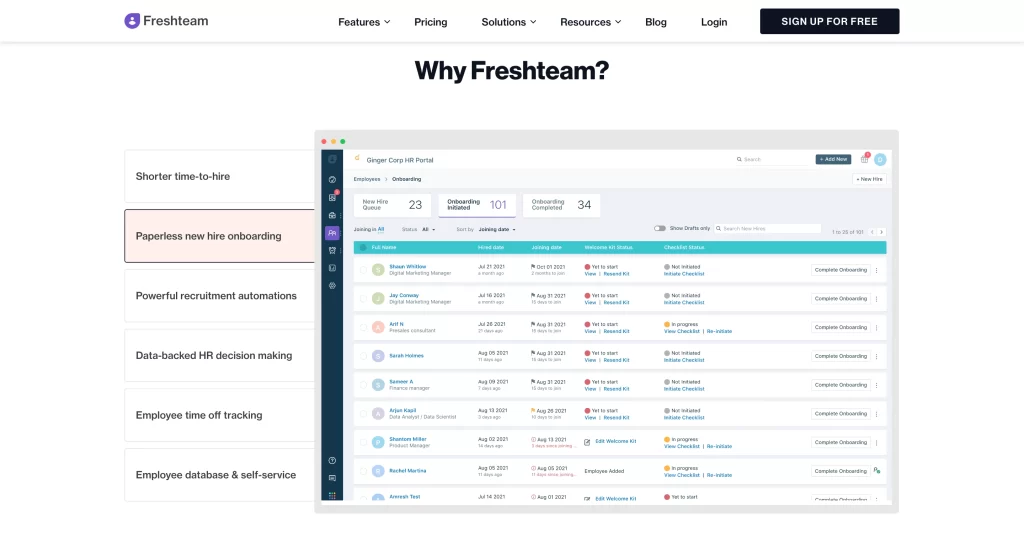 Freshworks offers many leading software solutions for sales, marketing, support, HR, and more.
Their onboarding software product is called Freshteam and offers everything you need to integrate new hires into your business successfully.
You can use Freshteam to create custom onboarding checklists, gather employee data through forms, manage signatures & documents, send reminders, track tasks, and more.
All of these features make onboarding an organized and effortless process. Plus, you can manage pre-onboarding. This is the process of collecting data from candidates and managing applications & and agreements.
It's also worth noting that Freshteam makes the off-boarding process easier through the same features.
Another benefit is that by subscribing to Freshteam you also get access to other great HR features that you may need.
Freshteam pricing
Freshteam offers a pay-as-you-go pricing. This means that you only have to pay for what you need plus a platform fee.
For the plan that includes the onboarding features mentioned before, the cost is $2.40 per employee per month + a $119 platform fee.
With this plan, you get many other features such as job posting, social recruiting, application management, interview scheduling, e-signatures, and more.
Freshteam also offers a free plan and a 21-day free trial.
Trainual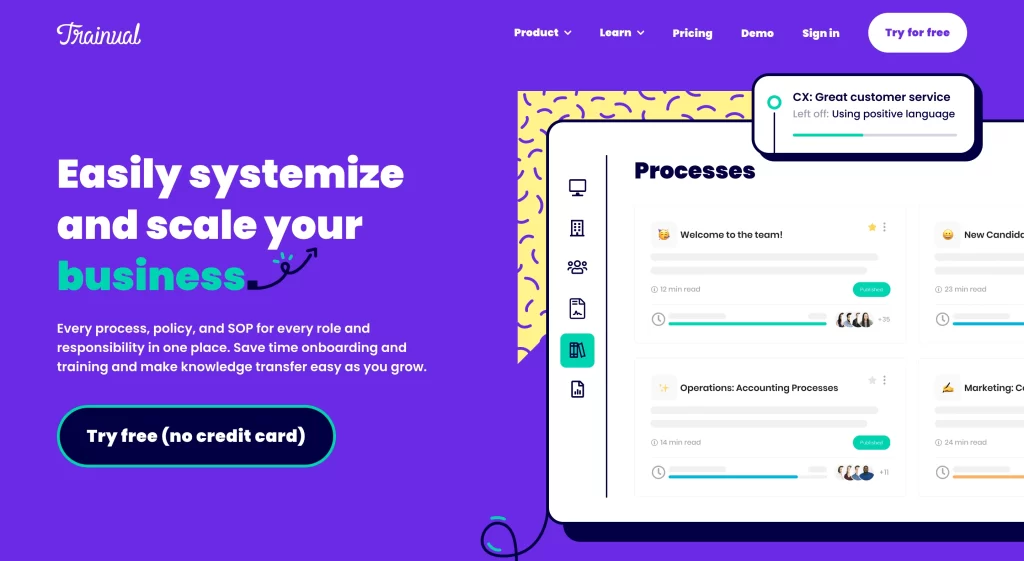 Trainual is a tool specially made to streamline and save time on onboarding training. It's an excellent solution if you're looking for a way to get new hires up-to-speed quickly.
Through Trainual, you can create and assign onboarding handbooks with all the processes, policies, procedures, and training content from your organization for easy access. Then, you can track the progress of new hires and even assign quizzes to ensure that your new team members understand everything correctly.
You can build an employee handbook from zero or use one of the platform's templates.
In addition, Trainual has a directory and org chart features where you can have all the information about the team displayed so that new hires know who does what. This is very helpful for new and even long-time employees because it makes it clear what are the responsibilities of everyone.
Finally, with this platform, you're able to easily communicate your company story, mission, vision, values, products, who are your competition, and any other relevant information.
Trainual pricing
The Trainual pricing consists of a 7-day free trial and three paid plans starting at $61 per month for up to 5 seats. This plan includes unlimited documentation, templates, directory, org chart, and more.
ClearCompany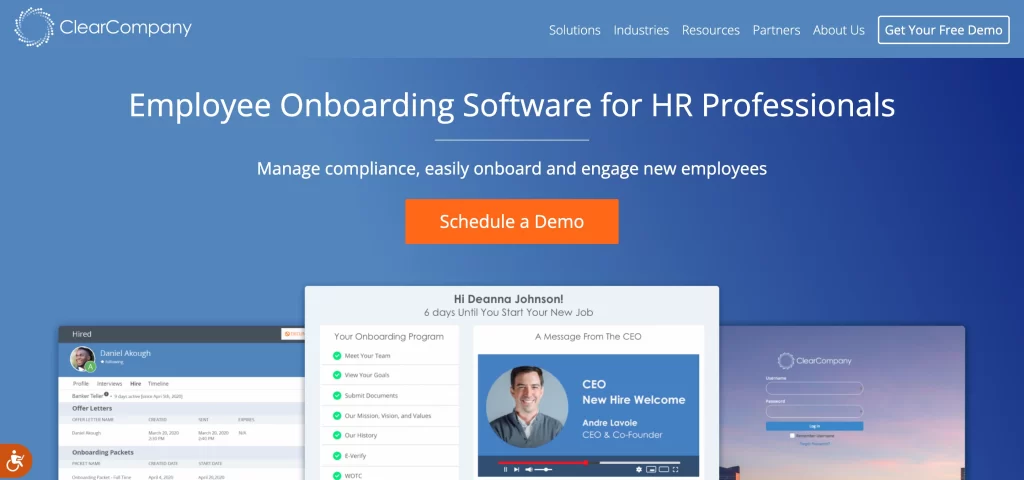 This is another platform that helps businesses streamline their onboarding process. Similar to the other HR onboarding software, new hires get access to the platform and complete several assignments to get up to speed with the company's procedures and their role responsibilities.
With ClearCompany you can also manage background checks during the onboarding.
Once everything is in order, you can easily set up introductions with the rest of the team without leaving the platform.
But this tool is not only for onboarding a single person at a time. You can also onboard new hires in bulk. In case your organization is scaling quickly, bulk onboarding could save you a lot of time. This is the main differentiator for ClearCompany.
And you don't have to worry about inconsistent onboarding. The platform makes setting up a standardized process easy, so everyone can start adding value quickly.
ClearCompany pricing
Contact the ClearCompany sales team to get a custom quote for your requirements.
You can either get full access to the platform or just the tools you need.
Zavvy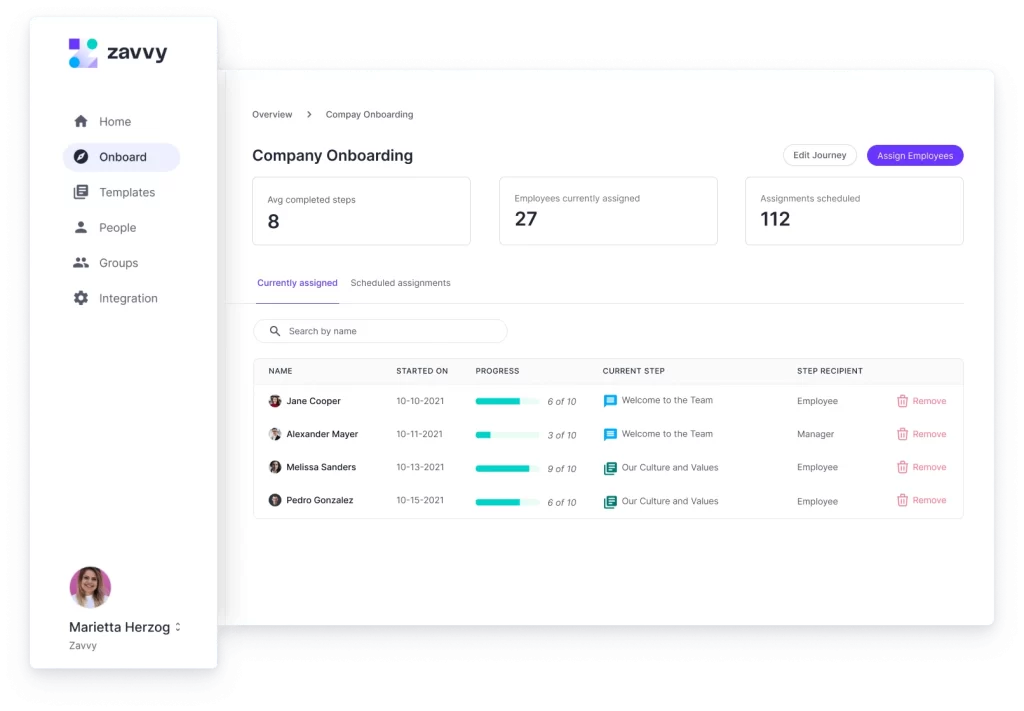 Preparing employee onboarding programs can be tedious due to repetitive manual tasks.
This could also lead to human errors in the process. To avoid it, Zavvy uses automation features. You can set the whole onboarding journey once and reuse it as often as you want across departments and use cases.
Then, you can monitor the entire progress of each person through the admin dashboard.
For training, you can create onboarding courses with embedded videos, documents, or forms through the platform's integrations. Plus, you can use Zavvy's course templates or create your own.
Zavvy pricing
Pay only for the features you need by contacting Zavvy's sales team.
What is onboarding?
Employee onboarding is the process of orienting and acclimating new employees to your company's culture, values, and expectations. Having a good employee onboarding process in place is important because it can help improve employee satisfaction and increase productivity and employee retention.
The best way to do this is to use an HR onboarding software like the ones we discussed in this article.
On the other hand, there is also client onboarding which is the process of integrating a new customer with your company. Client onboarding aims to help the customer understand your company's product or service.
However, there are different tools especially made for this purpose. We'll talk about these tools in another article.
What is onboarding software?
With that in mind, let's take a look at what onboarding software is. Onboarding software is a tool that helps businesses streamline their employee onboarding process. It helps businesses create a standardized onboarding experience, give new hires all the necessary information, and keep track of employee data, communication, and documents.
Final thoughts on employee onboarding software
Now that you know some of the best onboarding software out there, it's time to start deciding on the right one for your business.
Consider your needs and budget, and then look at each software's features to find the perfect fit for your business. Also make sure you test the tools before committing. Once you decide on a tool, use NachoNacho to get a discount on selected products and manage all your SaaS from one platform.